If you've ever gone hiking through the woods, you know the importance of a trail marker. You can have a great map and plenty of wilderness experience, but sometimes the wild gets the better of you. All of the trees start to look the same. It's disorienting. You can be on the right path all along, but you'll start to lose confidence and move more slowly if you aren't sure you've taken the right fork in the trail. Only when you see that familiar symbol carved into a tree, or splash of paint on a rock, do you know with certainty that you are on the right track.
Today, I want to celebrate a key point along Cisco's journey to lead companies down the path of digital transformation. Our Cisco marketing teams have won four ITSMA Marketing Excellence Awards – the most ever awarded to one company in a single year! The teams and the awards they won are as follows: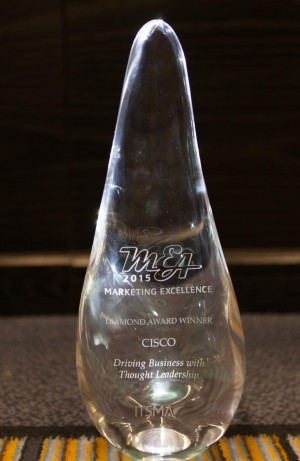 ITSMA Diamond Award for Marketing Excellence
Category: Driving Business with Thought Leadership
Winner: Cisco Thought Leadership Team
Our Thought Leadership Team has worked closely with Cisco Consulting Services over the past several years to codify a unified thought leadership agenda for the entire company. Their innovative research identified digital transformation in the Internet of Everything (IoE) as a major market transition and quantified the $19 trillion value at stake. Behind the strength of this analysis, Cisco made digital transformation in the IoE our top priority and company storyline. In recent months, this team has begun to translate their analysis into industry-specific roadmaps detailing how to capture the value from digital transformation.
As we have extended our thought leadership into specific industries, we have also worked to collect real customer stories of digital transformation in action as proof that the digital shift is a tangible reality. This integration of thought leadership across our consulting, sales, and marketing teams has helped to differentiate Cisco as a driver of business outcomes, given Cisco brand permission to enter new markets, and helped our customers take action to begin their digital transformations.
Congratulations to Kathy O'Connell, her entire team, and the many teammates in Cisco Consulting and all across Cisco who contribute to this work!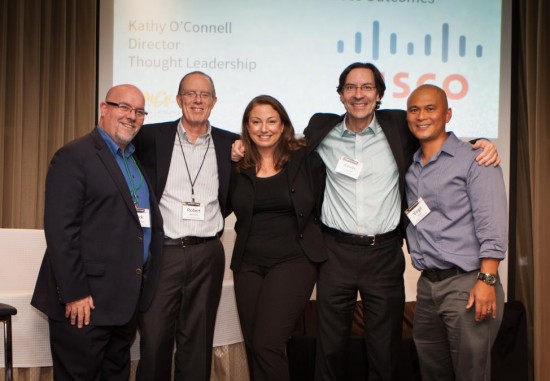 ITSMA Diamond Award for Marketing Excellence
Category:  Capitalizing on Marketing's New Tools and Technologies
Winner: Cisco Global Customer Success, Digital Experience & Analytics Team
Cisco Impact brings technical expertise, solutions, and resources together to create an end-to-end digital experience platform for partners. Our Global Customer Success Team designed this program specifically to fuel partner revenue growth by delivering an efficient and easy way to manage, automate, and digitize recurring revenue business. It provides partners with a more profitable and automated mechanism to reach out to the right customers at the right time with the right offers. Fueled by customer data and driven by marketing automation technology, Cisco Impact includes the Lifecycle Advantage program that helps partners digitally manage the entire post-sale customer experience by delivering automated and personalized nurturing emails at important touchpoints in the customer's post-sale journey.
These touchpoints, including adding an AutoQuote function, optimize the onboarding experience, drive adoption of key features, upsell to higher-value solutions, and simplify the service and software renewal process. Cisco Impact doubled the annual percent of available services renewals closed globally and delivered more than $3 billion in automated quote opportunities worldwide in FY14. By capitalizing on advanced tools for marketing automation, this team is pioneering the fast-paced, data-savvy style of marketing that is coming to characterize all of Cisco marketing as we continue to transform.
Congratulations to Steve Cox and his entire team!
ITSMA Gold Award for Marketing Excellence
Category: Delivering an Omnichannel Customer Experience
Winner: Cisco APJC Services Marketing Team
Our Asia-Pacific, Japan, and Greater China (APJC) Services Marketing Team has built a revolutionary 21st century Customer Lifecycle Engine that combines people, process, data, and technology to engage customers across regional, cultural, and language boundaries. The Engine mines a wealth of customer, market, and seller data to deliver a personalized customer journey and relevant sales insights throughout the customer lifecycle, across every channel, and through digital and human interactions. Combining a powerful digital experience platform with strategic account-based marketing techniques helps them anticipate customer interests, position in the technology lifecycle, and desired future outcomes.
In only two quarters of full operation, the program has delivered greater focused and relevant customer contact, increased partner and customer subscriptions, and 22.5% average incremental pipeline impact. Altogether, this approach enables Cisco to cultivate deeper trust-based relationships with customers, who are increasingly viewing Cisco as a trusted business advisor. Their work is a great model for how Cisco's global marketing efforts are transforming to engage customers in a personalized, real-time omnichannel manner to drive real value for both the client and for Cisco. This work will continue through the efforts of the GCS DE&A APJC team.
Congratulations to Michelle Seo-Eun Jeong and our APJC Services / GCS DE&A APJC team!
ITSMA Gold Award for Marketing Excellence
Category: Accelerating Growth with Account-Based Marketing
Winner: Cisco Services Americas Field Marketing Team
Our Services Americas Field Marketing and Partner Consulting and Innovation (PC&I) team built a program to engage with select partners as business management consultants. The goal is to help them improve their overall businesses – not just the business they do with Cisco. In this shift away from traditional partner marketing, Cisco has begun to make investments in our partners as long-term strategic allies. The PC&I team quantifies a partner's business against 350 business attributes to create a Partner Benchmarking Index (PBI). This index measures partners against industry peers and competitors and establishes business performance clarity and prioritized recommendations for joint execution plans.
Partners who worked with the PC&I team have experienced significantly greater year-over-year growth relative to the rest of the Cisco channel, developed stronger ties with and loyalty to Cisco, and become more profitable. The future of Cisco marketing will entail interactions with partners and customers that are not transactional, but relational – this team has taken a big step toward putting this principle into practice, leading the way for the rest of our global marketing efforts.
Congratulations Roberto Arenas and his entire team!
I want to congratulate each of these teams on their outstanding work! This recognition is a critical step for marketing at Cisco – not because we are looking for external affirmation in order to benchmark ourselves against other companies, but because the awards committee has given us objective confirmation that we are on the right path and making real progress on our own transformational journey. When Cisco embarked upon our mission to enable every country, city, industry, and business to transform digitally, we knew we would need to disrupt ourselves – marketing included – before we could help others. These awards are a clear trail marker, an important validation of our strategy and hard work up to this point.
Congrats, again, to all of the teams honored – now let's keep going!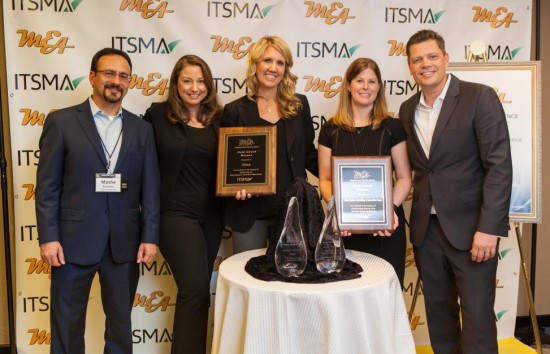 Click here to learn more about Cisco's thought leadership around digital transformation in the Internet of Everything and the $19 trillion value at stake. Click here to browse through our collection of 100 real customer case studies of digital transformation in action.