Dr. Geetha Manjunath shares her personal experience perusing a STEM education and why she founded Niramai. Niramai developed a new cancer screening software that uses machine intelligence with thermography images to enable a low cost, easy to use, portable solution to detect cancer at a much earlier stage than traditional diagnostic methods. To hear more from Dr. Manjunath listen to her speak in last month's webcast from Cisco's Women Rock – IT series. For more stories from innovative women pursuing STEM careers, check out our upcoming calendar here. 
---
Why did you choose this path? Tell us about yourself, education, background and how you got to where you are.
I have always been fascinated by Math and Science concepts that explained natural phenomena.  The first time I saw a computer was in an IT exhibition in the early 80s and I was very curious to learn about how it worked.  So, I  pursued a Computer Science emphasis with my Engineering Degree. After I completed my Bachelors degree, I secured a seat in the Masters program of Indian Institute of Science (IISc) in Computer Science department. IISc had an excellent teaching style that stimulates the researcher in you.
After my Masters program, I was determined to go towards a career in research and innovation.  My first job was in C-DAC, as a proud member of the team which built India's first commercial supercomputer. After that great learning experience, I joined Hewlett Packard Labs as it was an opportunity to work with global researchers on 'cutting-edge' technologies and innovate in the global scene along with my Palo Alto colleagues. After about 10 years of very exciting innovative work at HP Labs, upon the advice of my professors, I decided to pursue formal research as a PhD candidate. I was back in IISc as an external registrant, studying parallel to my work.
I decided to pick up a new research topic that I didn't know much before. I had read about new findings in the area of Data Mining and Artificial Intelligence and found that very interesting. So, I chose a topic around AI for my research thesis. Though it was extremely stressful to continue to do the job and also do research in a place like IISc, I am so glad that I made that decision. The PhD made a huge difference in the way I think about problems and prioritize ideas that would create fundamentally novel and technically sound solutions. As a senior manager and Lab Director of a multinational company, I had a great opportunity to mentor my team to develop such deep solutions to problems that matter to business and/or society.
Q: Why did you found Niramai?
My switch to entrepreneurship and starting of Niramai was a situational decision. Niramai stands for "Non-Invasive Risk Assessment with Machine Intelligence" In Sanskrit, Niramai means being free from illness. I was working on some innovative AI projects along with my team in the area of healthcare, smart cities and customer care. Around that time, two of my close relatives discovered they had breast cancer. I could see how the disease affected the person and their whole family. I started studying the disease more and discussing with my imaging colleagues about earlier solutions in that space. With support from the senior management, I created a small team to solve this research problem and spent weekends and personal time on the project. After about a year or so, we started seeing some early results in our efforts, and unfortunately around that time, both my relatives lost their lives. At that stage, I decided to quit my job, develop the solution further and take it to women to enable early detection of cancer. That was the start of my entrepreneurial journey.
Q: How are you solving the problem using technology?
Niramai's's technology Thermalytix® is an intelligent computer-aided diagnostic tool, which combines thermal imaging with artificial intelligence to detect early-stage breast cancer in women of all age groups. It is a portable, non-invasive, radiation-free, and privacy-aware solution where no one touches or sees the person during the test. Given that the test is affordable, safe and can be conducted by low-skilled workers, we believe the test is also suitable for large-scale screening camps where our automated AI-based tool can give real-time results to a health worker to identify women who need to be brought into a hospital for follow-up tests.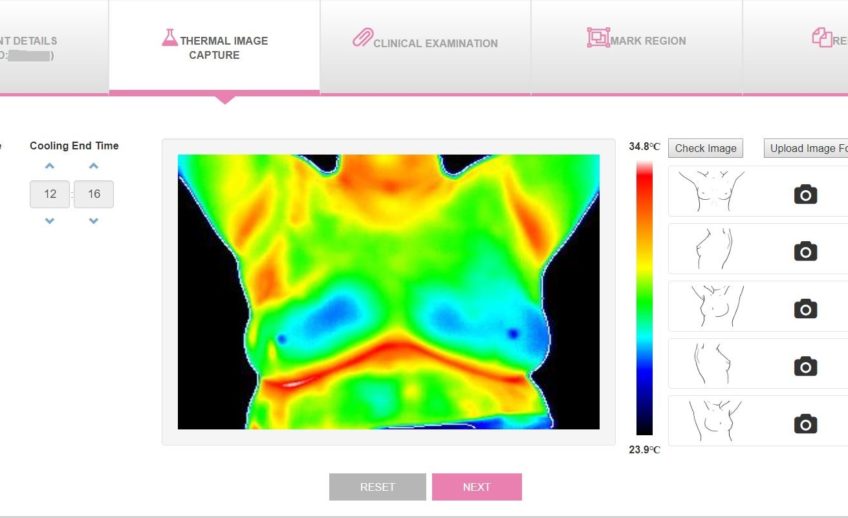 Use of Thermography for breast cancer screening has been tried by some doctors and there are some companies selling pure hardware solution to capture thermal images. However, manual interpretation of thermal images is error-prone and is very complex as the radiologist needs to look at 4 lakh color data points to decide if a subject is malignant or not. The Niramai solution generates a quantitative thermal analysis report with health scores that depict the level of abnormality, which can be reviewed by a doctor to quantitatively identify the abnormal condition.  The core technology used in the Niramai solution is based on machine learning and computer vision.
Q: What problem are you solving? What challenges did you face and how did you overcome those challenges?
Breast cancer is one of the largest cancer killers in women today.  We lose about half a million women every year to this disease. The survival rates is particularly low in India and other developing countries due to lack of awareness and access to health facilities. Early detection is key to reducing mortality, improving treatment efficacy and reducing treatment costs.  There are many gaps in current methods early detection of breast cancer, and the Niramai solution addresses them, enabling an affordable and accessible universal cancer screening solution for all.
One of the key challenges of artificial intelligence-based computer-aided diagnostic engines is the need to demonstrate high levels of accuracies. This is much more important when these tools are used for clinical decision-making especially for a critical disease such as cancer. Hence, we partnered with reputed hospitals such as HCG and Narayana Hrudayalaya to enable the doctors to conduct randomized blinded trials comparing our new solution with standard of care and published the results in top journals and medical conferences. Since we are attempting to bring a new solution to an important critical problem, clinical evaluation will be a continuous process. Every time we release a new feature or enhance the model, the model has to be validated on real patients. Even after multiple valid trial publications, many oncologists and radiologists request for an evaluation before offering the solution. We need to open to such tests and trial pilots.