As we settle into spring, I'm anticipating an exciting annual event — The Tech Challenge at The Tech Museum of Innovation in San Jose, California.  This is an amazing program that brings together thousands of students and gives them a chance to flex their engineering muscles.
In its 26th year, The Tech Challenge continues the mission to promote science, technology, engineering, and math (STEM) education with the "Asteroids Rock!" project. In this year's scenario, an unmanned spacecraft launched from Earth and landed on an asteroid. From there, it must transport 3 packages of delicate testing instruments to specified locations. The students must tackle this challenge with creativity and ingenuity.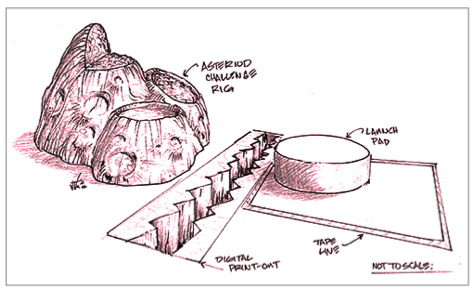 The Tech Challenge is designed to inspire the next generation of Silicon Valley innovators and provide students, in grades 5 through 12, with hands-on science and engineering projects. Their goal: solving real world problems. In addition to meeting California Content Standards, the challenge also teaches students many of the valuable skills needed to be a successful engineer or inventor. Whether it's problem solving, design, teamwork, leadership, risk-taking, perseverance or, most importantly, learning from failure, each of these skills can serve them now as students and well into the future.
As a mother and a business leader, I've seen how important project-based, experiential learning is to fundamental academic growth and collaboration. It's a wonderful feeling to look across the crowd and see the imagination, creativity, teamwork, and pure joy on the faces of the children at The Tech Challenge. Not to mention the impressive costumes!
I am grateful for the opportunity to be a part of this legendary program as Cisco continues in the role as presenting sponsor for The Tech Challenge program. It's been an incredible experience to see the growth of the program over the years. In fact, this year The Tech Challenge is adding a second day and a virtual format to accommodate remote locations.  That will allow us to have approximately 3000 students —  up from 1700 participants last year.
When I look at the students participating in The Tech Challenge, I see the future for Cisco and Silicon Valley. Our industry will always have a need for talent in science, technology, engineering, and math. Supporting community initiatives like The Tech Challenge is one way that we are working to ensure the success and growth of our engineering workforce.
Many of these children, especially girls, will have a hands-on opportunity to be inspired by science and technology that might not be available in a traditional school setting. In addition, we want to encourage participation of young girls so they can see the future with a STEM career. This year, the girls will represent 50 percent of the participants. We are thrilled to see their excitement and hope that this experience will lead to a future in the science and technology field. We can't wait to see what these students do in the future.
Please join us on Saturday, April 20 and Sunday, April 21 to see how The Tech Challenge is positively impacting the lives of thousands of children. And who knows? Maybe you'll find a little inspiration too.
Read more and see photos from The Tech Challenge.