Last week I was humbled by the opportunity to share my career and my love for the Privacy world with more than 3500 students as part of the Women Rock IT series.
Prepping for the presentation was a good moment to sit back and reflect about my professional journey so far and the connection between what I wanted to do when I was just out of college and what I am doing today. This is the slide I came up with.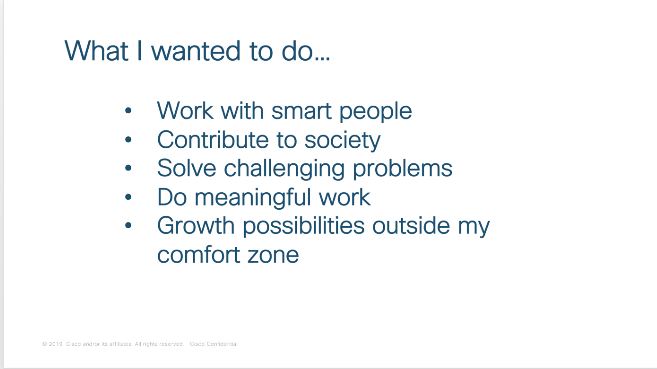 If I look at my goals and my current role, I can safely say that I have been moving in the right direction. At Cisco I have the privilege to work with incredible talent on cutting-edge innovation that it is helping improve people's lives and access to education.
Particularly, I get to do something that I am really passionate about: protecting data, especially the data related to people. Data that describes our customers, our employees and anyone who interacts with Cisco. In a nutshell, I work in Privacy.
We live in a world of overconnectivity – at work and in our personal time we are always on. And what is the we are creating with those connections? Data about ourselves, data that describes who we are. This data contains our most valuable asset. As stewards of this data, companies are expected to protect and manage it in a fair, transparent and responsible way.
At Cisco, we believe the digital economy can only flourish when we connect people, process, data and things in an ethical, relevant and secure way. Particularly, we strive to be best-in-class when it comes to fairness, transparency, and accountability.
One of the many examples of this is our Privacy Engineering work, which enables us to design, build and govern our solutions with privacy in mind. This work is reflected in our Privacy Data Sheet and our innovative Data Maps where we explain in details how we use and protect personal data across our portfolio of solutions.
This is how we create an environment where everyone can more easily do business and trust that their data is safeguarded.
Protecting Children's Data Privacy
Since I am parent to two young children, I get asked a lot what parents can do to protect their children's privacy. This also came up during our live session. You can download Cisco's guide to Keeping Your Family Safe Online, but here are my 3 quick tips for you on Children's online safety:
Talk to your child. You don't have to be a techy to manage your children's online privacy. It is largely about common sense. The internet is a great tool that improves our lives and access to education and information. But it has its traps. Explain to them that people they see, talk to or play with (online gaming anyone?) are not a friend and might not be the person that they seem or claim to be. Teach them early on to look at things with a critical eye.
Lead by example. If you do not want them to be exposed on social media, then you must first use social media mindfully. Do not post pictures of your children. Keep your own use of social media to a minimum, especially when children are in the room.
Create a safe environment. These days it is possible for your child to encounter content (photos, video, chats) that make him or her feel uncomfortable. Your child could also be targeted by or participate in cyberbullying. Explain to your child that it is important to speak up to you, a teacher, or a friend.
Privacy and Security do matter. At the end of the day, it is all about protecting people and keeping them safe. If you are reading this, I hope you will consider a career in privacy and security. If you do, here are some links to get you started.
---
Watch the full presentation below. My section starts at about the 25:45 minute mark, but the entire video is worth watching! After watching the video, tune in to find more EMEAR Women Rock IT events and stories.
See more panelists and check out all upcoming events