Today, Cisco's Patrick Finn, Senior Vice President, Public Sector, joined U.S. President Barack Obama and 9 other leading U.S. technology companies and education nonprofits to launch US2020 at the White House Science Fair.
US2020 is an all-hands-on-deck initiative that aims to connect more science, technology, engineering, and math (STEM) professionals to students from kindergarten through college.
As part of the US2020 initiative, Cisco will utilize the expertise of its workforce and culture of giving back, with the goal of having 20 percent or more of employees volunteering at least 20 hours a year as STEM mentors by the year 2020.
The long-term and collaborative goal of US2020 is to mobilize 1 million STEM mentors annually in the United States by 2020, creating millions of moments of discovery — those eureka moments when children launching rockets, building robots, or looking through microscopes open their eyes wide and open the door to a brighter future — through real-world, hands-on projects and academic coaching. These moments of discovery are the key to creating passion for learning and taking on challenges.
A number of studies and reports find that children are discouraged from pursuing STEM careers because they do not know anyone who works in these fields and they do not understand what people in these fields do. When it comes to pursing a STEM career, passion is a better predictor than proficiency. To build passion, multiple experimental learning opportunities with smart, committed, well-supported STEM professionals are critical.

Through a Citizen Schools program, more than 125 Cisco employees have taught 65 after-school apprenticeships, more than half of which focused on STEM topics such as robotics, web design, and networking 101.
In addition to Cisco, AfterCollege, Cognizant, HotChalk, and SanDisk are the corporate partners and members of US2020 investing more than $2 million collectively in private start-up funds to launch the organization and support high-quality STEM mentoring. Nonprofit founding partners Citizen Schools, CodeNow, and TEALS have pledged to work with US2020 over the next few years to recruit hundreds of additional education nonprofits and school districts that will commit to high standards in STEM mentoring; common and transparent metrics; and efforts to scale high-quality placement for STEM mentors in school day and extended day, extended week, and extended year settings. US2020 will be incubated within Citizen Schools and will become a stand-alone nonprofit entity by the end of fiscal year 2014 (June 2014).
The demand for professionals in STEM fields is projected to dramatically outpace the supply of STEM graduates over the coming decades. By 2015, it is expected that 90 percent of jobs across all sectors will require tech skills and almost all jobs will be ICT-enabled. The US2020 initiative emerged from a White House call to generate big, innovative solutions to our STEM education challenge, with a focus on increasing access to STEM careers for girls, underrepresented minorities in the sciences, and low-income children.
One way Cisco works to fill the global demand for networking professionals is through the Cisco Networking Academy program. Networking Academy delivers classroom instruction, online teaching materials, interactive tools, and hands-on learning to students from every socioeconomic background, so they can develop the knowledge and skills required to succeed in a technology-driven market.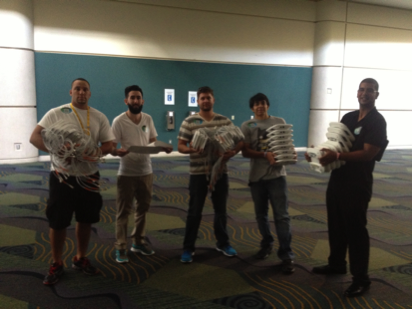 As part of the effort to encourage girls to consider information and communications technology (ICT) as a career option and to build a gender-balanced workforce, Cisco is participating in International Girls in ICT Day on April 25. Cisco is conducting events at sites around the world that will feature activities meant to encourage young women to consider careers in technology.
As a partner in the US2020 initiative, Cisco will continue the change the world by connecting employees to students and giving time, knowledge, and solutions to create positive experiences. Visit us2020.org to learn more.