This holiday season, Cisco has a lot to be grateful for: 35 years of business growth and, today, the launch of our 15th corporate social responsibility (CSR) report. This was my first time shepherding the process of producing a CSR report for a company the size of Cisco, and it was a doozy: we connected with over 90 individuals across the business to collect all the data related to the company's social, environmental, and governance performance. Content development took 5 months and at 200+ pages, this report could break your toe if you dropped the hard copy. Luckily it's digital-only. And it's our single source of truth for all things environmental, social and governance. Please check it out here.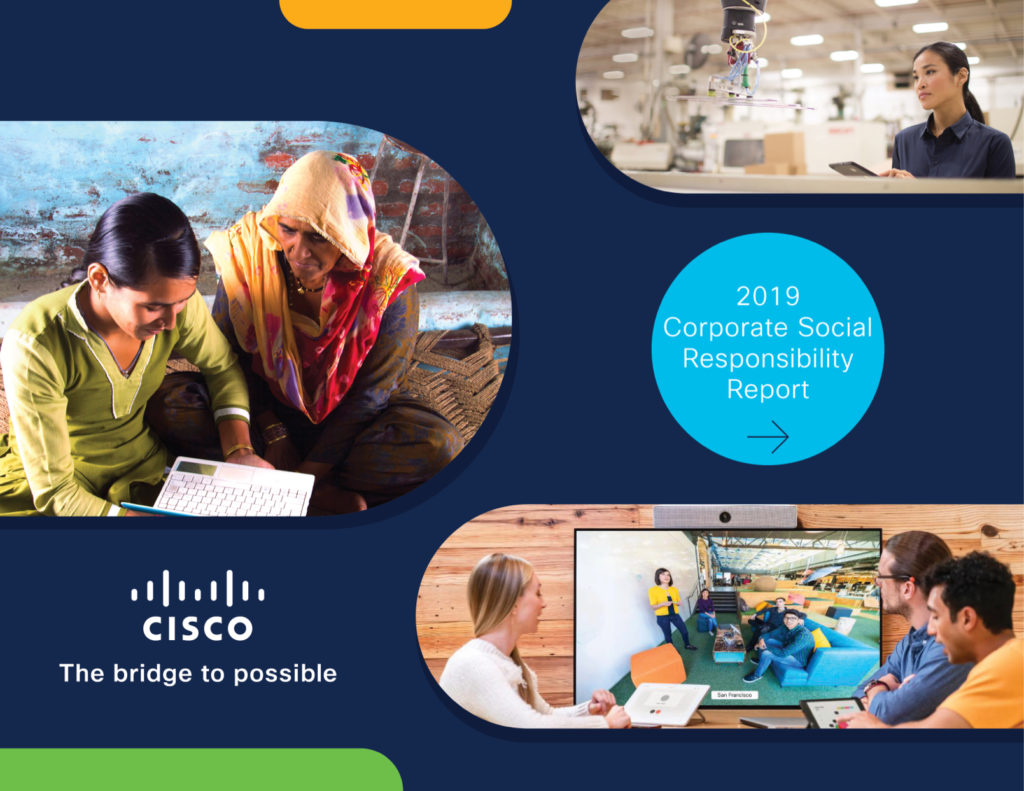 While I've been knee-deep in the process, of course the most exciting parts are what we accomplished last year, and we have some impressive highlights to share:
#1 Best Place to Work according to Great Place to Work Institute It is a pretty great place to work, I can tell you that after interacting with dozens of individuals across the business to collect data.
We've positively impacted 469 million people since 2016, 47% of our goal to positively impact 1 billion by 2025. Cisco's senior vice president of Corporate Affairs Tae Yoo explains the why and the how behind our impact and how we track it in a Q&A in the report:
Cisco takes a holistic approach where CSR and social impact are integrated across the business. We use the power of our technology and the expertise of our employees to accelerate global problem solving and advance social and environmental benefits…We track the cumulative impact we've had: Across our programs, the number of people positively impacted for FY16, FY17, and FY18 are 118 million, 100 million, and 123 million, respectively. Today, we are excited to report that we impacted 128 million people in FY19.
This positive impact comes in a variety of forms: funding and technology to help meet people's basic needs for food and housing, training in the digital skills to support the jobs of the future and tools to become global problem solvers themselves.
Cisco employees volunteered for a collective 447,935 hours and generated $25.5M dollars for charities through donations and matching gifts. Cisco's Time2Give program allows Cisco employees to volunteer without dipping into their paid time off. The company made a total of $408.8M in cash, product and in-kind donations in FY19.
Cisco Networking Academy, a true skills-to-jobs program, trained a record 2.15 million students in FY19, all around the world. That makes for a total of 10.9 million students trained since the program started in 1997. This best-in-class curriculum prepares students and professionals for the most in-demand IT jobs in areas such as networking, cybersecurity, and IoT. Networking Academy is available in 180 countries and 28 percent of students are women. Female participation is highest in Middle Eastern countries: Oman (65 percent), United Arab Emirates (51 percent), Palestine (48 percent) and Jordan (48 percent). In recent survey, 93 percent of Cisco Networking Academy participants stated that the program helped them obtain a job or education opportunity.
On the environmental side, Cisco continues to make strong progress against our renewable energy and climate change commitments. We achieved our goal to avoid one million metric tonnes of supply chain greenhouse gas emissions from FY12 to FY20 – one year early. And 83 percent of the energy we consumed came from renewable sources; this is 95 percent of the way toward our FY22 goal to reach 85 percent renewable energy. We also saw a 48 percent reduction in Scope 1 and 2 greenhouse gas emissions, which is 80 percent of our FY22 goal.
Pretty impressive, right? Do us a favor and help us spread the word: