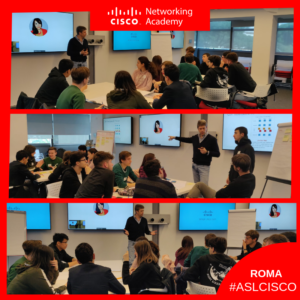 Having been in tech for decades, with quite a few interesting and successful projects completed throughout my career, nothing has given me more satisfaction than the creation of a Natural Language Processing (NLP) Chatbot during a mentorship opportunity with high school students from local Italian schools.
But how did we get there?
It all began with Design Thinking. I'm sure that, by now, you've heard of this quite a few times in business innovation workshops, technical product planning sessions, and even at our annual global sales conference – Cisco IMPACT.
Design Thinking is such a powerful methodology that drives innovation on the base of real human needs; I knew we'd see this more and more within – and outside of – Cisco. So, a couple of years ago I decided to start the certification process.
What I did not know at that time was just how much Design Thinking is applicable to our day to day lives – both professional and personal. A great example of this is an initiative Cisco employees participate in throughout schools in Italy where high school students are able to experience 60 "working" hours in the real world, in careers they may be interested in pursuing.
At Cisco Italy, these students have the opportunity to experience their student-work in our offices, targeting specific projects where they learn a lot and are exposed to a real work environment.
This year, I volunteered to lead a Design Thinking session to help students become familiar with a new "soft skill" technique in identifying problems and needs. On the following day, we would sketch out one or more solutions that satisfied those needs.
I was immediately amazed by the brilliance of these "kids" – how they embraced the task at hand and moved faster and were more agile as the process went on.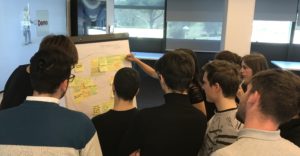 They began by noting traditional troubles associated with school deficiencies – low budgets, poor infrastructures, etc. However, the main pain point they identified was in the IT preparation of some teachers and professors. Their solution is truly where my pride in the experience began to grow.
They decided they would pull everyone into an organized school hackathon. Teachers and students would be on mixed teams. They finalized prizes and thought perhaps start-ups could be the result of the hackathon.
The idea was so cool that we spent the rest of their 60 hours developing a high-fidelity concept of a hackathon organization (to possibly be held as next year's project) that included:
Necessary Legal authorizations
A registration website
A promo video
Food for the participants – AND –
The Natural Language Processing (NLP) based Chatbot
Amazingly, one day during our time together, I explained to them the concept of the Chatbot and NLP basics (intent, domain, etc.) and was planning to build it with them during the following session.
Guess what? When we started the following session as I was showing the first slide, they interrupted me – "Hey, Angelo, actually…we did it, let us show you!"
In no time at all I was talking with a teen aged Bot that was very well trained in answering questions about the school hackathon!
It was a great application of everything I believe that Design Thinking, Collaboration, and IT should be. It showed cooperation, knowledge sharing, innovation – and gave me a fantastic hope for our future.
And in all my years in tech, I have never been quite so proud.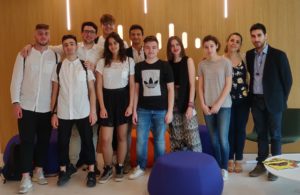 This experience has been so rewarding from a personal perspective, here are a few tips I learned along the way:
Cisco offers many opportunities to give back and "do good" – if you feel compelled to volunteer or mentor, do it! Not only will you see a benefit to your professional life, but your personal life as well!
Familiarize yourself with Design Thinking – it is very helpful in all aspects of your life.
Cisco supports many social initiatives, and many encourage and empower our younger generations to explore careers in technology – endorse those moments! The children will get a huge benefit in learning from you, but you will also learn a lot and plant the seeds for a better future.
Want to join our amazing teams? We're hiring. Apply now.