The internet. Who knew what an impact it would have on our world? Two decades ago, the phrase "being connected" in the way we think of it today barely existed. Now, not only are our computers connected to the internet, but new inhabitants including phones, clothes, cars, homes – the list goes on – are connected. And more is coming, faster. In fact, in 2022, more internet traffic will be created than in the entire 30+ years since the internet started. [Source – Cisco VNI report]
At Cisco, when we think about those numbers, we think about what they mean to our customers and how we can help them navigate the internet of the future. The higher speeds required of the new internet won't be achievable if the optics connecting the routers and switches can't keep pace with the silicon that drives them. Therefore, as internet traffic and speeds continue to increase, optics has a critical role in driving architectural transitions.
Today, there are two distinct worlds where optics plays a role:
Inside the data center, where fiber is plentiful and distances are short (<10km). Every router or switch port has its own dedicated fiber. If a new switch or router is added, additional fiber is added to terminate the new ports. We use pluggable "direct detect" technology for this.
Outside the data center, where fiber is scarce and distances are long (>80km). Challenges in transmitting high bit-rate signals over long distances require Dense Wavelength Division Multiplexing (DWDM) coherent transmission technology.
There are trends, both inside and outside the data center, that are taking place.
Trends Inside the Data Center
The growth in within data center traffic accelerates the need for next-generation networking equipment to support higher port densities and faster bit rates. This in turn drives the requirements for large scale deployment of high-speed optics to connect the various layers of the networking equipment. As router/switch port speeds have increased, the cost/bit has steadily decreased from advances in silicon (ASICs). However, while the cost/bit for pluggable optics has also decreased, it has not come down quite as fast as the router/switch port cost.
The result is that as the bit rate increases, pluggable optics represent a larger fraction of the total hardware cost. For example, at 10G, optics represented about 10% of the total hardware cost of a data center network. As we progress to 400G and beyond, that equation flips, and optics will represent more than half of the total hardware cost. In order to break this imbalance between optics cost curves and silicon cost curves, Cisco is investing in technologies like silicon photonics, via the Luxtera and Lightwire acquisitions.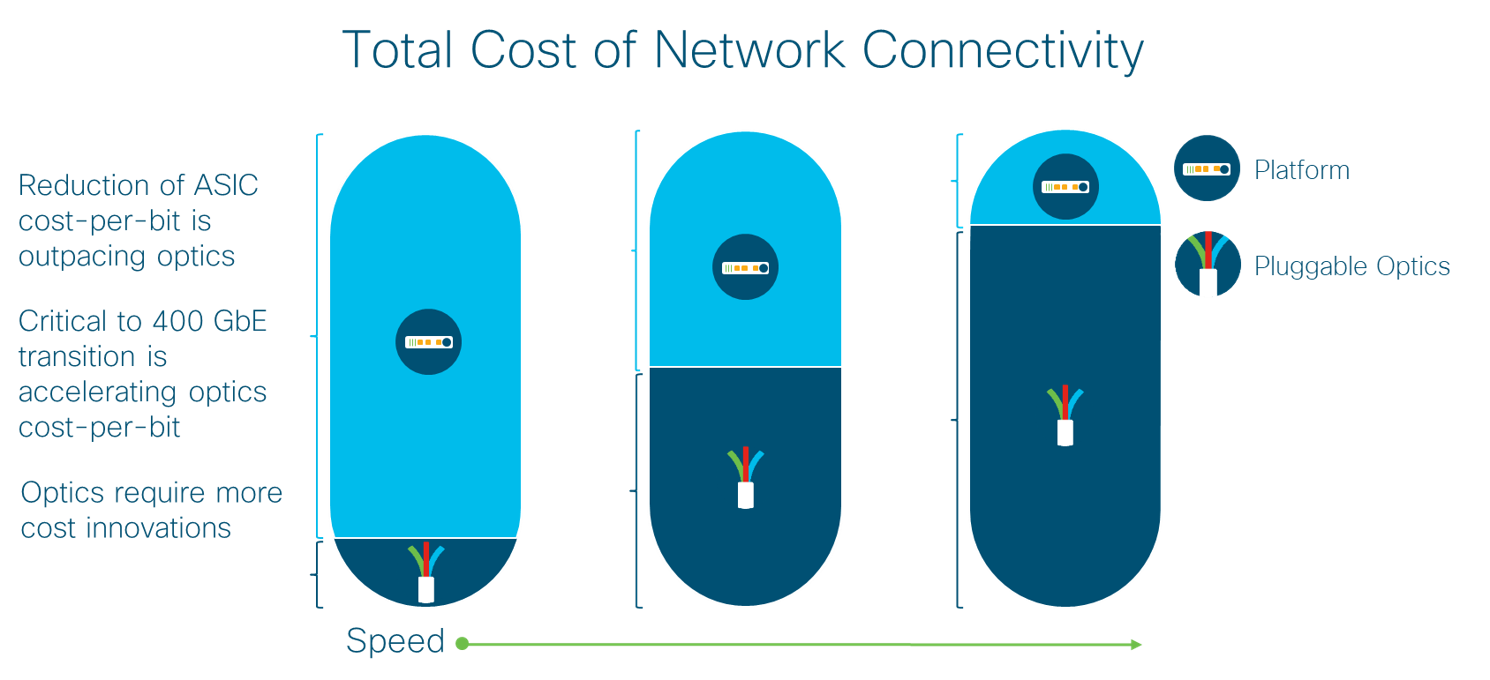 Trends Outside the Data Center – in the DCI, Metro, Long Haul and Subsea Distances
The primary challenges for cloud and service providers in Data Center Interconnect (DCI), Metro, Long Haul and Subsea networks are to:
Increase the capacity on the "existing" fiber infrastructure
Drive down the cost per bit
Automate to lower opex and eliminate human error
The key trend that we see in this segment is a migration from chassis-based solutions to pluggables.

Functions that were traditionally delivered in separate chassis-based transponder solutions will now be available in a pluggable form factor. This has potentially significant benefits for network operators in terms of operational simplicity. The key tipping point for this transition is that the pluggable coherent optics impose no density penalty for the router/switches. Over time, with continued improvements in silicon and optics, we have no reason to believe this won't extend to cover a wider range of applications.
Our customers increasingly want to consume technology in different ways – some want to consume fully integrated systems (for coherent applications in metro/long haul as an example). As this technology becomes available in pluggable form with things like 400G ZR/ZR+, customers will consider architectural shifts relying on pluggables. These transitions are on the horizon, and Cisco is investing to make sure we have the right technologies to support our diverse customer needs – both for those who continue to deploy chassis-based solutions, as well as those who migrate to pluggables to collapse layers and reduce operations complexity.
And, finally, we want to increase our relevance for customers purchasing pluggables today for short reach applications – even for non-Cisco hosts.  We are confident that we bring unique value to our customers who want to procure optics and can provide them with confidence that Cisco optics will work in any third-party host.
With the ownership of silicon and optics, Cisco is poised like no other in the industry to offer our customers solutions in the form they want to consume – whether that means discrete components or fully integrated solutions – for the new internet.
---