Thanks to extensive detection telemetry and analytics, we have a clear view into the attackers and malicious actors that are infiltrating Internet infrastructure and using trusted applications as a foothold for gaining access to networks. As explained in the Cisco 2014 Annual Security Report, online criminals continue to develop more sophisticated methods for breaching security protections—all of which require extra vigilance and a holistic view of threats and how they're managed.
Perhaps the trend of most concern is malicious actors' ability to gain access to web hosting servers, nameservers, and data centers, and using their processing power and bandwidth to launch far larger exploits and attacks. This is sobering, because it means that now the very foundations of the Internet are at risk of exploitation. The 2013 DarkLeech attack demonstrates how the compromise of hosting servers can help attackers gather the resources they need for a much larger campaign: In this case, servers were compromised worldwide, allowing the perpetrators to take over 20,000 legitimate websites.
The broad reach of this malicious behavior and resulting compromises can be seen in the results of Cisco's examination of Domain Name Service (DNS) lookups originating from inside corporate networks, as detailed in the Cisco 2014 Annual Security Report.
Cisco threat intelligence experts found that 100 percent of the business networks analyzed had traffic going to websites that host malware, while 92 percent show traffic to webpages without content, which typically host malicious activity. Ninety-six percent of the networks reviewed showed traffic to hijacked servers. The pervasiveness of malicious traffic indicates that organizations need to monitor network traffic closely (and continuously) for possible indicators of compromise.
Some of the most tenacious players in the network compromise game are launching targeted attacks, which are proving very difficult for organizations to oust from their networks. These attacks are persistent and disruptive, threatening the security of intellectual property, customer data, and other sensitive information. As a guide to understanding targeted attacks, the Cisco 2014 Annual Security Report offers insights on the "attack chain"—that is, the events that lead to and through the stages of such attacks, as seen in the graphic below: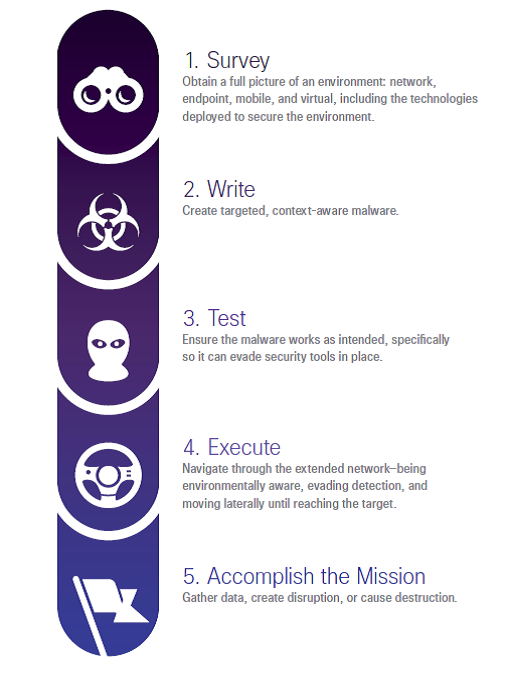 The bottom line is that IT security professionals need to think like attackers and understand the methods and approaches they use to execute their missions.
The Cisco 2014 Annual Security Report has many more findings on security threats, gleaned from Cisco research and observations—including updates on mitigating Java exploits, threats observed in mobile device use, and the status of threats and vulnerabilities reported by Cisco. You'll find it a valuable resource as you prepare to understand security challenges in the year ahead.