When your customers have an issue, how much time does their team spend coordinating with different support teams across multiple products and vendors?
How are your customers preparing for the extensive ongoing technical and change management requirements of collaboration as they move to the cloud?
How will you ensure that their collaboration investment continually advances their transformation goals as business and technology evolve?
And how will it impact your business if their collaboration tools or yours are offline for an extended period?
Because it is rare for organizations to have deep technical, product, and change management skills across the lifecycle of their solution, and the ability to diagnose issues across multi-product/multivendor ecosystems, they hopefully look to you first based on the deep relationships you have built with them.  But, as your customers move to the cloud, collaboration features and user experiences will change all the time. It's quite common for end users to confuse usability issues with technical problems, but the result is the same: they can't use the collaboration tools they need, and they're likely to get frustrated.
In these situations, how do you handle manufacturer and third-party support?
It's the Power of We:  We (Cisco) do what we do best: technical support.  Solution Support for Collaboration is a brand-new, completely different support experience built from the ground up exclusively for our collaboration customers, down to the end user.  Customers and end users get their questions routed to a dedicated team of engineers who are experts in our entire collaboration portfolio are, including how Cisco products interact with Solution Support Alliance Partner components. There is no need for a customer's IT team to triage an issue, and users can call us for both technical and non-technical questions. Consider how much time that can save for a customer's IT Help Desk. We can even provide after-hours support if needed, which is definitely a new and unique feature.
Solution Support for Collaboration is not just about post-sales support, it also incorporates a proactive engagement experience.  Customers can take advantage of technology enablement consultations to maximize their value from a Cisco Collaboration FLEX Plan agreement.  Other proactive features include a personalized service kick-off to identify initial business outcomes and challenges, guidance for adopting additional features, and regular business and technical review sessions.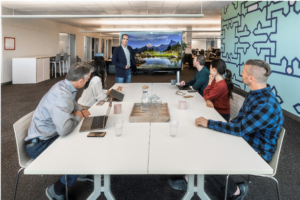 While Solution Support for Collaboration establishes a solid foundation for customers, it also enables you to position your value-add professional services, such as adoption services- driving a lifecycle-first approach.  With the power of "We," you and Cisco can deliver a complete solution for the customer, providing a dynamic customer experience overall.
Taking the concept of "We" to an even higher level, Cisco is incubating the opportunity of having certified Lifecycle Advisor partners own the delivery of the proactive aspects of Solution Support for Collaboration.  We have asked partners to invest in building out their lifecycle and adoption capabilities, and this is another way Cisco can help with driving a return on those investments.  This joint delivery model allows the customer to get the optimal service from the collective "We" by ensuring a consistent support experience, in addition to strengthening the proactive experience by enabling these partners to differentiate themselves and grow their services business.
Our first partner in pilot, Presidio, launched in January.
"We are extremely excited by the opportunity to tightly partner with Cisco to engage our mutual customers with a joint delivery model for the Solution Support for Collaboration offer.  The program allows us to leverage our investments in the Presidio ILLUMINATE portfolio of Customer Success and Adoption Services to deliver the proactive aspects of the offer while customers also receive a Cisco delivered best-in-class support experience."

"This model also provides a platform for Presidio to position our additional services to further maximize the value customers receive from their Cisco Collaboration solutions."

Steven Kornfeld, Vice President – Customer Experience Services, Presidio
We are definitely more powerful together.
To Learn more:
Partner Briefcase on Sales Connect
Cisco Support Services for Collaboration Service Definition
For questions, reach out to your Cisco partner account team or distributor.