As a Principal Architect at Cisco focusing on partner GTM (go-to-market) strategy, I work every day to realize the value proposition of Cisco's portfolio for our partners, both in terms of helping with customer outcomes and partner profitability.
In my time with Cisco, I've learned that to be successful you have to engage early and engage often.  Finding ways to relate to customers and partners is crucial to being effective. To do this well, you must approach each engagement with a commitment to authenticity, whether working with partners and customers or giving back to the community.  In a recent blog, my coworker, Matt Eubanks, shared how his family worked with an orphanage in Africa.  His insight really inspired me to build on some business travel and get involved at the community level.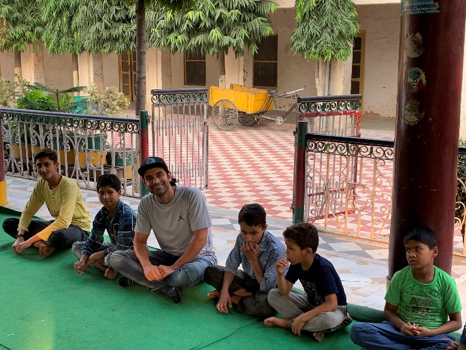 On a recent business trip to India, I was able to visit my hometown in India where I faced some interesting challenges and put to work some of the skills I have learned in my role at Cisco. The lessons life taught me growing up in India are also serving me well in my role with Cisco partners. When I was in high school, I found out about a local orphanage where you could sponsor a meal and spend some time with the kids.  While providing a meal is crucial for these children physically, spending time with them can be just as important. Forming connections also seems to ignite something bigger – for the children and for the volunteers.  Over the years I have gone back to the orphanage to help whenever I had the opportunity, and I've introduced my friends and family to the Shradhanand Orphanage.
Recently, I had an opportunity to visit India on a business trip and planned to extend my time to use my "Time to Give" benefit that Cisco provides its employees. The goal was to spend some quality time at the orphanage and help out with whatever they needed. Before I left the U.S., one of my colleagues, who has done a lot of philanthropic activity through the years, suggested that I do something special for the kids, like provide backpacks for everyone.
I was able to get slots during three days to sponsor meals at the orphanage and I was planning backpack giveaway on the fourth  day, things were going really well until I actually reached the facility. It felt like I was on an emotional rollercoaster as I began engaging with the kids and caretakers. Instead of bringing my own perceptions about what I thought the kids needed, I listened and observed. On the first day, I realized that the orphanage follows a strict nutrition plan and the food can be a bit bland, especially for India. One of the kids even asked me for a spicy curry. I worked with the organization manager and the cook to expand the menu a bit more. I also found out that instead of backpacks the kids actually needed new shoes.  Fulfilling this need was a little more involved and required documenting shoe sizes for 96 kids and then finding a shop that could deliver all the identical shoes with right sizes in time before I had to leave.  I collaborated with the older kids to organize everything and identified a partner in the community who believed in the vision and help execute flawlessly, again just like our amazing Cisco partners.
Being able to take part and provide an experience for the children at the orphanage was an absolute privilege.  It's also a reminder about how important it is to listen to what others need and want and be mindful to not simply provide what WE think they should need or want.  This is just as true in business. In my role at Cisco, my focus as a business architect is to drive strategic go-to-market actions with our partners.  These companies bring their own unique skillset and when we partner effectively we can create a value proposition that is great for customers and is built around what they need.
The experience reminded of the real value of connecting. I returned home to the Bay Area reenergized, humbled and mindful to approach every great opportunity with a spirit of collaboration, an attitude of authenticity and an intention to help others be successful.