I just got to spend a week at Cisco Live Barcelona, where I spent time with our European customers to learn about their most pressing networking needs. What did I hear? Over and over, one of the recurring themes was that teams are feeling overwhelmed by the unprecedented changes their networks need to undergo to keep up.
We recognized this need for better informed choices – so last October we published the 2020 Networking Trends report, based on a global survey of over 2000 IT leaders and network strategists, 500 of them from the UK, Germany and France. Our goal was to better understand what the state of your networks are today, and where you are targeting to be in 2 years.
We heard a lot about automation.  Right now, 76% of European network strategists claim they spend more than half of their time just maintaining the status quo of the network, compared to 73% of network strategists globally. We found that European network strategists really understand the value of network automation with 43% having already deployed controller-based policy automation (vs. 41% globally). Not surprisingly, you are expecting this to pay off within two years, with only 48% spending more than half their time on maintenance versus more value-oriented business enabling networking activities.
To be truly effective, automation needs to be augmented by advanced visibility and assurance. That's where artificial intelligence(AI) and machine learning (ML) come in.  43% of network strategists in Europe recognize AI as a priority for achieving a more advanced network, and 63% of you project using AI-enabled predictive insights or prescriptive mediation in the next two years.  45% predict that they will have AI-enabled SD-WAN in the next two years, up from 19% today.  AI/ML will help automate the entire network lifecycle so that NetOps teams have more time to be strategic—not reactive.
Because of the reactive nature of networking today, only 19% of global IT leaders (and only 6% in Germany) describe their organization's overall strategic view of the network as a critical business-enhancing platform. This means there is a huge unmet opportunity to change this perception, as the network becomes increasingly agile and continuously business-aligned.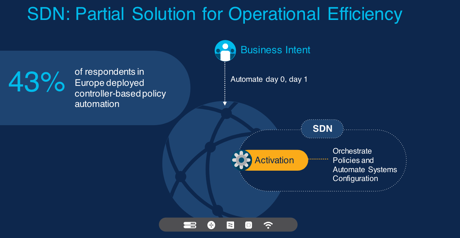 Your architecture strategy is a fundamental decision.  Currently, only 3% of European IT professionals say that they have fully adopted intent-based networking today.  In two years, that number is expected to increase to 33%. A whopping 98% of German IT professionals predict that within 2 years they will reach software-defined networking (SDN) as a minimum; and 34% will have advanced to intent-based.
Maintaining security, while forging ahead with digital initiatives that employ cloud, mobility and IoT is challenging. In fact, 43% of network teams identified security as a priority – second only to AI. Scalable segmentation and micro-segmentation are fundamental to achieving a zero trust environment. So, it's not surprising that 92% of European network strategists express the ambition to deploy some form of policy-based automation with SD-Access within the next 2 years.
So what do network professionals think will have the biggest network impact over the next 5 years?  Wireless, including 5G and WiFi 6.  Mobility, enabled by ever-faster and more ubiquitous wireless continues to be a major enabler for business innovation. Cisco believes that 5G and Wi-Fi 6 will interact and complement each other, blurring the boundaries between indoor, outdoor, private and public wireless to deliver always-on, fast and secure wireless to organizations large and small.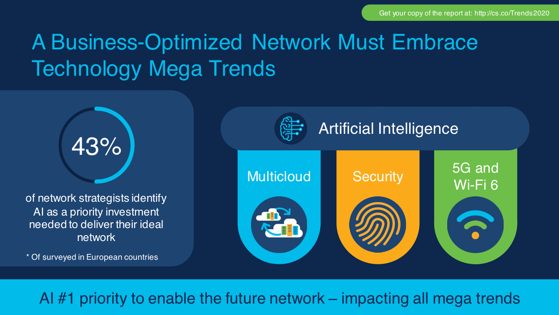 With the increase in AI and automation, there's a huge need for skills that just aren't always present in current teams.  27% of European IT leaders identified the skills gap as a main obstacle in transitioning their network. In the UK, it's an even bigger obstacle: 48% report that the skills gap is a major obstacle.
Obstacles are also operational.  Breaking down IT siloes is a particular priority and challenge: 34% of IT leaders identified better network coordination and integration with other IT teams as an important area for improvement. At the same time 26% revealed the importance of improving their ability to engage with lines of business. Making sure that IT is integrated into the rest of the business will make innovating easier – and more impactful.
This is just a taste of the trends in networking.  Download our Global Networking Trends Report here, and take a look at our webinar, 2020 EMEA Networking Trends to learn more about how the network is changing in Europe and beyond.