CIOs know that ubiquitous connectivity across domains—campus, branch, cloud, and edge, wired or wireless—is a baseline requirement for building a digital enterprise. But, as CISOs know, as the network fabric spreads to encompass devices and location-agnostic data and compute resources, the need for end-to-end integrated security is equally paramount. Add in the necessity to continuously monitor and maintain application performance throughout campus and branch and edge locations and you create an enormous workload for NetOps and SecOps teams that are simultaneously dealing with static CapEx and OpEx budgets. Often the result is a tug-of-war between the teams: one striving to keep the network optimized for performance and availability, the other striving to keeping data, applications, and devices secure.
Conflict or Collaboration?
The problem of balancing the goals of NetOps with SecOps has a lot to do with how the network and all the connected devices and domains are being managed. Traditionally in NetOps, there have been separate consoles and Unified Computing Servers (UCS) to configure, monitor and analyze network domains – several for the data center, multiple for the campus wireless network, and still more for cloud, branch, and edge deployments.
Similarly, in order for SecOps to capture, log, and analyze traffic in all the various domains, special taps are installed where traffic is entering and leaving the domains. SecOps has an additional burden of storing all the traffic logs in case of a breach or successful malware attack in order to pinpoint the cause and prove appropriate steps are taken to remediate breaches and prevent future attacks.
That's a lot of boxes to buy, install, and securely manage—a number that grows with each expansion of the enterprise network. Ironically, the extra compute devices needed by SecOps ultimately have to be managed by NetOps to ensure they do not affect overall network performance. Thus, more conflict.
Can NetOps and SecOps get to the point of collaboration instead of conflict? In fact, new cross-enterprise business initiatives make collaboration a necessity.
Digital Transformation Projects Benefit from Unified Operations and Security
As organizations seek new ways to connect with customers, suppliers, and service partners by making business processes personal and frictionless, they initiate application development efforts that span across operations. A unifying foundation for these development efforts are the NetOps and SecOps teams.
Deploying new multi-cloud applications or moving processes to the edge—retail outlets, branch offices, medical clinics—requires assurance that the network is responsive, always available, and secure. NetOps needs to work with Development teams to understand network SLAs and cloud usage requirements for the new apps. SecOps needs to ensure that the proper network permissions, segmentations, and polices are applied to the network at application launch time. NetSecOps collaboration is key to timely deployment of next-generation applications with security and the required levels of performance.
Collaboration is important too in the battle of the budgets. With IT budgets generally flat over the last few years, making sure NetOps and SecOps teams use both CapEx and OpEx funds judiciously is critical for maximum efficiency. There is an opportunity to combine NetOps and SecOps teams to generate the most value from the available budget, equipment, and knowledge of how an enterprise's unique network responds to changes in applications and threats.
From these examples, you can see that unifying NetOps and SecOps has solid benefits for enterprise digital transformation efforts. Is there a technology platform that makes unification not only possible, but also makes the transition a natural evolution rather than a forced organizational change? By combining a software-defined network fabric with single-console cloud management, SD-WAN can play a significant role in the unification of NetSecOps.
SD-WAN Unified Network Cloud Management for NetSecOps
A primary benefit of Cisco SD-WAN powered by Viptela for NetSecOps is the ability to provide a single, role-based interface in Cisco vManage to control network performance, segmentation, and security. Through the lens of vManage, NetSecOps can:
Install and configure branch SD-WAN routers remotely with Zero Touch Provisioning (ZTP)
Automatically route traffic through the most efficient and cost-effective path (MPLS, broadband, direct internet, LTE/5G) using dynamic path selection.
Manage performance, security, and access policies for cloud onramps to SaaS, IaaS, and colocations.
Remotely configure and manage at the branch level the application-aware firewalls, URL-filtering, intrusion detection/prevention, DNS-layer security, and Advanced Malware Protection (AMP) to secure branch traffic that is using direct internet connections to SaaS applications.
Drawing on policies set up in Cisco SD-Access and Identity Services Engine (ISE), NetSecOps can collaborate to configure segmentation rules that are uniformly applied across distributed locations to keep traffic separated—such as employee wireless access from payment system traffic—improving performance and security.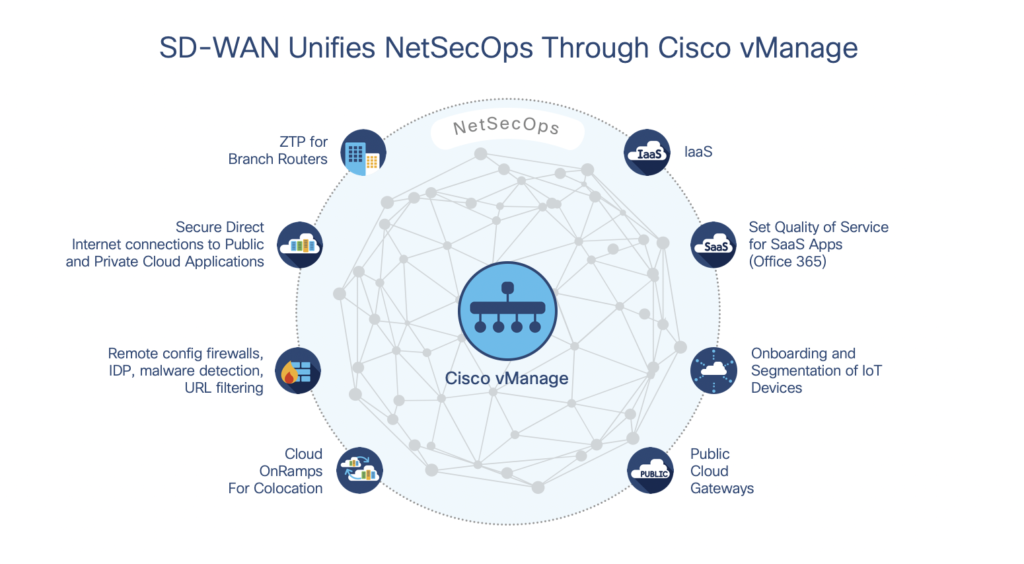 These are some of the benefits SD-WAN provides to a unified NetSecOps team. One console—vManage—to configure, monitor, and protect a distributed organization's branches, remote workforce, and applications. Let's double-click on two common yet difficult to manage situations—securing east-west branch traffic and accessing direct internet access SaaS/IaaS-hosted applications—to see how SD-WAN helps a unified NetSecOps team operate.
Managing and Protecting East-West Traffic Flow and Security in Branches
With the plethora of integrated security layers that comes with Cisco SD-WAN, traffic entering and leaving a branch is thoroughly inspected for application infiltration, intrusion by malware, and accessing known bad URLs. But there is still the tricky problem of when malware is introduced by a device or someone inside the branch network.
In the days of spoke and hub WANs, traffic from each device within a branch would be backhauled to the enterprise data center for inspection and verification, and then back to the branch. This has always been a troublesome scenario for NetOps as the traffic load for just backhauling and inspecting interfered with traffic that legitimately had to go the data center for additional processing. The alternative, of course, was to lock down all the endpoints in branches, limiting their flexibility and any options to BYOD for employees.
Securing Access to SaaS Applications via Direct Internet Connections
The workforce is quickly becoming more dependent on applications hosted in SaaS cloud platforms, such as Office 365, which require routing through direct internet access. With SD-WAN, NetSecOps can focus on not just fine-tuning application performance but also the defenses that secure the valuable corporate data being transmitted over the internet connections to and from branch sites. By using Cisco SD-WAN Cloud OnRamps to SaaS and IaaS clouds, the network selects the path that is the most effective to handle Azure, AWS, or Google Cloud workloads while the built-in layers of security provide protection with DNS URL filtering, advanced malware protection, and application-aware firewalls. Both application performance and security are managed by NetSecOps via the SD-WAN vManage cloud controller portal.
Fostering Collaboration Among NetOps and SecOps is Key to Network Agility
With Cisco SD-WAN's ability to manage operations and security via the same cloud portal, it really is achievable to create a NetSecOps team that promotes collaboration, reduces CapEx and OpEx, and maximizes device and application QoE and security. Unifying these two critical functions helps create an agile network that makes digital transformation projects possible while keeping on top of advanced security threats. I'd like to hear your thoughts on the ways SD-WAN can provide better synergy between operations and security.
For more on SD-WAN benefits, you can peruse these topics.
How the Cisco SD-WAN architecture works
SD-WAN at an Inflection Point: As Deployments Scale, Enterprises Look Beyond Connectivity