Rohit Mehra is the Vice President of Network Infrastructure at IDC
SD-WAN is on a strong trajectory. IDC survey data have captured these trends: In late 2018, 40% of enterprises had already tried or deployed SD-WAN, up from just 10% a year earlier. Of the 1,200 global enterprise WAN decision-makers surveyed, 95% expected to deploy SD-WAN within the next two years, partially or fully. The data shows that SD-WAN adoption has reached a tipping point, and organizations that have deployed SD-WAN have realized significant benefits.
IDC recently conducted in-depth interviews with eight Cisco SD-WAN customers and found they had realized compelling benefits from adopting SD-WAN (see graphic). Reduced application latency, lower cost of operations, and more efficient WAN management have helped bring SD-WAN to the fore as a key enterprise network technology. IDC market research data found the SD-WAN infrastructure market (hardware and software) reached nearly $1.4 billion in 2018, growing 65% above its 2017 level.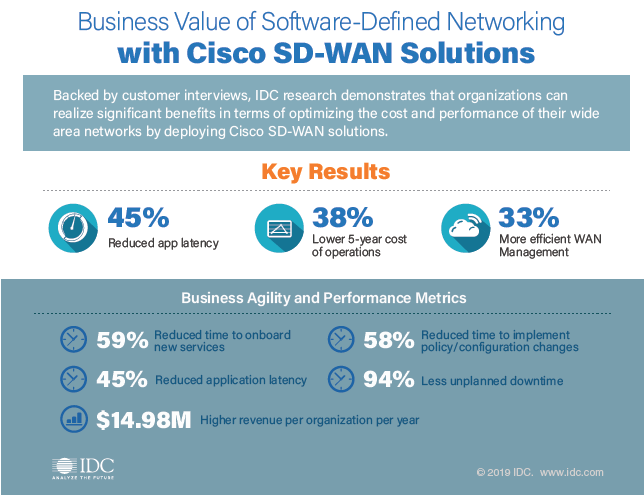 Within the SD-WAN infrastructure market, IDC data shows that Cisco holds the largest market share. At the end of 2018, the company's SD-WAN infrastructure revenues grew by more than half to $638 million, giving Cisco a 46.4% market share, inclusive of the routing portfolio that is used within SD-WAN deployments, plus its Viptela and Meraki SD-WAN offerings.
However, the SD-WAN market is still in its early days. IDC forecasts the SD-WAN infrastructure market will grow at a compound annual growth rate of over 30% during the next five years, becoming a $5.2 billion market by 2023.
An Evolution Beyond SD-WAN
It's not just the volume of SD-WAN deployments that have reached a tipping point though. There's also a significant shift in how enterprises are deploying SD-WAN. Organizations are looking for best-in-class security tools built into their SD-WAN systems, management platforms that integrate with other aspects of their network, and deep levels of visibility and analytics into what's happening on the network. IDC survey data reinforces this trend: When enterprises were asked what features they believe define a "next-generation" SD-WAN platform, integrated security and robust network and application performance management and assurance topped the list.
Increasingly, enterprises will look less at point SD-WAN solutions and instead will favor platforms that solve a wider range of network management and security needs. Organizations will look for SD-WAN platforms that integrate with other aspects of their IT infrastructure, including corporate datacenter networks, the enterprise campus Local Area Network (LAN), or public cloud resources. They will look for security services to be baked in, as well as support for a variety of additional functions such as visibility, analytics, and unified communications.
As vendors like Cisco continue to evolve their SD-WAN technology to include these additional functions, IDC predicts that the SD-WAN market will continue to grow rapidly and the benefits that enterprises realize from SD-WAN will continue to expand as well.
Get your complimentary copy of the IDC report.