Recently, there have been some questions circulating about whether software-defined networking (SDN) has been a success and even whether it has a future at all.
In fact, if you look at the actual adoption numbers, SDN has been hugely successful in helping enterprise IT teams achieve more simplified, centralized and agile operations. And the real question should be how IT can now build on this success to enable the ultimate goal of an intelligent network that is continuously in alignment with business needs and supporting digital transformation goals. What the industry is now calling  "intent-based networking (IBN)".
So why the questions about SDN's success in the first place?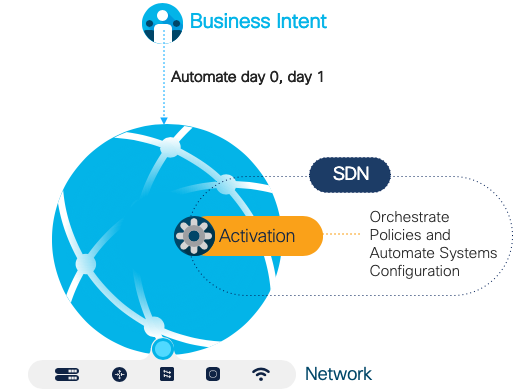 In reality this conversation revolves around whether you take a "purist" view or a more "pragmatist" view of how SDN is defined.
The purist vision ascribes to a full abstraction between the software control plane and the data forwarding layer to enable plug and play combinations of independent software and hardware for maximum innovation and velocity. For many reasons this approach has not achieved widespread market adoption in the enterprise.
The more pragmatic approach focuses on achieving the same objectives of controller-based network automation and simplified operations– while also delivering the robustness and performance required of an enterprise platform that a business can rely on. This approach is available from numerous vendors across data center, campus and wide area networking domains and has experienced broad adoption.
You can't argue with success.
IDC's data center SDN global market forecast estimates that SDN controller software was $1.2B in 2018, growing to $2.8B in 2023.[1] Likewise, according to IDC, SD-WAN is showing even faster growth from $1.3B in 2018 to $5.2B in 2023.[2]
And in our own recent 2020 Global Networking Trends survey of over 2000 IT leaders and network strategists we found that over 64% of organizations have deployed controller-based automation in their data centers and 58% had already adopted SD-WAN technologies.
In addition to providing a technology platform for automation, SDN has also caused a very welcome NetOps culture shift towards open, API-driven programmability and automated operations.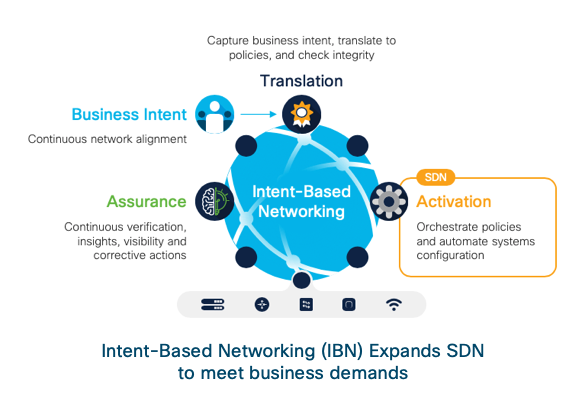 Evolution of SDN to IBN
So no, SDN is far from dead—but like any good technology, it is evolving – and it needs to continue to evolve. While SDN has delivered substantial benefits, it has focused primarily on automating day 0 and day 1 provisioning and configuration.
In our recent 2020 Global Networking Trends report, we found that 73% of organizations spend more than half of their resources on network troubleshooting and remediation.
So, what will really increase NetOps efficiency and relevance and bridge the gap between business and IT, is the ability to automate the full network lifecycle – which is where IBN comes in.
IBN has emerged to expand on SDN with translation, activation and assurance elements.
Translation refers to dynamically translating business requirements "intent" into network policies that can be activated network-wide.
Activation refers to creating policies and automating systems configurations.
Assurance refers to AI-enabled network and service assurance capabilities.
With the assistance of artificial intelligence (AI) capabilities to all three elements, the network will be able to dynamically adapt, whether to network disruptions, security threats or changing application and business requirements.
As Brad Casemore, an IDC analyst puts it, "we need to move beyond thinking of networks as agglomerated piece parts, and instead think about them as comprehensive, flexible, intelligent systems that can enable and facilitate desired business outcomes".
As IBN matures, IT teams recognize IBN as the next big summit for networking. When we surveyed over 2000 IT leaders and network strategists on their current networks and future plans, we found that while only 4% have currently adopted a full multidomain intent-based network, 35% believe they will be able to achieve that within 2 years.
To learn more about where IT teams like yours believe they are in their network adoption, you can read the full 2020 Global Networking Trends report.