The city of Nice and Cisco, working with Think Global, showcased today the first Internet of Everything proof-of-concept (PoC) for a smart city. The project, called "Connected Boulevard," builds on Connected Mobile Experiences to create innovative connected experiences by playing host to "guest" devices such as mobile phones and tablets used in the streets that get connected onto its Cisco wireless mesh network.
The project leverages Cisco's mobility offerings of Outdoor Access Points, Wireless Controller and Mobility Services Engine to connect 200 sensors throughout the city to gather data. The true enabler of these new innovative connected experiences is the Cisco Connected Mobile Experiences (CMX) solution. Layered on top of the wireless infrastructure, CMX with its location analytics and browser-based mobile engagement opens the door for the city to deliver highly relevant information, insights and services to its residents and its visitors.
International city dignitaries and a local press delegation were treated to a walkabout tour at Boulevard Victor Hugo in the center of Nice by the Mayor and the City CEO, where they could experience the power of Connected Mobile Experiences..Nice deployed two components of Connected Mobile Experiences: CMX Analytics and CMX Browser Engage.
CMX Analytics enables city organizers to visualize the busy parts of the city and witness how device density varies across the day and the week.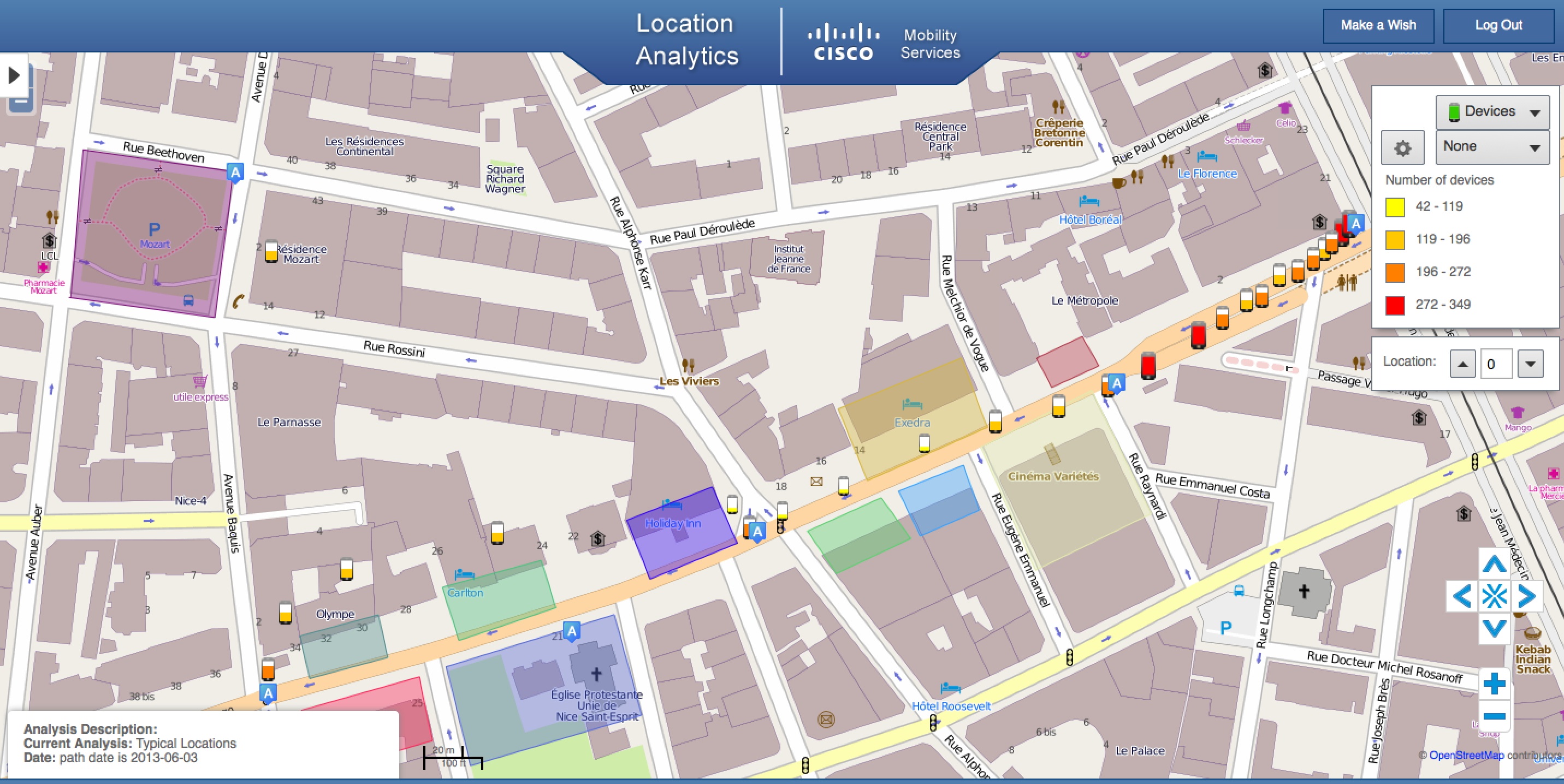 The powerful location analytics piece of CMX takes operational planning to the next level, providing intelligence on where the busy restaurants are and how long people spend there, insights of where people come to the restaurant from and where they go went afterwards.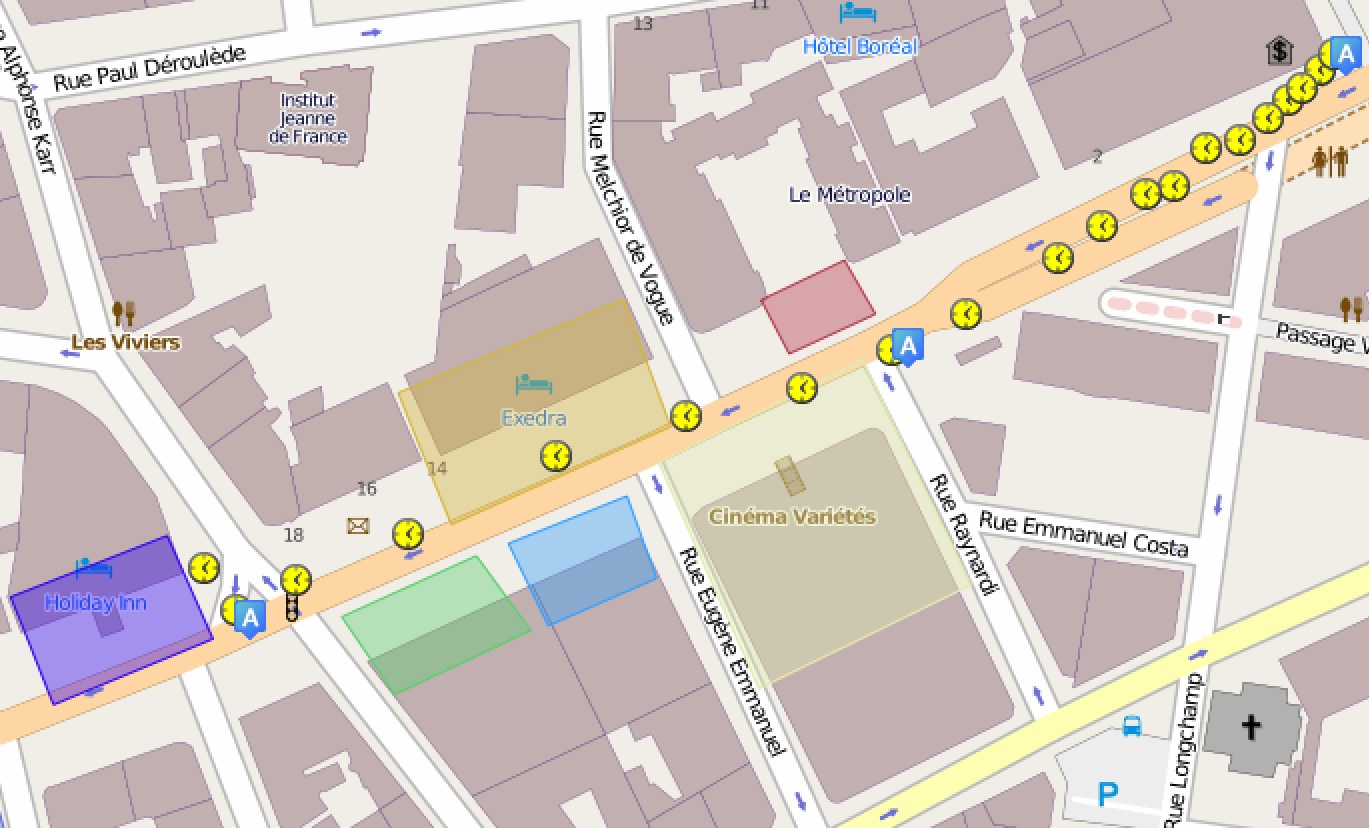 The data provided by Connected Mobile Experiences' analytics piece is invaluable to the municipal businesses.  City officials stand to reap strong benefits from CMX Analytics, which enables them to see the movement of people, track the crowding in real time, and even identify precisely how, where and when to deploy resources like police or tour guides.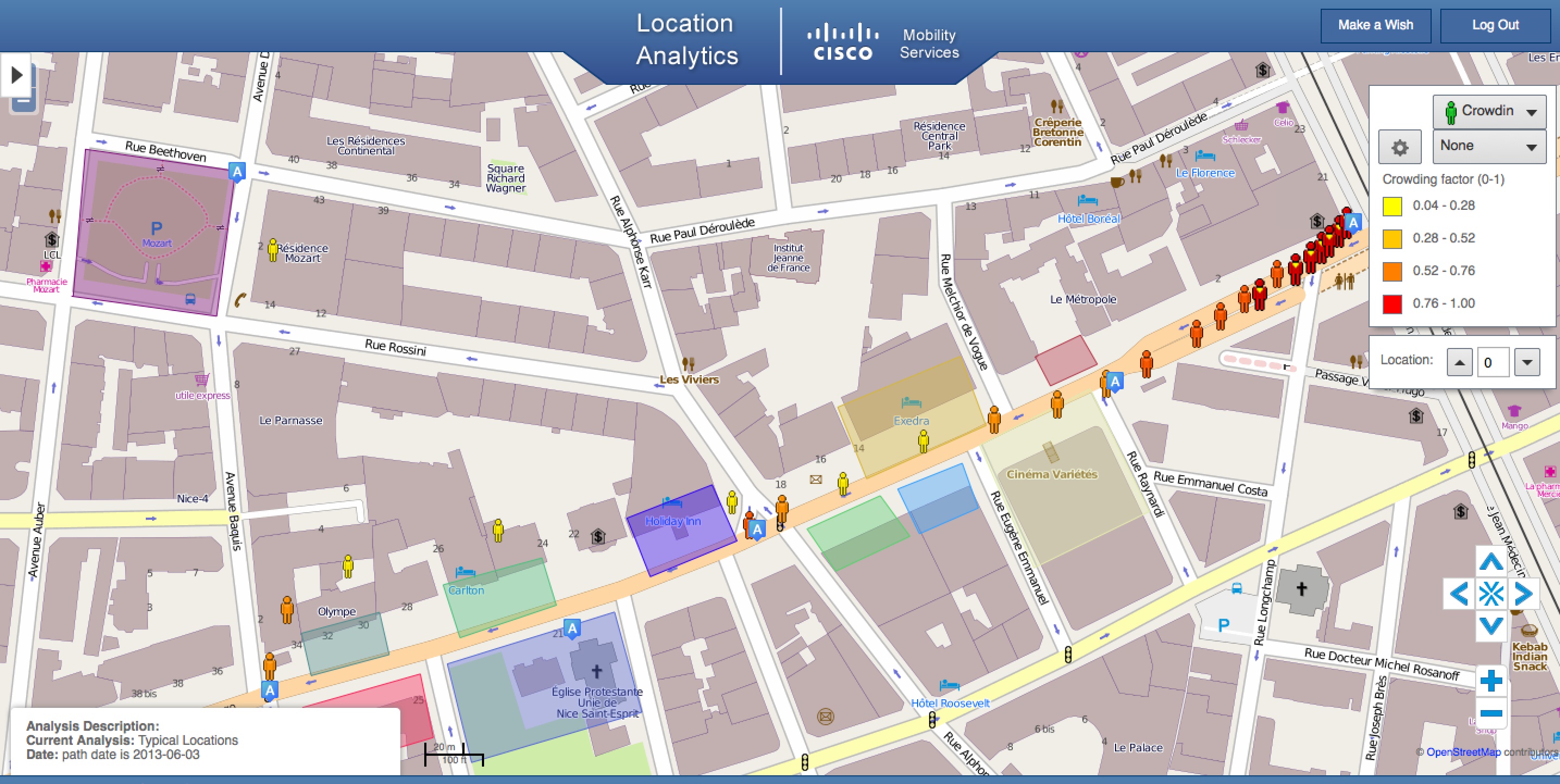 CMX Browser Engage was also deployed by Nice, with the City and local businesses working on how to engage the visitors and residents of the city with relevant, location-based information.  CMX Browser Engage enables the City to deliver local services or offers directly to the mobile browsers when the end-user is connected the City's Free Cisco WiFi network.
With Connected Mobile Experiences, the City can use this innovative platform to provide local services like maps, navigation & local services information, as well as grant businesses the opportunity to push local promotions or discounts.
Mayor of Nice, Christian Estrosi, said, "For Nice to continue welcoming millions more visitors and companies while ensuring a high quality of life, using Internet intelligence is key.  Many more things are going to get connected between people, with and between objects, creating valuable interactions and processes including that of public administration.  Our ability as a city to harness this data is crucial to understanding what's going on in real-time and to enhance a multitude of services for city-dwellers."
Continuing, he said, "In this regard, I am particularly grateful to Cisco and the Think Global alliance for having conceived the Nice Connected Boulevard.  It gives me great pleasure to know it is one of the pioneering Internet of Things living-lab projects for smart cities. I hope other cities will also be able to learn from it."
Cisco vice president and general manager of enterprise networking group, Sujai Hajela, said, "Cisco is pleased to work with the city of Nice to provide Connected Mobile Experiences for residents and visitors to access the Wi-Fi network and gain contextual information about what is around them through their mobile browser. Additionally, the city and local businesses can leverage the analytics gathered from mobile devices and have insight into user behavior to increase operational efficiency and traffic flows. We look forward to helping Nice transform their city by leveraging these exciting new capabilities."
Nice's Connected Boulevard is a fantastic showcase of how Cisco's Connected Mobile Experiences solution can deliver real business relevance and value to a municipal environment.  We anticipate much more exciting developments with Nice over the coming 12 months which we will share as they are deployed.
For more on Connected Mobile Experiences, please visit http://www.cisco.com/go/cmx.