As children all around the world are eagerly anticipating Santa's arrival on Christmas Eve, children in hospitals around the Americas were able to get their wish list in before the big day. This month, Cisco teamed up with several children's hospitals with a Santa Connection project, which allowed children not well enough to visit Santa onsite to still communicate their wishes to him from their bedside using Cisco video.
I was able to work with one of these hospitals, Johns Hopkins Children's Center in Baltimore, to augment the Santa Connection experience with a 'Santa tracking' app, which allowed children to know how close Santa was to making his virtual appearance to individual rooms in the hospital. An elf traveling ahead of the Santa Video team carried an iPad displaying a live webpage showing the location of the much-anticipated video visit. Here is a screenshot of the app experience:
Utilizing the Connected Mobile Experiences solution, which includes the REST APIs provided by the Mobility Services Engine (MSE), we were able to show the children where the Santa team was in relation to them – with a Santa icon where Santa's video crew was and a smiley face showing the child's current location. The app could show Santa on different floors as well.
How did this come together? The existing Cisco access points and controllers were utilized, and it only required an additional MSE, Cisco Prime Infrastructure, an Aeroscout RFID tag attached to the tracking elf, and the tracking app itself. This approach allowed us to implement the tracking functionality without impacting the network. We loaded floor plans of the hospital and synced them to the WLAN controller. A Wi-Fi tag was selected instead of a standard Wi-Fi device because of its ability to configure the beacon interval, which is the time between "chirps". These "chirps" are used by the MSE to track device location and movement. We found that the RFID tag gave us the best location accuracy and currency.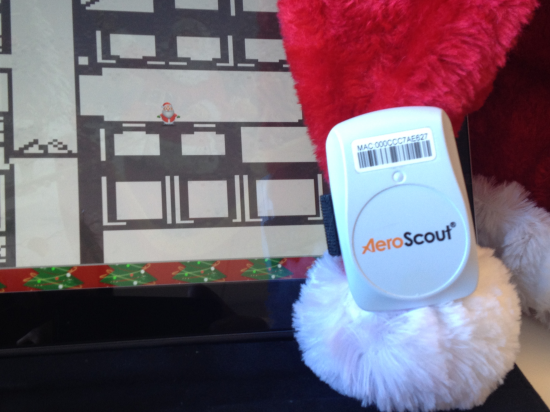 Next year we hope to expand on this experience making the Santa tracker available around the hospital on monitors and possibly the closed circuit TV system available in the children's rooms.
The next time your kids are looking for Santa, perhaps Cisco Wi-Fi location-based services can help!