Networking isn't what it used to be. A few years ago, the epicenter of networking began to move. It shifted from company-owned datacenters, out to the cloud. For users, the focus of networking moved from computers connected with wires, to mobile devices connected over the air. These fundamental shifts, in where business processes run and how they're accessed, is changing how we connect our locations together, how we think about security, the economics of networking, and what we ask of the people who take care of them.
So it is going to be an exciting year. Here's how:
Wireless: It's Wi-Fi, It's 5G. It's Both.
In 2020, Wi-Fi 6 will enter the enterprise, through the employee door and through enterprise access point refreshes. 5G will also appear, although in 2020, it will be mostly for consumers.
The latest smartphones from Apple, Samsung, and other manufacturers are Wi-Fi 6 enabled, and Wi-Fi 6 access points are currently shipping to businesses and consumers. 5G phones are not yet in wide circulation, although that will begin to change in 2020. We project that through 2020 more people will be using Wi-Fi 6 than 5G.
2020 will also see the beginning of a big improvement in how people use Wi-Fi networks. The growth of the OpenRoaming project will make joining participating Wi-Fi networks as easy as using a cell phone in a new town: Users won't have to think about it.
While "5G" service will roll out in 2020 (some is already switched on today), almost none of it will be the ultra-high speed connectivity that we have been promised or that we will see in future years. With 5G unable to deliver on that promise initially, we will see a lot of high-speed wireless traffic offloaded to Wi-Fi networks.
2020 will also see the adoption of new frequency bands, including the beginning of the rollout of "millimeter wave" (24Ghz to 100Ghz) spectrum for ultra-fast, but short-range 5G; and of CBRS, at about 3.5Ghz, which may lead to the creation of new private networks that use LTE and 5G technology, especially for IoT applications. We will also see continued progress in opening up the 6 GHz range for unlicensed Wi-Fi usage in the United States and the rest of world.
Eventually, having even more pervasive, high-speed, secure wireless connectivity will open up new kinds of business opportunities in all industries, from healthcare to transportation. In combination with the improved performance of both Wi-Fi 6 and (eventually) 5G, we are in for a large – and long-lived – period of innovation in access networking.
The Network as Intelligent Sensor
Businesses have started to use their networks for more than data transmission. Now they're being used to sense their environments as well. This is going to have big impacts on business – not just for network operators, but directly to the bottom line as well.
With software that is able to profile and classify the devices, end points, and applications (even when they are sending fully encrypted data), the network will be able to place the devices into virtual networks automatically, enable the correct rule set to protect those devices, and eventually identify security issues extremely quickly. Ultimately, systems will be able to remediate issues on their own, or at least file their own help desk tickets. This becomes increasingly important as networks grow increasingly complex.
Wireless networking equipment can also collect data on how people and things move through and use physical spaces – for example, IoT devices in a business; or medical devices in a hospital. That data can directly help facility owners optimize their physical spaces, for productivity, ease of navigation, or even to improve retail sales. These are capabilities that have been rolling out in 2019, but as business execs become aware of the power of this location data, the use of this technology will begin to snowball.
SD-WAN Plans Solidify in 2020
The workplace is becoming virtual, not physical. Businesses now hire talent wherever it is, and these dispersed employees are connecting to increasing numbers of cloud services. This dispersal of connectivity – the growth of multicloud networking – will force many businesses to re-tool their networks in favor of SD-WAN technology. IDC research shows that almost 95% of the enterprises they surveyed expect to be using SD-WAN within 24 months1.
Meanwhile the large cloud service providers, like Amazon, Microsoft, and Google are connecting to networking companies (like Cisco), to forge deep partnership links between networking stacks and services.
When it comes to their own WAN solutions, each enterprise is different. Some enterprises, looking for security solutions that align with compliance regulations, need on-premise security. Smaller businesses often want their security solutions in the cloud. Many businesses will need hybrid solutions that combine elements of traditional on-premise control for compliance, with cloud-based solutions for flexibility and agility. Security, and workloads, have to be installed where they meet the needs of the business.
This is going to lead to a growth in business for managed service providers (MSPs), many more of which will begin to offer SD-WAN as a service. We expect MSPs to grow at about double the rate of the SD-WAN market itself, in line with IDC's predictions. We also expect that MSPs will begin to hyper-specialize, by industry and network size.
Multidomain Needs Spur Controller-Based Integration
The intent based networking model that enterprises began adopting in 2019 is making network management more straightforward by absorbing the complexities of the network. However, networking systems are made up of multiple networks themselves (for example, campus networks and WANs), as well as domains of technology that are traditionally managed in their own domains (for example, security). For better management, agility, and especially for security, these multiple domains need to work together. Each domain's controller needs to work in a coordinated manner to enable automation, analytics and security across the various domains.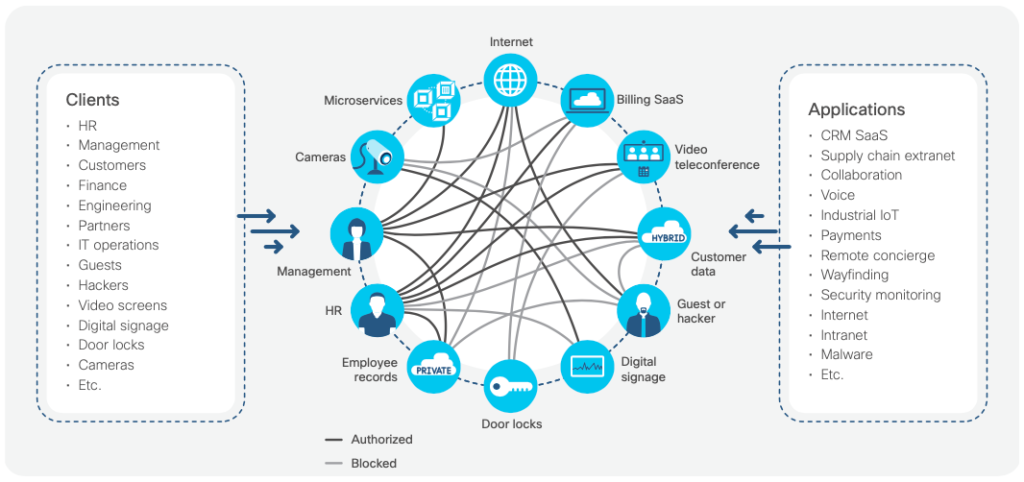 The next generation of controller-first architectures for network fabrics allow the unified management of loosely-coupled systems using APIs and defined data structures for inter-device and inter-domain communication. With the way networks are changing, there is no other solution to keep ahead of system growth and complexity.
From Network Engineer to Network Programmer
The standard way that network operators work – provisioning network equipment using command-line interfaces like CLI – is nearing the end of the line. Today, intent-based networking lets us tell the network what we want it to do, and leave the individual device configuration to the larger system itself. We can also now program our updates, rollouts, and changes using centralized networking controllers, again not working directly with devices or their own unique interfaces. But new networks run by APIs require programming skills to manage. Code is the resource behind the creation of new business solutions.
If maximizing the value of these controllers means getting up to speed with programming them, there's a big opportunity for the people who get ahead of this trend. But it will not be an easy change. Retraining yourself (or your team) is expensive, and not everyone will adapt to the new order. For those that do, the benefits are big. Network operators will be closer to the businesses they work for, able to better help businesses achieve their digital transformations. The speed and agility they gain thanks to having a programmable network, plus telemetry and analytics, opens up vast new opportunities.
It remains critical for individuals to validate their proficiency with new infrastructure and network engineering concepts. With training, network operators will be able to stay closer to the businesses they work for, providing value beyond maintenance and support. Networks in 2020 will become even more central to how businesses function. As always, CEOs will direct resources into infrastructure projects that directly generate revenue.         
2020 Will be Transformative
Together, new capabilities will make networks into even more important business assets, and companies will leverage them in ways that we have not imagined.
We just finished surveying over 2,000 network executives and operators on the future of networking. If you'd like to know what they are thinking, and see how their plans are changing in light of the technology shifts, check out the Networking Technology Trends report.
---
1: IDC Technology Spotlight, sponsored by Cisco. SD-WAN: Security, Application Experience and Operational Simplicity Drive Market Growth, April 2019