Editor's Note: This is a guest post by two Wireless Networking Group interns, Nonie Grewal and Nivedita Jagdale, to capture their thoughts on the Connected Mobile Experiences Hackathon that they helped plan and execute.
June 29th marked the start of the Connected Mobile Experiences (CMX) Hackathon in the Cisco San Jose campus. CMX, powered by the Mobility Services Engine, provides a unique way of providing personalized real time location services over Wi-Fi. CMX aims to increase customer-oriented and operational efficiencies through analytics and personalized mobile services. The contestants at the hackathon were invited to help build prototypes that could help complement these goals, focusing on enhancing user connectivity and visibility.
As summer college interns volunteering at the event, we walked into the Deep Space Nine room where the hackathon was held, to find clusters of intense developers at each table. With each passing minute, we felt the name "Deep Space" seemed apt for the cause it was hosting – deep thought and real coding! The room was bustling with energy, excitement and enthusiastic coders of all ages and cultures, most of them at different stages of their careers. Participants formed teams of five to six people and mingled across groups before getting down to business.  The Cisco Team was busy helping out with questions and clarifications.
It was not long before the contestants began feeling confident of their designs and started implementing them. The participants were proficiently coding while keeping a hand free to grab a bite! Brainstorming was accomplished by frequent munching on energy replenishment (coding) snacks – M&Ms, Gatorade, Red Bull, and the like.
Watching the Hackathon progress, we could feel the energy and excitement that forms a part of the CMX technology at Cisco. The contestants were given access to Mobility Services API. The thought of using location and mobility services in daily life to provide personalized content for user and business benefit is exciting.
At the end of the 24 hour Hackathon, teams presented their final products to a panel of judges. This year VP CTO John Apostolopoulos and VP CTO Susie Wee joined CMX Senior Manager Pritam Shah to judge the event.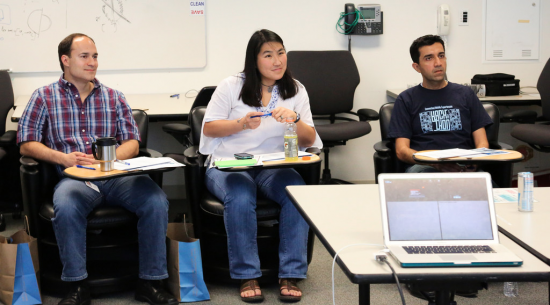 The contestants' eyes may have been weary from coding for 24 hours, but their spirits were none the less enthusiastic when presenting their designs. The projects presented were awesome and impressive not only due to the fact that they were built in such a limited time, but also since they displayed innovative thinking, problem-solving capabilities, and creativity.
Imagine being able to wirelessly connect to any device, and interact with its currently user interface.  What if you could access a vending machine with a touch of a button; learn more about displays at a museum by simply pointing their mobile device towards them; or even control home appliances like washing machines and microwaves. Or what about customizing user behavior, allowing users to read and leave messages at specific locations? These were just a few of the ideas that came to life during the final presentations. The winning team "PointConnect" was made up of Le Nguyen, Weiyi Liu, and Lauren Kelly.
The CMX Hackathon was an excellent experience as it gave a platform to the people to present their ideas as well as showcase some of their business objectives. It was really amazing to see a perfect synergy between augmenting customer experience and business growth. As engineers, we feel CMX technology couldn't have come at a better time than this, when smartphones and mobility are the order of the day. It was nice to see how the products built at the hackathon so perfectly illustrated this.
As interns we were amazed by all of the ideas presented and were inspired by how MSE and CMX resources are an integral component in successfully building wireless and mobility services today. The judges, too, were appreciative of how the given Rest APIs could be employed by engineers to solve up and coming wireless issues.
The CMX team showcased great enthusiasm in arranging this event. More than anything, we felt proud being interns of a group that has a vision that can change the way the world works, lives, plays, and learns. We feel fortunate to have been part of this Hackathon watching the event so closely. Thanks to the CMX team for this opportunity.
All in all, the CMX Hackathon was a prime example of how programming builds bridges between strangers who have come together to create something new.. To put it best, socializing, networking and amazing innovation characterized the event as it came to a close on Sunday afternoon. True to the Cisco values!
———————————————————————————
Nonie Grewal is a third year undergrad pursuing a degree in Computer Science at the University of California, San Diego. She is currently interning in the Wireless Networking Group at Cisco.
Nivedita Jagdale is a final year Master's Student, pursuing a degree in Electrical & Computer Engineering at Carnegie Mellon University at Pittsburgh. At present, she is interning in the Wireless Networking Group at Cisco for the summer.