You don't have to look far to see how mobile video is changing how we communicate, collaborate and consume information. From collaborating with co-workers across the globe while you catch the morning train to connecting with friends and family from the comfort of your sofa. From checking out the latest viral Vine video during a 2-minute coffee break to catching the latest TED Talks in a cab on your way home. Video is pervasive and in demand.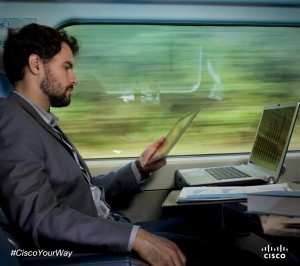 According to Cisco's recent VNI Global Mobile Data Traffic Forecast, this demand for mobile video is expected to increase over the next five years with estimates stating that two-thirds of the world's mobile data traffic will be video by 2017.
These projections come as no surprise. Mobile video is poised for explosive growth because it has the unique capability to move us to act in real-time while we are on-the-go. How can enterprises and consumers benefit from this video in motion? Here are key ways organizations can keep employees and customers top-of-mind and access the competitive advantages of mobile video.
Make mobile video a priority in the overall enterprise IT strategy.
According to a recent report by Gartner, the consumption of video on mobile devices for work-related purposes is on the rise. With 66 percent of employees now using two or more mobile devices for work, the ways video can be viewed and accessed are increasing. Whether employees are accessing video on smartphones, tablets or a networked computer, a strong connection with enough bandwidth to provide an optimal viewing and sharing experience needs to be an essential part of the overall enterprise IT strategy.
In addition to evaluating how employees can better consume mobile video, it's also important to create an environment that supports the creation of video and proper use of video collaboration technologies. For today's businesses, real-time mobile video conferencing and TelePresence systems are no longer just a hope for the future – they are a part of mainstream corporate culture. By supporting mobile video at an architecture level, enterprises can foster employee productivity and innovation.  Cisco's Medianet architecture provides an architectural blueprint for enterprises looking to deploy video with assured quality and support capabilities.
Create unique experiences for customers.
Just as video drives employee engagement, it can drive customer engagement. Above all, mobile video can enhance customer outreach and drive revenue by creating unique experiences through targeted communications and service differentiation.
The Guardian recently posted an interesting article highlighting how mobile video is evolving to create interactive experiences for customers through targeted advertising. According to the article, "the simple repurposing of TV and online video advertising content for mobile is on the way out, with new layers of interactivity and fresh marketing investment fueling growth in mobile video advertising."
To take the idea of interactive video experiences further, customers can be reached by creating personalized mobile experiences. These can have real-world implications across many verticals. Consider the possibilities in retail, hospitality, transportation, healthcare, education and even government. How will mobile video and the enhanced architecture built to support mobile video impact these industries? Let us know your thoughts by commenting below.
For more on mobility with regard to overall workplace transformation, listen to the recent podcast featuring Sheila Jordan and Brett Belding of Cisco. Follow @Cisco_Mobility and join the conversation, #CiscoYourWay.