In my last blog post, I discussed how mobile collaboration is bringing flexibility to the manufacturing industry, offering transformational benefits in a variety of functional areas including R&D, operations, customer service and sales. Today, I want to take a deeper dive into not just how collaboration can reduce cost, but how it offers manufacturers the potential for real revenue growth.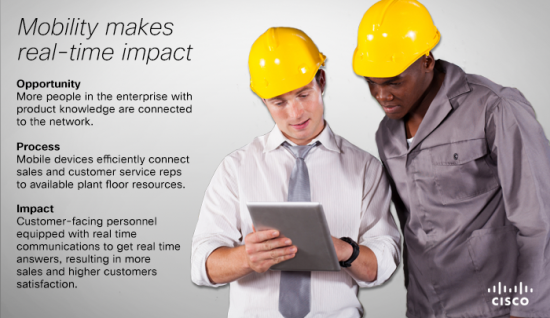 The Opportunity
Along with rapid acceleration of the bring your own device phenomenon and the forecast that there will be 1.4 mobile devices per capita by 2017, it is becoming increasingly obvious that the manufacturing workforce is evolving and going mobile.  Yet, many manufacturers are still trying to substantively leverage collaboration and take full advantage of its benefits in a way that impacts the bottom line.
One key opportunity is to use collaboration to better connect product experts and customers. However, without effective collaboration tools, it can be difficult for sales to broker this communication. Mobility solutions enable sales teams and customers services reps efficient access to newly connected plant floor expertise, helping facilitate customer product questions in real time via phone call, text, e-mail or even videoconference. Not only is customer satisfaction improved, but also sales conversion rates increase when the salesperson or service rep secures answers to difficult customer questions before the competition can.
Internal productivity gains from using collaboration tools to improve sales force efficiency are another way to boost revenue for manufacturers. There are many opportunities for technology to enable higher productivity among the roving sales force. Improving the ability to have in-person like interactions using video means fewer required business trips, which are both cost and productivity sinks. I have spoken with customers that save millions annually with video conferencing, but until recently, mobile participation has been extremely limited. Now, video has finally evolved to incorporate mobile professionals in high definition video TelePresence sessions, using just their laptop computer or even smartphone. This gives the sales force nearly limitless opportunities to maintain flexible schedules, reduce travel and squeeze more prospecting time into the week than ever before.
In the case of Roman Coba, CIO, McCain Foods, he says the Cisco collaboration technology has allowed McCain Foods to become more global.  "The seamless technology allows us to have face-to-face meetings, collaborate and innovate in real-time with someone that is possibly sitting half-way across the world," says Coba.
And in some cases, collaboration also boosts company morale.  One of our customers says it best. "It's a cultural value at Pella for managers to spend time engaging with their team members instead of working from their offices, and Cisco Unified Wireless IP Phones and Cisco mobile apps like WebEx and Jabber support that value," says Jim Thomas, director of IT operations at Pella Corporation.
The Process
Manufacturing Enterprise Communications Research reports that 63 percent of companies permit employees to bring their own devices to the workplace. But effectively leveraging this trend is tricky. Connecting product expertise in manufacturing environments to customers requires collaboration technology that effectively facilitates conversations without diminishing production and safety. Thus, plant floor engineers must be able to easily indicate when they are available to communicate, and technology can help by integrating shift and break schedules into the worker's presence status. For example, the ability for the worker to simply toggle their availability manually on their mobile device is essential.
On the other end, sales and service personnel working with customers need advanced collaboration tools that help to identify available plant resources to answer pressing questions. The technology must be simple to operate with a standardized experience regardless of device or operating system. In the past, the sales person would have to delay answering technical customer inquiries a week or more. The longer the customer has to wait, the greater the chance of losing them. Now, with mobile collaboration, the sales team is able to get a response immediately. Using real time presence, they can determine who is best fit to answer that specific question and the conversation can be through mobile voice, instant message, texting, emailing and even video. In some cases, allowing sales executives to see video in real time from the plant floor can enhance the customer experience in such a dramatic way as to influence their buying decision. The customer can now see the process in question as it's executing.
Mobile collaboration also gives the sales team options when it comes to communication. From automatically turning voicemails into actionable e-mails or texts, to making videos searchable by word mentioned, there are many ways for mobile collaborators to become more productive.  Collaboration tools like WebEx and Jabber also improve efficiency while traveling, pushing the envelope of what can be accomplished while mobile.
The Impact
Measuring the quantitative impact of collaboration, video and mobility solutions requires thoughtful analysis. Sales force productivity benefits can be conservatively estimated using rigorous methods that Cisco Consulting Services (CCS) can assist in carrying out. But farther reaching are the many transformational business benefits that drive revenue growth, which can outpace TCO savings by over 100x. They go beyond "doing more with less" operational benefits and to the bottom line as revenue gains once collaboration solutions are embedded and effectively deployed through the organization. This means allocating resources towards a change management program to insure the workforce is deploying the technology required to achieve the transformational revenue gains anticipated.  Cisco can bring consultative resources to assist both in building a customized collaboration roadmap as well as carrying out the right change management strategies to ensure estimated business benefits are realized
Every manufacturing executive, from those on the plant floor to others in the field, has a preference as to how they like to communicate. With mobile collaboration, personnel can finally shift focus away from adapting to one-off technologies and antiquated serial communications and towards what really matters – serving the needs of their customers.