The wealth management industry is under transformation. In an effort to win back trust, attract new customers and retain existing ones, firms are investing in new collaborative technologies that support their business model transformation from transactions to interactions focused on client centricity.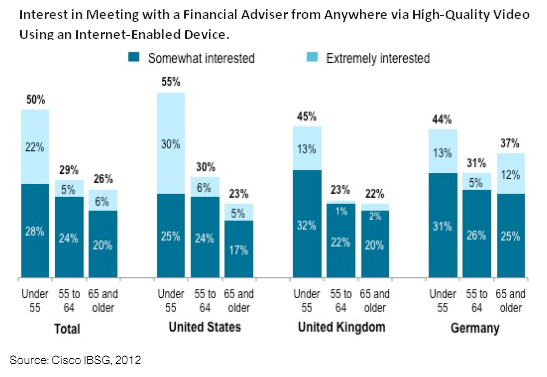 Various McKinsey research and studies have shown that those who adopt more client-centric tools and processes can increase revenues up to 20 percent and profitability up to 2.5 times. Cisco's own research has shown that wealth management firms that adopt client centric tools such as video can reduce client attrition, especially for the critical under-55 segment. Part of this transformation involves investing in video capabilities that enable firms and their experts to touch more customers, more often and in a more intimate manner than voice and email do today.
Getting the right expert to the right customer, at the right time is crucial in being able to offer superior customer service and improve cross-sell and up-sell rates. Another critical, competitive differentiator is embedding video capabilities into the mobile channels and applications customers already use. Enabling customers to easily connect with relationship managers streamlines the buying and advisory processes. Combining video with mobile devices enables banks to conduct high-value interactions with their customers on any device, anytime, anywhere. Embedded video collaboration enables wealth management firms to do just that. By evolving their mobile banking experience from reading balances and bill pay to full-on advice with video conferencing, expertise access and collaborative content sharing, firms can improve their competiveness and differentiation by improving customer experience. Not only that, but by reaching customers more often, firms can improve their customer retention and increase cross-sale rates.
Delivering this rich collaboration capability is an important part of Cisco's omnichannel banking approach. It enables banks to take advantage of their customers' existing mobile devices built-in video capabilities to videoconference with bankers on their existing corporate video conferencing and collaboration tools. The explosion of video-enabled mobile devices already allows customers to take snapshots of checks to streamline the deposit process. Now banks can enhance that functionality by allowing customers to also perform full-fledged video conferencing on their mobile device, enabling access to their wealth manager anytime, anywhere. Cisco offers a set of Application Program Interfaces and Software Development Kits that enable firms to embed video and other collaboration functionality directly into mobile, web and other applications.
One of the world's largest financial services firms recently implemented a pilot of this technology to take their existing tablet wealth management application to then next level. By embedding video and collaboration capabilities into the tools customers already use to check balances, make trades and monitor their positions, this firm has enabled their top clients to connect with their wealth managers almost instantly to react to market events and receive advice on demand. For complex transactions involving multiple experts, the ability for wealth managers to find, locate and conference in experts, with the customer, enables faster decisions. This allows customers to get back to their daily lives and firms to interact with more clients on a daily basis. Not only do we embed video conferencing into their mobile applications, but we also integrate co-browse and application sharing, enabling customers and their wealth managers to review portfolios and transactions, perform what-if scenarios, and make financial decisions in real-time. These same capabilities are also embedded into the wealth manager's mobile applications, freeing them up from having to be in the office all the time and allow them to conduct business efficiently while on the road or at a client's home.
Although still in early stages, I already see rich collaboration transforming the way wealth management firms and their clients interact with each other, enabling new experiences and business models. As televisions and other consumer devices become as video-enabled as mobile devices, this same technology can also enable firms to interact with clients from home. These new ways of interacting will change the way business is done, improve the wealth management industry from a series of transactions into relationships, and allow firms to create lifelong partnerships with their clients.