I just recently returned from the Internet of Things World Forum (IoTWF) in Dubai. This was the third annual IoTWF, which has quickly become the premiere event showcasing innovations and opportunities made possible by the Internet of Things. I was dazzled and a bit dizzied by all the activities at this exciting three-day event.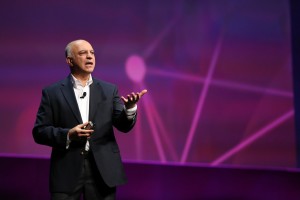 The agenda was chock-full of breakout sessions, case studies and expert talks on how IoT is changing the way companies and cities do business. In addition to networking and connecting with peers, partners, and customers, the Forum provided a great opportunity to join the world's leading technology researchers to discuss new frontiers of IoT research. A fitting end to this incredible event was a closing keynote delivered by Executive Chairman John Chambers, who provided invaluable insights, observations, and a vision for IoT.
With 2400 attendees, the guest list included industry titans such as 3M, IBM, Intel, GE, Rockwell, Accenture, Siemens and many others, as well as startups and other significant IoT stakeholders.
The theme of the Forum was "A New World," with day one focused on Awakening; day two focused on Activating; and day three focused on Accelerating. For a limited time, you can view many of the keynote presentations on the IoTWF website.
There was a plethora of fascinating topics, including:
the future possibilities of a connected world;
how the hottest start-ups are driving IoT innovation and strategy; and
best practices, deployment models, and roadmaps for delivering unprecedented value.
My talk focused on simplifying the journey to digital transformation through a three-step process that includes connecting locally, converting data to insights, and connecting across your ecosystem. The journey starts with secure connectivity at the machine level, zone level, factory level, and cellular level. Next, differentiation is achieved by extracting value out of data through the insights derived via analytics that inform better and faster business decisions. Finally, disruption occurs when there is interconnectivity across the value chain — employees, customers, and suppliers — in real-time.
Although my call-to-action for the audience was to get started on their digitization journey, I was delighted to learn that many of my colleagues are already well on their way. And even though there's a long road ahead, the velocity is tremendous. Together, we're making the impossible possible.