Happy Disruptive New Year! As 2016 promises to unleash digital innovations across industries, let's pause for a moment and ask ourselves: What are some of the common triggers of this disruptive transformation to digitize business and society?
Three that immediately spring to my mind are: the Internet of Things (IoT), Robotics and Drones. On the surface, they all appear to be different dimensions of the upcoming technology revolution, but the moment we dig deeper, we discover a fascinating connection. They are all triggers or change agents for digital transformation through their connection with the Internet.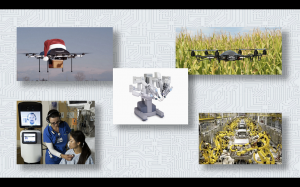 That was precisely the core idea behind last month's RoboUniverse conference in San Diego: Robots, Drones, and The Internet of Everything. It was an honor to speak and share deeper thoughts on this subject during one of the sessions along with Daniel Obodovski, renowned author of an IoT book: The Silent Intelligence.
If we analyze historical facts, only about 12% (61 out of 500) of Fortune 500 companies in 1995 were still around in 2014. Today, 40% of the companies on the Fortune 500 list will either not exist or become irrelevant in the next decade. Professor Richard Foster from Yale University estimates that by 2020, more than three-quarters of the S&P 500 will be companies that we have not heard of yet. Another proof of today's accelerated pace of change is the fact that "the average lifespan of a company in the S&P 500 index has decreased by more than 50 years in the last century, from 67 years in the 1920s to just 20 years today," according to Professor Foster's BBC Business Interview in 2012.
The take-away from all of these stats is very simple: "Disrupt yourself before someone else does." This is nothing but Digital Transformation in practical terms. Let's look at one of the earliest definitions of Digital Transformation from Capgemini Consulting that I shared during my session at RoboUniverse: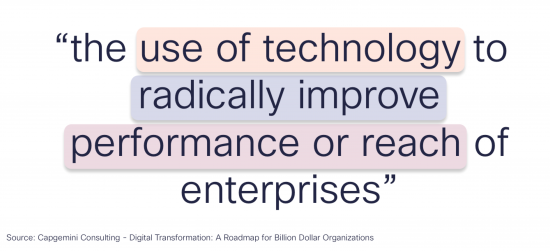 The primary reason why I like this simple definition is that it highlights three distinct elements for digital transformation:
Use of technology – to support accelerated pace of disruption
Radical improvement – as opposed to incremental changes, and
Performance or reach – affecting both the bottom line (performance) and the top line (reach towards new opportunities)
Robotics and Drones, which are components of the larger IoT landscape, are triggers that stimulate Digital Transformation. Despite the debates about Robotics (or automation) taking away human jobs or Drones that inadvertently hurt innocent people, there are seemingly countless positive outcomes these technologies can deliver. They are indeed on the path of radical improvement for multiple industries to not only save costs but also create unprecendented business opportunities over the next decade and beyond.
An NPR show on 1st January 2016 covered this robotic transformation happening at the world's largest meatpacking company, but that's just one example. Myriad other verticals and industries are trying to embrace these digital transformation technologies to reinvent themselves and remain competitive and relevant in the future. It may not happen overnight, but examples of digital transformation already exist. Full-scale digital adoption is bound to happen sooner rather than later.
What other triggers do you think will accelerate digital transformation in 2016 and beyond?