What do idyllic beaches, a breathtaking harbor, iconic opera house, efficient agriculture, smart transportation – and the Internet of Things – all have in common?
Answer: Sydney, Australia. Now, one of the world's most vibrant communities and tourist locations is rapidly becoming another kind of global hub – a showcase to incubate and bring IoT ideas to commercial reality.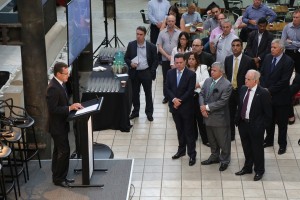 This innovation revolution – locally and globally – was sparked by today's announcement on the establishment of Innovation Central in Sydney. This now puts Sydney on the IoT global map for innovation.
Innovation Central in Sydney
Innovation Central in Sydney is a Cisco-led, state-of-the-art "connected community" of customers, industry partners, research organizations, startups, accelerators, government and universities. The new Sydney center will synergize IoT solutions with Cisco's established center in Perth, in addition to eight other Cisco Innovation Centers in Rio de Janeiro, Toronto, Songdo, Berlin, Barcelona, Tokyo, London and Paris.
Sydney now is poised to make a huge splash in the IoT tidal wave sweeping worldwide right now. Anyone who follows IoT knows that it is the engine behind the mass digitization of society and business. More data has been generated in the last two years than in all of prior history, and successful organizations are leveraging it along with analytics to improve productivity, profits, revenues and – most importantly – overall quality of life.
The Australian Advantage

Why are we so enthusiastic about Sydney and its contribution to IoT and digitization? First, the collaborative connectivity of Innovation Central, the existing Innovation Center in Perth, and its eight other Innovation Centers worldwide is an exponentially powerful combination.
Second, the Australian hubs are tied to a strong and highly skilled ecosystem of local vertical businesses, governments and universities that recognize the full value and potential of IoT innovation. The initial ecosystem partners at Innovation Central include: Data61, University of New Sales Wales (UNSW), National Farmers' Federation (NFF), NSW Farmers Association, ATP Innovations and the NSW Department of Primary Industries. The center, located at ATP Innovations, Australia's leading technology incubator and community of technology entrepreneurs, will also link into a hub on the campus at UNSW.
Third, Australia is well-positioned to serve the rapidly growing Asian markets both because of its geography and its impressive ability to apply new technologies to traditional markets, such as agriculture, transportation, urban services, and finance, to name a few.
Accelerate Government's Innovation and Science Agenda

Moreover, the Australian government has demonstrated its commitment to innovation, such as with the recently announced National Innovation and Science Agenda. The agenda calls for $1.1 billion worth of initiatives to stimulate a culture of innovation throughout its many industry sectors.
Innovation Central in Sydney and the Cisco Innovation Center in Perth will help to accelerate the government's goals to "embrace new ideas in innovation and science, and harness new sources of growth to deliver the next age of economic prosperity in Australia."
Cisco itself is reaffirming its local and global commitment to innovation by investing US$15 million in the Australian centers over the next five years, and we anticipate our partners will invest even more. Innovation Central will develop rapid prototype of IoT solutions for agriculture, transportation, urban services and cyber security – all areas in which Australia excels.
I am exceptionally excited to welcome Innovation Central to our open platform for innovation. All around our digitized world, we are seeing the value of IoT in action. Innovation Central in Sydney accelerates IoT's traction.