In June of 2019, Cisco CEO Chuck Robbins announced at Cisco Live US the launch of the new DevNet Certifications. This new program launches February 24, 2020 together with updates to the existing Cisco Certification portfolio (CCNA, CCNP, and CCIE certifications). The news spread across the Internet in minutes – at large, everyone was eager to learn more. And more than any other question I've received since the announcement, the most common is: "What can I do to get ready?"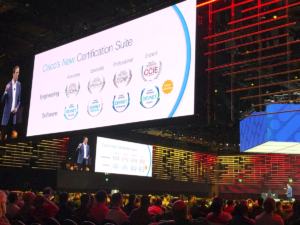 Cisco CEO, Chuck Robbins announcing the new Cisco Certification suite.
In the months since, we at DevNet have been around the world – appearing in-person and in virtual sessions – talking about how our new DevNet Certification program will provide our Cisco Certified Community, and learners of all backgrounds, a method to build and validate software and developer skill sets. For engineers wanting to make automation and programmability a part of their training plans, there is now a path; for software developers looking to get certified in areas such as DevOps, we have a program for you.
30 days and Change Before Launch
We are now approaching a little over 1 month before the launch of the new DevNet Certification Program. Exam registration is open and training courses are soon to launch. And right now, we at DevNet are at Cisco Live Europe in Barcelona and staffing our DevNet Zone, meeting developers, engineers, and learners determined to embark on this new certification journey.
While we are on the Cisco Live floor in Barcelona, and with 30 days and change, I want to add more recommendations to the question above: "What can I do to get ready" – here's a list. Below, you'll find a comprehensive summary of all the tools, training, and links I will be covering at Cisco Live in the DevNet Zone. For the blog, I'm breaking this information up into the following sections (scroll to the one that addresses your need):
Get Ready: Knowing the Program
Get Set: Building Skills and Finding Training
Go: Register for the Exams
Get Ready: Knowing the Program
Let's start at the beginning – if the changes to the Cisco Certification program are new to you, here is some information to help understand the changes to the overall program and in-depth reviews of the DevNet Certification program offerings.
Next Level Site on Cisco.com
To help provide a central location to find all information related to the changes to the certification program, Cisco launched a site dedicated to provide a complete review of the changes that will take effect on Feb. 24. There you will find documentation related to the program updates; overviews on changes to the existing programs and information on the new offerings (such as the DevNet certs); links to the new exam topics, and also specialized tools to help you identify a learning path that works best for you. If you are starting at a square before zero ("What is all of this about?"), go to this page first.
Watch a quick overview here.
Changes to Recertification
For those of you already certified and wondering how the new program changes recertification policies, please visit https://www.cisco.com/c/en/us/training-events/training-certifications/recertification-policy.html. Come Feb. 24, there are new options available for recertification; Continuing Education, a method of recertifying via training and participation in qualified events (such as specific Cisco Live sessions), will be made available to all learners. So now, you can recertify via exams alone, training alone, or a mix of training and exams. This adds a new level of flexibility to your recertification journey; for example, for those with an existing CCNP Security looking to recertify after Feb. 24, you could pursue the Security Automation and Programmability training/exams offered by DevNet and build those skills while also earning points towards recertification.
The CCNP Migration Tool
For those of you on track for a CCNP certification and want to understand how the Feb. 24, 2020 program may affect your path, Cisco has built a CCNP Migration tool to show how to migrate your certification in progress. For those still working toward any current CCNP certification, keep going.
Find the DevNet Certification for You
To learn more about the individual offerings that make up the DevNet Certification program, our team has published a webinar on each available certification path. Each video is hosted by a Dev Advocate with a specialty in the given track or technology. Find each webinar in the series here:
Get Set: Building Skills and Finding Training
For those of you that know what certification and exam you want to pursue (I, myself, am going after the DevNet Associate Certification), please use the following links to find training and start preparing today.
Exam Topics
To help you prepare for what subjects will be covered in each certification path, Cisco publishes the exam topics that list the skills and knowledge that will be tested – and the same goes for the exams within the DevNet Certification program. All the topics for each of the 10 of the exams within the program are available for review now at https://developer.cisco.com/certification.
DevNet Learning Labs
Unique for the DevNet Certification exam topics, DevNet has reviewed each line item for each exam and found for-free DevNet Learning Labs that are applicable to the topics. These learning labs cover basic skills – Python, making API calls, basics around network automation and programmability – to advanced skills tested in the exams, such as ACI, security, and more.
Each exam topic has a unique learning plan that is available now for free. While this training is not a complete plan to ensure exam readiness, it is a great place to start for individuals looking to learn skills today. See an example for the DevNet Associate Exam here: https://developer.cisco.com/certification/exam-topic-associate/. Find all Exam Topics on the main DevNet Certification page here: https://developer.cisco.com/certification.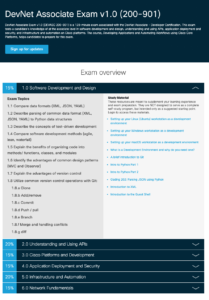 Cisco Authorized Training – Instructor-led and E-Learning
DevNet, working with Learning@Cisco, is producing the classic certification training that has also supported CCNA, CCNP, and CCIE. This training will be offered as instructor-led training (in classroom) and e-learning (digital, self-paced). These recommended training offers will be available for all 10 DevNet Certification exam tracks and will be available in January through February. See the following image for more information: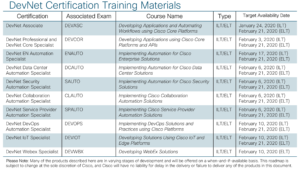 (Please note: Many of the products described here are in varying stages of development and will be offered on a when-and-if-available basis. This roadmap is subject to change at the sole discretion of Cisco, and Cisco will have no liability for delay in the delivery or failure to deliver any of the products in this document.)
The Developing Applications and Automating Workflows using Cisco Core Platforms instructor-led training course that supports readiness for the DevNet Associate Certification exam is available was available for registration on Jan. 24.
Find information on the courses as they become available – including how to register or access the materials – visit the Cisco Learning Locator here.
NEW: DevNet Associate Fundamentals Training
For those learners familiar with (and fans of) DevNet-created training tools or looking for materials with a specialized developer focus, DevNet has created a special e-learning class for DevNet Associate Certification preparation. The digital course, called DevNet Associate Fundamentals, will be widely available on February 21, 2020.
The DevNet Associate Fundamentals training course, built by DevNet team members, is a next generation learning experience, offering high-quality content and an interactive all-in-one learning experience with built-in integrated labs.
NEW: DevNet Study Groups
At Cisco Live Europe, DevNet is announcing the launch of the new DevNet Study Groups – an online community platform allowing people to come together and learning Cisco technologies and certifications with curated learning material. The DevNet Study Group platform is part of a suite of resources we will be providing to help prep individuals for DevNet Certification – which will also include DevNet 500 and DevNet Associate Fundamentals courses.
The pricing for the DevNet Study Group offering is free for a limited time, while the program is in beta; with the Paid Premium offering scheduled to roll out in February 2020.
Go: Register for the Exams
For those individuals that know the certification they intend to pursue and have a plan for skill development and exam readiness, the last step is to register for the exam at Pearson VUE the authorized test delivery partner of Cisco.
Start that path here.
To ensure an easy registration process, gather the following information ahead of visiting the Pearson VUE web page:
Exam name and number (Find that on the Current Exam List webpage)
Legal name (from government issued ID)
Cisco Certification ID (i.e. CSCO00000001) or Test ID number (this is different than your CCO ID)
Company name
Valid email address
Method of payment
If you need any assistance during the registration process, visit the support section of the Pearson VUE site or call 1-877-404-EXAM to register over the phone.
See you at Barcelona in the DevNet Zone
Whew – that was a lot of information – but each is a marker in the road that leads to DevNet Certification. I'll be on-site in the DevNet Zone at Cisco Live in Barcelona speaking to all of this information and providing Q&A – feel free to stop by if interested in learning more. Also, ask questions in the comments section below or reach out to me on Twitter – I'm happy to help provide more details as needed.
Good luck on your 2020 certification goals – program launches Feb. 24.
---
We'd love to hear what you think. Ask a question or leave a comment below.
And stay connected with Cisco DevNet on social!
Twitter @CiscoDevNet | Facebook | LinkedIn
Visit the new Developer Video Channel