Over the last month or two, as service usage has continued to expand, the DevNet Sandbox Team has been putting a lot of engineering concentrating on building out a new Data Center, focused on operational efficiency through automation and infrastructure programmability (you can read about some of the team exploits in Hank Preston's blogs), so we can give the community more tech goodies to play with, faster, with less effort! We're also coupling that with some exciting new features in the pipeline on the sandbox usage level, which I'll be able to announce soon.
But, Cisco product innovation doesn't stop even for shiny new data centers, so we don't stop either!
To make sure we keep you hands on and up-to-speed with some of the latest Cisco solutions across our technology portfolio and that you can get super-fast access to them with zero barriers, we've just released nine new sandboxes spanning the technology portfolio.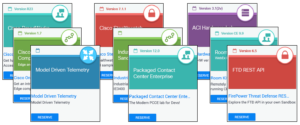 Nine of the best! Click the "reserve" button and get your own
environment full of world class tech in minutes!
IoT
To start, there's a couple of new IoT sandboxes to chose from:
Networking
Security
Data Center
Collaboration
There's a few new sandbox goodies in the Collaboration section of the portfolio:


DevNet Sandbox gives you free access to awesome Cisco tech
instantly, from home, office…or anywhere!
Reserve your sandbox today – FREE!
Hopefully, these new releases will keep you innovating, integrating and automating no matter what area of technology you're interested in! It's great to see the community growing and it's fantastic to be able to provide access to this world class technology to see what you'll create next. We're working on more exciting releases coming in the new year, too.
Head over to DevNet Sandbox and spin up your developer lab in minutes, crammed with the technologies that mean the most to you!
And why not combine the use of your sandbox when completing a DevNet Learning Lab or trying out some ready-to-go code from DevNet Automation Exchange!
As always, we'd love to hear your feedback on these new releases. You can head over to the support forum anytime.
---
We'd love to hear what you think. Ask a question or leave a comment below.
And stay connected with Cisco DevNet on social!
Twitter @CiscoDevNet | Facebook | LinkedIn
Visit the new Developer Video Channel