With sunny skies and balmy weather, Barcelona is Europe's greatest city to visit in the winter.  It is also the time when the cultural calendar swings into action, and often hosts the best festivals and exhibitions of the year. For me, the special draw is Cisco Live Barcelona, where I get the  opportunity to meet, learn and collaborate with industry experts in Data Center Analytics and Networking.
A week from now, Cisco Live EMEA 2020 will be ready to sizzle at the Fira Barcelona Gran Via. From a Cisco Data Center Networking standpoint, Cisco ACI, NX-OS, and NAE technologies and DevNet continue to grab the headlines.

Notably, Cisco ACI has established itself as the industry-leading networking technology with several thousands of customers and a growing ecosystem of 65 partners since we announced it 5+ years ago. In this blog, I am going to present excerpts of what attendees can broadly expect to see and experience at this buzzing event, and I will take you on a tour of how Cisco Data center is ready to engage and enrich you.
Keynotes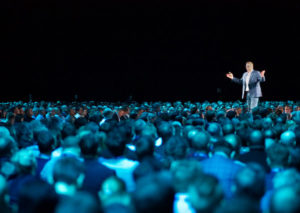 At the outset, I'd recommend that you attend all keynotes to understand Cisco's strategy for emerging technology trends and market transitions. Keynotes and Innovation showcases provide insights and strategic direction from Cisco's executives. David Goeckler, Cisco's EVP and GM, Networking and Security business, kickstarts the event with his opening keynote on Jan 28, 9.00 a.m. local time.
Don't miss keynote innovation talks occurring throughout the week. Cisco Live's Innovation Showcases offer a look at the latest innovations from Cisco, and they provide the context and inspiration today's IT professionals need to create the world of tomorrow. The Innovation Showcase format will include product and service innovations, along with customer case studies, to provide a dynamic exchange of ideas that sets the course for an informative and engaging week. For a ringside view of DC Networking and DevNet, I strongly recommend innovation sessions featuring Cisco Exec Thomas Scheibe and DevNet CTO and SVP Susie Wee. This year we also have Innovation sessions featuring security, IoT, enterprise networking among hot topics. Make sure to check them out.
Now I want to segue to Cisco ACI, NAE, Nexus 9k and DevNet specifics.
Cisco Data Center Networking has a big presence at this year's Cisco Live DevNet Zone with multiple sessions, workshops, demos and learning labs, featuring ACI, NX-OS, and NAE. Cisco DevNet Zone is a beehive of all excitement at all Cisco Live events and many attendees find it very compelling given its appeal to all personas from beginners to API experts. Over the years, DevNet community has grown to 500,000+ members and offers software certifications starting with this edition of Cisco Live. DevNet certifications are designed for both network engineers and software developers and provides Associate, Specialist, Professional and Expert level paths to specialize.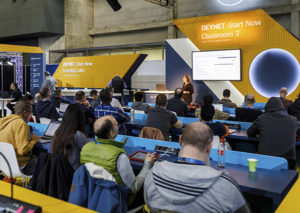 The top draw at the DevNet zone is the special 'ACI takeover session (DEVNET-4001)' on Monday, Jan 27, 5.00 p.m. local time. Do not miss this session as you will get to hear Cisco Marketing VP and Exec DD Dasgupta present in his intro speech about how Cisco ACI's open API approach and its broad presence in Cisco DevNet have helped customers get a fast-ramp to learn, test and deploy our Data center technologies across diverse use-cases and as a pre-integrated solution jointly with our technology ecosystem partners. Following DD's intro, Srinivas Kotamraju, Senior Director, from our Intent-based networking business unit will give a detailed presentation on ACI Anywhere and how it enables customers to deploy scalable,  multi-cloud networks with a consistent policy model.  Parallel to this session, the DevNet zone will also feature a "Backpack challenge" fun event where you get to crack tech puzzles and get a chance at winning a cool prize. A full hour of giveaways, happy hour and fun awaits you. Be sure to reserve this slot in your calendar for Monday.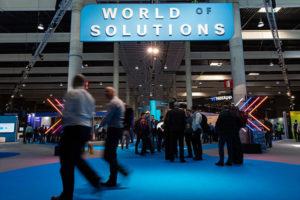 The last few years have been phenomenal from an ACI, NX-OS and NAE ecosystem momentum standpoint. F5, Citrix, Splunk, ServiceNow, AlgoSec and many others have developed joint solutions with ACI, NX-OS and NAE, and we have accomplished several customer wins and success stories. The choice and flexibility to leverage full-fledged open APIs, and the ability to run data-processing apps on our ACI platform has enabled a strong ecosystem of 65+ ACI partners and successful business outcomes for our customers. These ecosystem partner integrated solutions cover a broad set of new use cases for our customers, and will be showcased in our World of Solutions and Partner Village locations. In ensuing sections, I will briefly cover the highlights.
AlgoSec, the leading provider of business-driven security policy management solutions, has recently reached a substantial milestone in its Cisco partnership. AlgoSec is now part of Cisco's SolutionsPlus Program and listed on Cisco's Global Price List (GPL). This allows customers to purchase AlgoSec's products via customer's existing Cisco sales and channel partners.
At Cisco Live, AlgoSec will showcase its integrated solution for Cisco ACI and Cisco Tetration, as well as its support for Cisco firewalls and routers. Don't miss this fantastic opportunity to see how AlgoSec manages the end-to-end process of automating security across the entire Cisco estate including APIC controllers, IOS routers, FirePower Threat Defense NGFWs, and ASA firewalls.
Visit AlgoSec's booth #33A, to play a brand new AlgoSec game that they are unveiling at the conference for a chance to win cool prizes, get great giveaways, and see live demos on AlgoSec's integrations with Cisco solutions.  Reserve your seat in the World of Solutions to hear Professor Avishai Wool, AlgoSec's CTO and co-founder, discuss application-centric and intelligent network security policy visibility and automation. The session will take place on Tuesday, January 28, at 10:40.  Data center partners who are attending the Data Center Partner Discovery Day on Monday, January 27, can also hear Professor Avishai Wool and Don Meyer, Director of Product Marketing, Security at Cisco, talk about the need for agile and automated security for modern data centers.
F5 Networks, a strategic partner of Cisco ACI ecosystem since inception of ACI is prominently showcased in our partner village in booth #24C. Their booth theme "Multi-cloud Application Services from code to customer" is in perfect alignment with Cisco's strong software portfolio on showcase in the world of solutions. F5 in particular is showcasing demos featuring Cisco ACI using F5-ACI ServiceCenter, Network Automation with NX-OS using Ansible, Kubernetes integration with ACI CNI and F5 Container Ingress Services (CIS), F5 SSL Orchestrator with Cisco FTD & WSA and Extension of  L4-L7 policy enforcement to Tetration with BIG-IP. Besides these afore-mentioned rich demos, F5 expert Ramses is presenting a session "How to manage and build your ACI fabric DevOps style – TECACI-2540" highlighting F5 BIG-IP automation in ACI fabric using Ansible.
Citrix a strategic technology ecosystem partner of Cisco ACI has key announcements and a busy schedule of activities planned for this year's Cisco live Barcelona 2020. Come and check out in booth #57, what's new on Cisco ACI-Citrix ADC solution integration front. Citrix is planning a workspace/security announcement, which relates to support for cloud-based MFA with Duo and Citrix Workspaces. Citrix booth will feature many cool demos including Citrix ADC for Cisco ACI App, Duo with Citrix gateway, and Citrix workspaces.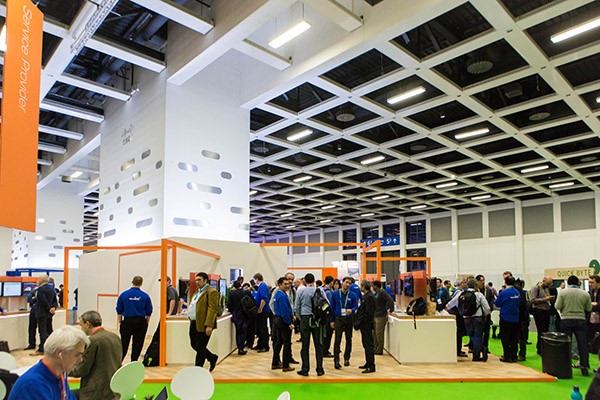 Demos and Theater Presentations at WOS
The World of Solutions is the energetic core of Cisco Live where you'll have the chance to learn about the latest innovations from Cisco and our partners. Think of it as the place to be when you are not in a session. It is a lively pace with over 130 partners ready to engage you. The Cisco Campus to the Innovation zone to the Partner Theater and more – all under one roof! Join us for our Welcome Reception on Tuesday evening from 6:30 to 8:00 p.m local time. We hope to see you there!
The 2020 Cisco showcase in the world of solutions (WOS) enables you to access Cisco's robust portfolio of end-end solutions ad see Cisco at work in everyday scenarios and stories. Our goal is to help customers uncover Cisco solutions and solve some of today's biggest technology challenges. This year we have put together 9 unique opportunities to checkout throughout the week. Each stop features multiple live demos and allows you to whiteboard your technical challenges. Check Cisco Showcase for specifics about each of the Solution Stops. Let's take a sneak peek at some of the cool demos in Data Center solution stop.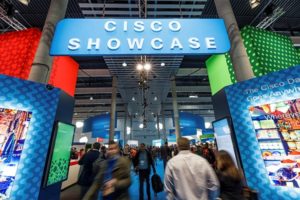 At Cisco Live 2020 Barcelona WOS this year, there will never be a dull moment. We have stacked a rich technology demo menu featuring ACI & Kubernetes, and my own personal favorite ACI App Center & L4-L7 Services that I'll be staffing. Among the many L4-L7 integrations ACI has with premier ADC vendors, the recently launched F5 Service Center App for ACI stands out prominently. Stop by our DC demo showcase and as well by F5 booth #24C to get the full scoop on how the Service center App can simplify your Day-2 Ops, the value-props and reduced troubleshooting times. Besides, we have Network Assurance demos and how in particular they help you in day-2 Ops context, ACI with App Dynamics, a cross-architectural illustrative demo that helps customers quickly gain insights on Network VS Application errors. As App Dynamics gains traction in ACI deployments, customers see an increasing need to seamlessly troubleshoot networking and application issues with low mean time to innocence. We have live illustrations of these use-cases this year, so do not miss the opportunity to meet with our product experts.  The list of Data Center demos is vast and the best way for you to experience them all is to stop by at our demo booths in WOS.
Check out the true heartbeat of Cisco Live – the Network Operations Center (NOC) where you can see live and hands-on what it takes to deploy and manage and secure the Cisco Live network. Speak with distinguished engineers and solutions experts to discuss the Barcelona deployment and to share your own design and build experiences.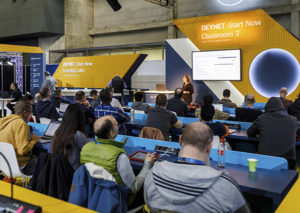 Breakout Sessions
To your heart's delight is how I'll describe Cisco technical breakout sessions. Yes, we have close to 1000 breakouts from industry recognized experts at the show. ACI and NAE breakouts feature prominently, and the legends of the ACI domain including Mike Herbert, Carlos Pereira, Maurizio Portolani et al presenting stimulating day-long session (TECACI-2009) on Intent based Data Center. This technical seminar covers the latest ACI innovations and the best practices for designing and operating Data Centers leveraging ACI. Visit the sessions catalog to choose from 100 plus ACI sessions. I recommend Cisco Marketing exec Danny McGinniss's PSO breakout PSODCN-2118 that takes you on a journey of reactive to pro-active NetOps with Cisco NAE and Insights. Also, on the agenda are Adam Ozkan, Ravi Balakrishnan and David Keith's PSO sessions, and the session titled "Automating ACI operations on AWS – DEVNET 2618" by Devarshi Shah & Javed Asghar is top drawer stuff.
Social Networking
As a Cisco Live attendee, you benefit from the opportunity to interact with your peers, Cisco staff and partner technical experts in both structured and informal settings. Our Welcome Reception and Customer Appreciation Event are the highlights of the week's social calendar. Read more on the Social Events & Networking Onsite section. Tuesday's welcome reception at the WOS, Thursday's Customer appreciation event are the highlights.  Special guest performers for the evening are yet to be announced, so stay tuned!
I can go on and on, but I'd never be able to cover all of the excitement in store. There is so much more you can explore on your own, and our Meet and Greet ambassadors will be happy to assist you at the show. As for me, if time permits, I plan on acquainting myself with some of the legendary artworks in Barcelona's myriad Museums.  Safe travels and a happy Cisco Live.
---
Related Links
Transforming Day-2 Operations with Cisco Data Center Network Assurance and Insights (announcement blog)
F5 ACI ServiceCenter App Pushes the Envelope in DC Networking Automation (blog post)
AlgoSec Security Management Solution available on Cisco Global Price List (blog post)
Data Center Partners (Cisco.com)