When discussing the Internet of the future recently, Cisco CEO Chuck Robbins said, "We really want our customers to consume the technology in any way they want." With that in mind, I am pleased to announce the first Cisco Nexus platform that supports Segment Routing v6 (SRv6) running NX-OS which gives customers' business the next-generation programmable data center network capabilities. Our Cisco Nexus platforms already support Segment Routing (SR-MPLS); now the Nexus GX platform supports SRv6 as well.
Segment Routing Introduction

Segment Routing (SR) is a flexible, scalable way of doing source routing. In Segment Routing, the source chooses a path and encodes it in the packet header, as an ordered list of segments. The network does not need to maintain state per-application and flow. Instead, it obeys the forwarding instructions provided in the packet. The first version of SR used the MPLS data plane.
SRv6 – Building Next-Gen Programmable Network Infrastructure

SRv6 further simplifies the network by eliminating MPLS altogether. It relies on the native IPv6 header and header extension to provide the same services and flexibility as SR-MPLS, directly over the IPv6 data plane.
SRv6 adds network programming capabilities by taking advantage of IPv6 Extension Headers. We can now insert Segment Routing headers into IPv6 packets. Thanks to the increase in Segment ID size, it is now possible to pack more than IP addresses into a Segment ID and hence go beyond routing purposes.
The IPv6 flavor of Segment Routing allows user-defined functions to be associated with segments. By leveraging the segments encoded in the dedicated segment routing extension header (SRH), the IPv6 packet carrying the network instructions explicitly tells the network the path it should traverse and the functions to be executed at each SRv6 node. These functions may implement any computable behavior, enabling simplified network programming.
Beside the main advantage of SRv6 providing the most advanced SRv6 Traffic Engineering (TE) capabilities, the network can be turned into a multi-service infrastructure. New Flexible Algorithm (Flex-Algo) capabilities make multiple optimizations of the same physical network infrastructure along various dimensions possible.
The SRv6 architecture (Segment Routing based on IPv6 data plane) is a promising solution to support services like Traffic Engineering, Service Function Chaining, and Virtual Private Networks in IPv6 backbones and data centers. The SRv6 architecture has interesting scalability properties as it reduces the amount of state information that needs to be configured in the nodes to support the network services.
Fundamentally, SRv6 provides a way to simplify the network by eliminating MPLS – using the native IPv6 header and header extension to provide the same services and flexibility as SR-MPLS, over the IPv6 data plane.
Cisco Nexus GX Platform Supports SRv6 Functionality
Cisco Nexus 9000 platforms support Segment Routing v6 (SRv6), which brings many advantages to our customers. The GX platform provide customers with:
4 TBPS Packet Processing in a single 1RU/2RU switch with port speeds up to 400G
Insert up to 9 SIDs (Segment IDs)
Encapsulate IP/L2 payloads with SRv6 and add up to 5 SIDs in Segment Routing Header (SRH)
Line Rate SRv6 forwarding
Operational management tools for troubleshooting and monitoring
Nexus 9000 Series platform models

N9K-C9316D-GX: 16 x 400/100/40-Gbps QSFP-DD ports
N9K-C93600CD-GX: 28 x 100/40-Gbps QSFP28 ports and 8 x 400/100-Gbps QSFP-DD ports
N9K-C9364C-GX: 64 x 100/40-Gbps QSFP28 ports
Business Drivers for going with SRv6
Build Scalable Networks
The SRv6 architecture allows to build scalable networks by reducing the amount of state information that needs to be configured in the nodes to support the network services.
Traffic Engineer (TE) customers traffic across any size of networks
SRv6 Traffic Engineering leverages IPv6 underlay and forwarding by adding Segment Routing Header (SRH) to SRv6, this facilitates Traffic Engineering and path protection capabilities. Accordingly, Traffic engineering enables use cases such as Disjoint Paths for selected traffic, Color Affinity traffic forwarding based on link colors, low latency path selections for certain traffic, high bandwidth path selections, and many more to come.
Build Data Center Interconnection (DCI) with Core/WAN running SRv6
Data Centers mostly based on VXLAN technology can hand-off the traffic to the service provider or core/WAN running SRv6.
Reduce Network Operational Complexity and OPEX
SRv6 eliminates the need for LSP management. As networks become more complex; this helps to simplifies network operational management. This is one of the key differentiators comparing SRv6 to SR-MPLS and MPLS LDP technologies.
Enable Network Programmability
In SRv6, a segment routing identifier (SID) is an IPv6 address. It can be conceptually separated to two parts: locator and function. The locator is the route to the node performing the function. The function can be any possible function bound to SRv6 SID. Customers have the complete flexibility to program the SID in SRH to enable simplified network programming.
SRv6 Use-Cases on the Nexus 9000 Series Platforms
Cisco Nexus GX platforms with SRv6 enables realize the following key use cases.
The first and immediate use case is interconnection of data center networks with core networks. VXLAN has been widely deployed in the data center and the core networks are transitioning to SRv6 from MPLS. Nexus GX platform is a perfect choice for performing a seamless VXLAN to SRv6 hand-off function interconnecting VXLAN data centers with SRv6 core networks. This is the most-tailored and scalable design for GSPs (Global Service Providers) and large enterprises with SRv6 Core. Benefits offered are simple, scalable architecture and seamless inter-connectivity between globally spread data centers and the SRv6-based core/WAN.
The second use case that SRv6 brings to service providers is L3 VPN (Layer 3 Virtual Private Network) over SRv6. L3VPN over SRv6 enables multi tenancy for next generation IPv6 networks, 5G networks of global service provides, large and small data centers that support 5G, and beyond.
Another important SRv6 use case is network service chaining, also known as service function chaining (SFC). It is a capability that uses software-defined networking (SDN) capabilities to create a service chain of connected network services (such as L4-7). This network service chaining enables customers to have, for example, security (firewall) services embedded within the SRv6 network.
A key advantage SRv6 brings to networks is Unified Data Plane (UDP), where customers can run IPv6 everywhere in data center and core networks. This enables the Global VRF (Virtual Routing Forwarding) over SRv6 use case, where IPv4 as well as IPv6 data center fabrics interconnect over SRv6. This use case is applicable for MSDCs (Massive Scaled Data Centers) and globally spread data centers inter-connectivity.
Conclusion – Rethinking SRv6-based Networks
In this announcement, we explored the potential of Segment Routing in its IPv6 flavor. SRv6 is an efficient and fine-grained network programming architecture. Its source routing paradigm enables customers to easily implement traffic engineering without adding state in the network. By providing an abstraction layer over classical distributed protocols, SRv6 enables centralization of network control while still relying on the resilience of such protocols.
By bringing together the best of the distributed protocols and the Software-Defined Network (SDN) world, SRv6 opens the door to infrastructure programming. Supercharging the data center networks with programming capabilities is a game-changer in the way the network treats applications (e.g., SR traffic engineering). The network can now take actions on the applications along the same path applications are transported over. This is about making your applications and your network interact in a completely different, new way.
SRv6 use case: Interconnection – Data Center & Core

SRv6 use case : Global VRF over SRv6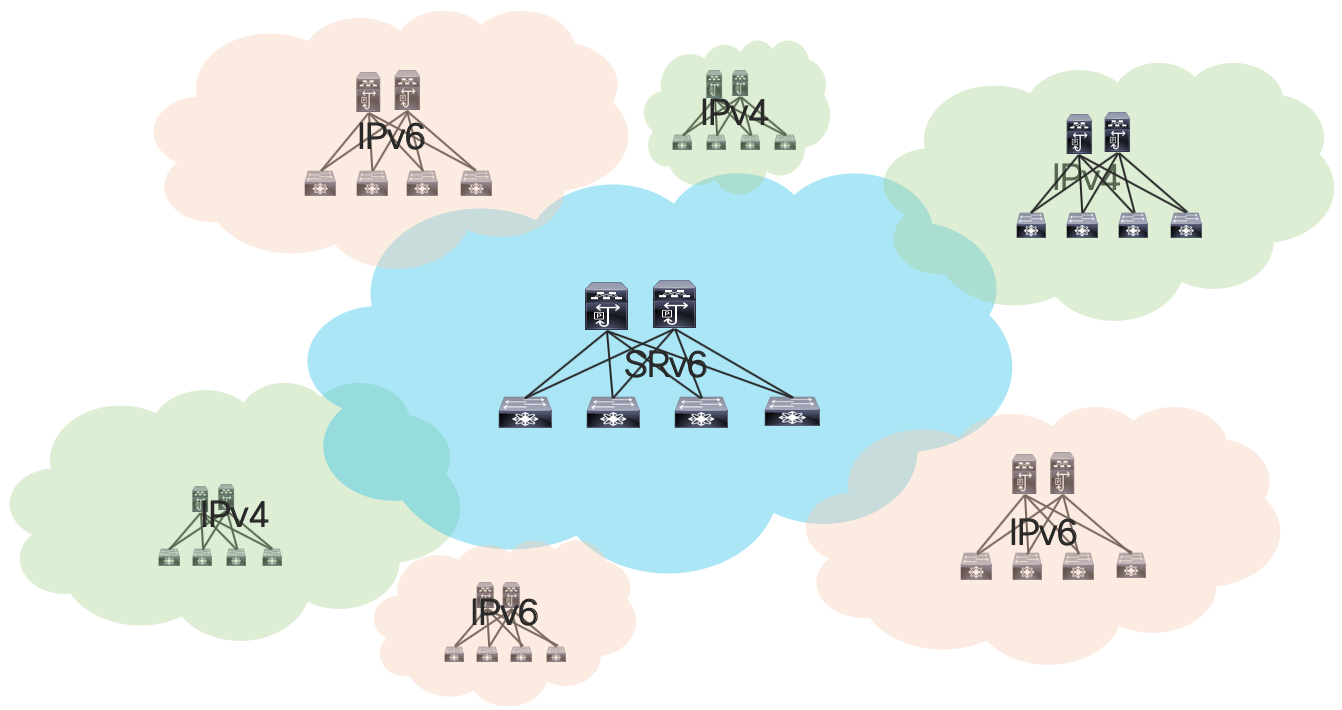 SRv6 use case: L3 VPN over SRv6 (overlay)