This blog was originally published on the Huffington Post
I recently spent two weeks in Uganda and Kenya, meeting with nonprofit organizations that are applying technology-based solutions to help underserved populations access the knowledge, skills, and financial products and services they need to become economically self-sufficient. I lead the economic empowerment portfolio for Cisco and the Cisco Foundation, so it was an opportunity to get an up-close view of the progress and impact of our investments.
Let's put this into perspective: When we talk about underserved populations in developing countries, we are talking about people who are living on less than $3 a day. They may have never had a formal job and most likely have, at most, a high school education. They don't have a bank account, they may live in a slum, and they may not have enough money to eat three meals a day.
To permanently break the cycle of poverty, these people need a life-changing experience. One that will help them develop skills they need to get jobs, earn good salaries, and be supporters and role models for their families and communities.
But job opportunities for young people in developing countries are scarce. According to a recent report by the International Labour Organization, two thirds of working-age youth in some developing countries are either unemployed or trapped in low-quality jobs. The report noted that "in developing regions, where 90 per cent of the global youth population lives, stable, quality employment is especially lacking." The United Nations Development Programme (UNDP) recently released a report examining Kenya's youth employment challenge, noting that while youth make up more than one third of the total population, youth unemployment is around 25 percent — double the national average.
Technology can help overcome these statistics. Internet-based work in particular ensures widespread and equitable access, and helps nonprofits reach the "last mile" of people who are the most vulnerable but have great potential.
Digital Divide Data (DDD) is equipping low-income youth, women, and the disabled with the skills and experience required for sustainable career development throughout their lives. DDD provides outsourcing business services to clients, while training and employing disadvantaged youth in Asia and Africa. DDD also provides scholarships for workers to earn college certificates and/or university degrees while working.
The average DDD worker in Kenya lives in an urban slum, is between 18 and 24 years old, lives below the poverty line, has a high school diploma, and has less than six months' work experience. Half of DDD workers are women, and about 10 percent are disabled.
I met Ignatius, who told me he came to DDD because he wants to pursue a career in the IT industry. He has since been hired as a DDD staff member and now supervises 32 workers. One of 9 children, he sends a portion of his salary to his parents to help them pay for medical bills and school fees for his siblings. Working at DDD has enabled him to get IT skills training, managerial training, and the opportunity to pursue a degree in business and IT. These skills will remain with him for the rest of his life. And now that Ignatius feels that he has ownership over his career and his life, he has choices and can chart his own direction. The last thing Ignatius told me was that working at DDD has shown that you can come from a humble beginning and be successful.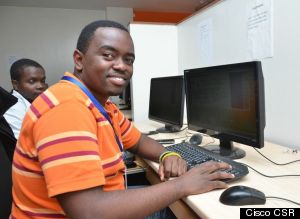 Kibwana came to Digital Divide Data (DDD) through a partnership Cisco has with DeafAid to train deaf youth in IT skills, including Cisco's Networking Academy curriculum. For deaf youth, getting an education, skills training, and employment is a challenge. At DDD, Kibwana can do all three. He sends a portion of his salary to support his mother and sister, and he is working toward a Cisco CCNA certification so he can have a career in IT and networking.
Cisco product and cash grant investments are helping DDD expand its business operations to serve more people like Ignatius and Kibwana and to replicate its program in new countries, as well supporting overall platform upgrades to facilitate better efficiency, functionality, and long-term financial sustainability.
Samasource is another nonprofit organization that provides training and computer-based work to women, youth, and refugees living in poverty, while providing Internet-enabled outsourcing services to paying clients. Samasource recruits workers from low-income, underserved communities. A typical worker is between 18 and 30 years old, has less than 6 months of formal work experience, and was earning below a living wage before being recruited.
At one Samasource delivery center, I met Mary Cate, who told me that Samasource has transformed her life. How? She is learning new skills. She works in good working conditions with professional and caring coworkers and supervisors. Her work is appreciated and she is treated with respect. She earns a good salary, and is paid regularly. She wants to pursue a college degree, and a career in the IT industry, and believes that Samasource is providing her with an opportunity to do so.
At another delivery center, I met Priscillah. She lives with her parents and has seven siblings. She did not have any formal work experience prior to joining Samasource. Priscillah said she feels productive, is learning new things every day, and is easily able to handle her work because she receives good training and coaching. She is now the primary breadwinner in her family and is proud to be a role model to her siblings. She uses her salary to help pay rent and tuition for her siblings, and is saving the rest to go to college.
A combination of Cisco product and cash grant investments are helping Samasource to onboard workers more quickly and efficiently, enhance quality assurance, and more.
In talking to workers at both DDD and Samasource, I was struck by the multiple levels of impact these programs have had on their lives. Although they all come from low-income, underserved communities, they are now equipped with technology skills and experience to support a lifetime of stable and sufficient income. They are all earning good salaries.
But not one of the people I met with said income was the primary benefit of their experience. These young people spoke about having pride in their work, being role models to their families and communities, and wanting to help others. Their life-changing experiences in the IT industry are lifting them out of poverty, but they are also changing the world for the people around them.