Little known to most people, including residents of Houston, Texas, there is a peanut butter cannery here, and it is capable of producing over 1 million jars of peanut butter a year. Thanks to the coordination efforts of Terry Edge, a Cisco Channels Manager, two teams of Cisco employee volunteers produced 12,595 jars — 21,254 pounds — of peanut butter this month.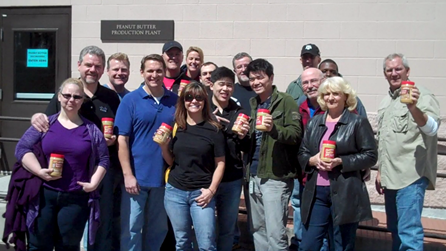 Why is peanut butter important?
"Peanut butter is our most requested item," stated Brian Greene, president and CEO of the Houston Food Bank, in a Houston Chronicle blog. "It's nutritious, requires no refrigeration, and can even be eaten right out of the jar."
The Houston Food Bank is one of the 300 organizations in Texas that distribute peanut butter donated by the cannery. Volunteers like those from Cisco provide the manpower to operate the cannery. Since 2004, corporate volunteers have produced more than 700,000 jars of peanut butter to help feed the hungry.
Thanks to the following Cisco employees, along with several spouses and friends, for volunteering at the cannery in March:
Terry Edge, Aurora Centeno, Bill Shields, Bob Kohut, Brit Walker, Candice Lanier, Chad Chiang, Cheryl Hewett, Daniel Pirek, Danny Pierce, David Farragut, Eric Thomas, Gregory Okotie, Hanh Yen Earhart, Jason DuBois, Jason Glim, Jessinia Venegas, Margaret Kneeland, Mark Erkman, Matt Camacho, Matthew Dehaven, Michael Chou, Nick Adair, Patrick Gilkey, Terri Mergist, and Tom Foucha
I personally found this to be a great experience and everyone I volunteered with expressed how they enjoyed being able to help out.
And in case you were wondering, the peanut butter tastes fantastic!