Do you know how you are going to maximize the profitability of your 5G investment? If not, while at MWC19 Los Angeles, Cisco would like to speak with you about building a 5G network that works for all your customers as well as for you.
Cisco at Mobile World Congress 2019 – Los Angeles
To ensure you have a quiet, intimate experience we've built a meeting suite above the crowds and noise of the exhibit floor showcasing solutions to make 5G more profitable then you originally thought possible. Come see us on the second floor in the meeting suite S2.303B.
Meet with our executives and subject matter experts:
We will have key Cisco executives and subject matter experts who are looking forward to meeting with you about building the bridge between building your network and monetizing it.  We have open, multi-vendor, software-defined solutions with advanced, unified automation to simplify and optimize your business.
Call your Cisco account team to make a meeting reservation right away.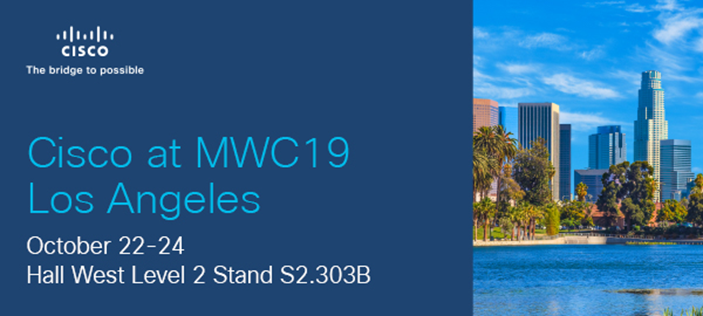 Key Cisco Executives at MWC19 Los Angeles:
Jonathan Davidson, SVP/GM Service Provider Business
Sumeet Arora, SVP/GM Service Provider Network Systems
Kishen Mangat, VP/GM of the Mobile and Automation Business Group
Masum Mir, VP Product Management, Mobile Business Group
JL Valente, VP/GM Cloud Platform Services Group and NGENA
Bob Everson, Global Director for SP Mobility and 5G
Matt MacPherson, Wireless CTO
And several more execs and subject matter experts.
Solutions Showcase
While you are visiting us in our meeting area, you'll want to have a look at our live Solutions Showcase. We will be sharing some of our innovations to help you grow revenues and reduce costs. We will the latest advancements by Cisco and the Open vRAN Eco-system which can reduce costs, risk, and complexity in your 4G/LTE and 5G networks. We are also showing our latest monetizer solution – Unified Domain Center – the only solution in the industry that extends your enterprise customer's LAN across your mobile WAN.
Cisco on stage
Cisco is MWC19 Los Angeles' official 5G Sponsor. And we have brought with us several of our executive experts to share vision and ideas on making 5G profitable. Take a look at the schedule of our speaking sessions here.
Cisco Innovations
We've been busy since MWC19-Barcelona innovating and improving solutions that you need to grow revenue, reduce costs, mitigate risks, and provide your customers with the best connected experience possible.
Why Cisco for your 5G Business?
 Grow Revenue – Build into your network the capabilities to quickly introduce new services and to support lower latency and critical infrastructure services. Your network infrastructure will need to distribute the telco cloud, extend visibility, control, and security to your business customers so that they can extend their domain control across your wide-area mobile network – hence building a bridge to a profitable partnership with the enterprise.
 Reduce Costs – By converging multiple discrete networks; mobility transport, residential access, and business services into a single network infrastructure. Migrate existing proprietary systems to an open eco-system to accelerate innovation and promote competition. Operational based expenses are on average 5:1 more expensive to procuring new capital requiring a software-defined closed look orchestration and automation schema to be the rule vs the exception.
Mitigate Risk – By building a trusted network infrastructure. By securing their network assets. By securing their mobile, residential, and business services. By securing their end-users. By choosing a partner that has the business acumen and technology breadth and depth to make them successful.
Customer Experience – 5G is about enhancing the user's connected experience. Mobility will have speeds and latency typically associate with fiber. New distributed architectures powered by software-defined solutions will open new revenue opportunities and help businesses complete their digital transformation.
We look forward to seeing you in Los Angeles.
---
For more information: