The friend who inspired me to embrace social media does not follow me on Facebook, Twitter or LinkedIn. She follows me around the house.
When I was 25 years-old, I had an amazing job as a marketing project manager. I traveled to new cities and countries to meet with global team mates, partners, and clients. True, most of my time in those exotic locales was spent in conference rooms, but we eventually got the chance to go out for lunch or dinner, to marvel at the natural beauty of Rio de Janeiro or Boulder. The best part of each business trip was coming home to my husband. Sometimes I would meet him in a city far from home, where he had traveled for business. These were the early days of our marriage, when we spent many days apart, staying in touch via email and trying to manage our hotel and mobile phone bills wisely.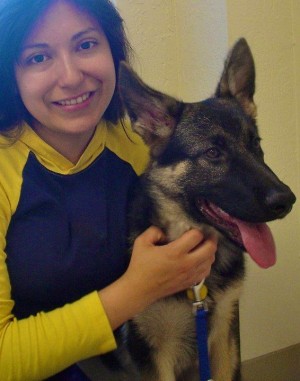 It has been said many times that the inside of a conference room looks pretty much the same anywhere in the world. I got tired of business travel. I also became increasingly broody. Although I wasn't ready for the responsibility that comes with a human baby, I was ready for the next logical step: getting a dog. This would mean changing my work routine to remove business travel. It also made me realize that my hour-long commute would keep me away from my puppy, to whom I had made a life-long commitment. As much as I loved my job, I had to find something closer to home.
It's thanks to my dog that I quit a perfectly good job, and found another just 5 miles away from my house. That's when I became a Marketing consultant at Cisco. Since then I have participated in many exciting projects in localization, collaboration, and sales enablement. My first day on the job, I was happily surprised to discover that all Cisco buildings had Wi-Fi. Eight years later, I'm also grateful for Cisco technology that has allowed me to work from home, so that I could keep close watch over my puppy and the human baby that eventually followed.
In 2004, I made a decision to find a new way to work so I could have greater work-life balance. Also in 2004, a Harvard undergrad launched a website with the goal to connect everyone in the world. These are two good examples of choosing to use technology to achieve a better human experience. Social Media isn't a new concept, it's a collection of new tools to help us stay in touch with our best friends. Cisco collaboration tools have made it possible for me to work from home. I have a family, a career, and friends all over the world. I thank my dog for that.
What tools do you use to stay social? Who is your inspiration for collaboration?
Follow Silvia Spiva @silviakspiva
http://www.linkedin.com/in/silviakspiva