[ed. Note: This post was updated 7/9/2014 to include new information not available to the author at the time of original publishing]
I just returned from the Gartner Security Summit at the Gaylord Resort in National Harbor Maryland. Each morning I took my run along the Potomac River and passed this sculpture of a man buried in the sand.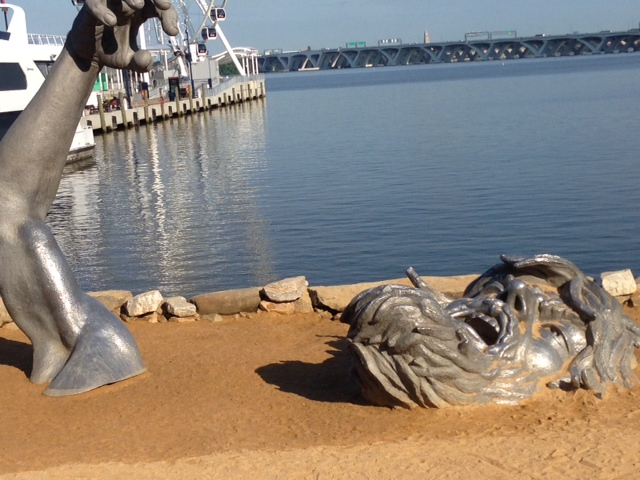 In speaking with many IT executives they expressed specific concerns around their IT security, and this sculpture of the "man in the sand" took on new meaning for me. I could see how they might similarly feel overwhelmed and buried given their limited resources and the abundance of threats to their environments. Yes, I've been in this industry too long! Anyway, throughout all of my conversations it was abundantly clear that people were looking for a new way to approach securing their networks and applications. Customers are recognizing that unsecured access to the network is a critical threat vector; however, when leveraged properly, the network itself also provides a significant platform that offers comprehensive protection to close those gaps. So, what do I mean by that?
The network uniformly sees and participates in everything across the threat continuum, whether before, during or after an attack. If we can leverage the insights and inherent control the network provides, IT organizations can truly augment their overall end-to-end security across this continuum. If done correctly, this augmentation can happen without investing a large amount of time, energy, and resources in filling all the gaps to secure their environments – regardless of legacy network, endpoint, mobile, virtual, or cloud usage models
Cisco strongly believes that the network must work intimately with various security technologies in a continuous fashion to offer protection for networks, endpoints, virtual, data centers and mobile.
Given Cisco's breadth and depth of security, we did not have room to exhibit our networking devices. However, within much of our networking (and even security) offerings, we have embedded security capabilities that provide more comprehensive protection across the entire threat continuum.
An example of this is Cisco TrustSec embedded network access enforcement, which provides network segmentation based on highly differentiated access policies. Cisco TrustSec works with Cisco ISE to provide consistent secure access that is mapped to IT business goals. Cisco ISE and TrustSec are part of the Cisco Unified Access solution and leverage a superior level of context and simplified policy management across the entire infrastructure in order to ensure that the right users and devices gain the right access to the right resources at any given time.
Cisco's integrated approach to security reduces complexity, while providing unmatched visibility, continuous control and advanced threat protection, which, in turn, allows customers to prioritize more efficiently and act more quickly – before, during, and after an attack. Through Cisco's New Security Model, we help you achieve a more pleasant experience and get you dug out of the sand. To learn more and go beyond just a shovel and pail, go to Cisco's Security Page.