Yes, really. I just got back from Cisco Live! Milan where Chris Young, Senior VP at Cisco, spoke to the Cisco security story, Intelligent Cybersecurity for the Real World. The Cisco security strategy addresses many security challenges across a range of attack vectors (network, endpoint, mobile devices, cloud, or virtual). It covers the entire attack continuum with point-time solutions and dynamic analysis of real-time security intelligence. This reduces the security gaps and minimizes the complexity. Not many network providers or pure security players can make this claim. Ask your secure access provider, how do you address the access to the broad range of threat vectors? And when a threat comes in how do you manage it?
The Cisco secure access story brings critical value to the continuous security approach.
The Cisco Identity Services Engine (ISE) brings exceptional visibility, context, and control to the entire spectrum.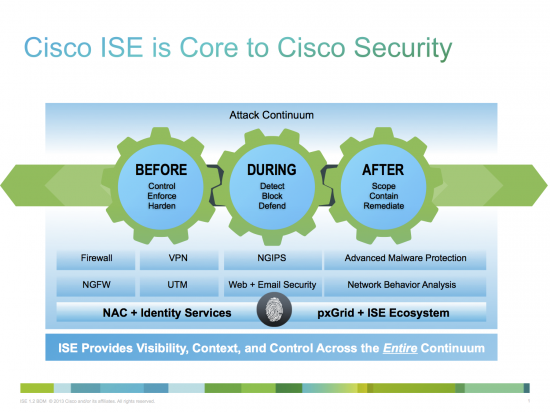 Cisco ISE identifies what is connected on the network with significant intelligence: who (employee or guest), what (smartphone, tablet, etc.), where, how (from branch office on a wireless connection in NYC or maybe remote from a hospital wireless connection in AZ), and when (what time of day). This context will then determine where one may go that is appropriate based on business policy. ISE integrates with the Mobile Device Management (MDM) solutions to gather more information on mobile devices and their posture and compliance status, ensuring higher mobile security. As we move along the attack continuum, the power of ISE and a SIEM or threat defense solution can also help determine if there are potential malicious attempts and remediate them more quickly and accurately. There are some upcoming webinars on ISE ecosystem partnerships. Check them out. Also woven into the network infrastructure is embedded enforcement technology, TrustSec, to further protect in a highly efficient manner.
The secure access topic is top of mind for many Cisco customers. Most recently Florida's most densely populated county upgraded to a cohesive countywide wired and wireless network, creating a secure and smooth user experience for county employees, associated workers, and visitors with Cisco Unified Access.
"ISE was a key component to our BYOD solution. It dynamically discovers device type and user identity, and matches and applies access rights based on flexible policies that can be applied throughout the network. That's a huge feature and unique to the product." –Pinellas County
(For more insight, see learn from Pinellas County.)
RSA in San Francisco is just around the corner. We look forward to seeing folks to discuss your secure access needs.