We've seen Cisco TelePresence making a difference in health care. Most recently, it helped connect Children's Hospitals with the North Pole for the holidays, and now its uses have extended to saving lives.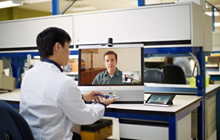 There are few things in life that are more important than your health and the health of your loved ones. Lack of time has become a major factor in people not seeking out the medical care they need. Therefore, health care providers have had to keep up with this ongoing issue and find ways to ensure patients receive the care they need.
Oklahoma's largest health care system, INTEGRIS was one of those providers. Faced with the challenge of delivering the quality they desired, INTEGRIS was looking for an effective way to connect hospitals throughout the area to increase employee collaboration and improve patient care. With the help of Cisco collaboration technology, Cisco TelePresence and Cisco Jabber, INTEGRIS has established a life-saving program that has decreased stroke mortality rates and increased access to health specialists.
Read more on how INTEGRIS is leveraging Cisco to drive innovation in health care: "Cisco Collaboration Comes to the Rescue for INTEGRIS Health."