In our most recent post, Steve Morrisey from the Ease of Doing Business team highlighted his key takeaways from Cisco Live US back in June, including the Cisco Software Simplification team's exciting presentation of the new Smart Software Licensing solution.
Smart Software Licensing is a major change to Cisco's software strategy – we're moving away from a Product Activation Key (PAK)-based model to a new approach based on advanced consumer-based models. This new approach removes today's entitlement barriers and provides information about a customer's or partner's software install base, thus enabling greater flexibility and making it easier for customers to buy, deploy, track and renew Cisco's software.
Ben Strickland, Manager of Product Management in Cisco's Engineering License office, led the presentation at Cisco Live, and I've invited him here to share his first-hand experience and what you can expect for your software experience in the coming months.
 By Guest Contributor Ben Strickland
"This is What We've Been Waiting For"
At the recent Cisco Live conference in Orlando, FL, I presented the new Smart Software Licensing solution to a large crowd of Cisco customers and partners. If there's one thing I've learned, it's that all change, even good change, can be difficult to absorb, so I had prepared myself for a fair amount of hesitation, tough questions and pushback. What I hadn't prepared for was near-universal endorsement of our plans.
Yet as we discussed Cisco's upcoming changes to software licensing, the overwhelming message we heard was "This is what we've been waiting for!" and "Go faster!"
The audience's enthusiasm blew us away. Over the course of the week, our booth was often so packed that you couldn't even see the carpet. Customers, partners, and sales teams were spending up to an hour talking with the Smart Licensing experts (which is even more remarkable considering we were up against the famous DeLorean time machine from the "Back to the Future" film!).
It wasn't just slide-ware attracting the crowds either. We had live demos where customers could test drive real Cisco products working with the Smart Licensing cloud-based appliances. And if that wasn't enough, people really seemed to enjoy taking out their frustrations with our game of "Whack-a-PAK"!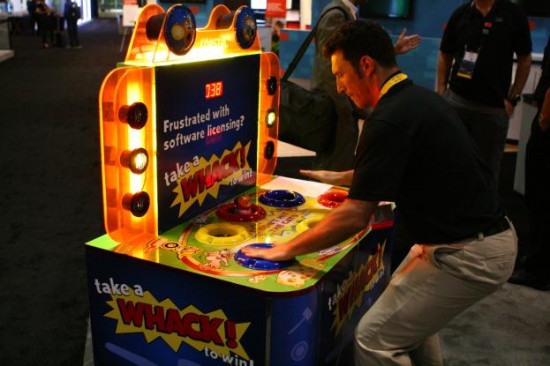 For those who couldn't join us at Cisco Live, you can access the Smart Software Licensing solution presentation and all the other Cisco Live presentations by registering at Cisco Live 365.
The Takeaway: "Go Faster and Make It Happen"
What we heard over and over again is that we need to make Smart Software Licensing available as soon as possible. While we work on bringing Smart Software Licensing to customers later this year, we are currently offering new tools and capabilities to make it easier for you to use Cisco's software for today's licenses:
With Cisco Software Central, you now have one location for all your software management needs. Visit today to get quotes, order software, get licenses, and download and upgrade Cisco software.
Enhanced Product License Registration with self-service capabilities allows you to rehost, resend, look up, edit and register multiple licenses quickly and easily. You can also bulk load and register multiple product activation keys (PAKs) or licenses for multiple devices within a single registration.
We will also be posting updates on our progress with Smart Software Licensing on our new Cisco.com portal.
All the feedback my team and I captured at Cisco Live, including suggestions for short-term improvements, long-term direction and specific comments on the product features and functionalities will help us shape the Smart Software solution going forward.
Thank you for investing your time with us and helping us work toward a better software licensing experience. If you have any further feedback, or would like to know how you can get involved in the program, please contact the team at ask-smartlicensing@cisco.com.
Regards,
Ben Strickland