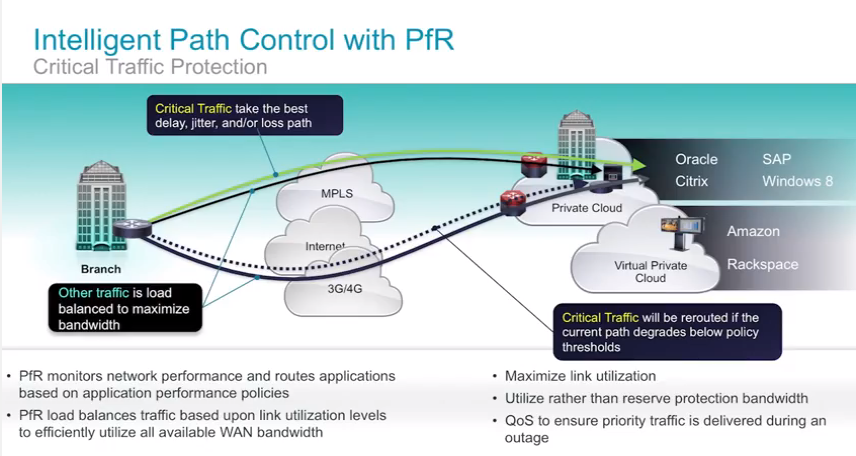 "Location, Location, Location" is what you need to keep in mind for real estate in the physical world.  But in today's
enterprise environment where everything is virtual and many critical apps are in  the data center or cloud, the most important thing is connectivity.
So welcome to the era of connectivity, connectivity, connectivity!
As connectivity is so important, what can we do to ensure the uptime of the branch WAN connectivity without increasing costs?
As expected, Cisco has a great solution that is part of the Intelligent WAN or IWAN solution called Performance Routing or PfR. With PfR you can use dual line WAN connectivity in an Active-Active mode instead of the classic Active-Standby mode.
What does Active-Active mean?
Today in your branch you probably have one primary line (typically MPLS VPN) to your private Data Center and secondary line as backup. In most cases the backup line is not being utilized and it's sitting quiet waiting for the main line to fail.
In an Active-Active scenario, the Integrated Services Router or ISR will monitor both WAN lines constantly and figure out automatically which line is best for each flow. Doing so will utilize both WAN lines and leverage the backup line that you are paying for anyway.
What does this mean for the business?
You dramatically increase the reliability of the branch connectivity and leverage any WAN technology to do so (MPLS, Internet, 3G/4G). That will give you the opportunity to reduce WAN costs while increasing or maintaining the reliability of the branch connectivity to the WAN.
So when you need to choose between uptime vs. cost, we at Cisco say "you can do both".
To learn more check out this PfR demo:
https://youtu.be/7CHsJrDhuV8
Check out these other IWAN capabilities to learn more!