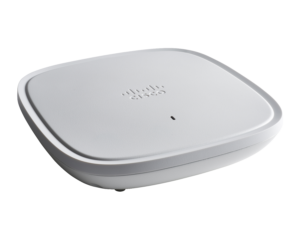 If you're looking for Wi-Fi 6 access points that are certified by the Wi-Fi Alliance (WFA), your search is over. Cisco has them! Recently the WFA deemed that the Cisco Catalyst 9115 and 9120 Access Points have met the required criteria and were officially granted the Wi-Fi 6 certificate. The two access points join the Cisco Catalyst 9130 access point that was certified in November.
With so many choices of certified access points, no matter what network size, customers now are able to find the right Cisco solution for their organization. All Catalyst access points obviously support the Wi-Fi 6 standard, but the products also address IoT expansion, optimum performance to minimize total cost of ownership, and offer investment protection thanks to NBASE-T and IEEE 802.3bz Ethernet compatibility.
The question that may be running through your mind right now is what does it mean to be certified and why is it a big deal? To answer these questions, some background must be given. In 1999 the WFA was formed with a mission to "certify interoperability of Wi-Fi wireless LAN products to promote Wi-Fi as the standard for wireless LAN deployments across all market segments." This means that in order for Wi-Fi to grow and prosper, the WFA felt that products needed to meet certain requirements so that an inferior Wi-Fi did not delude how the technology is perceived. Once the public trusted a high quality of Wi-Fi, they would demand it in every future iteration.
How does a product get certified? At Cisco labs, close to 200 test cases for each access point are run. These tests include vendor chipset and product interoperability, adherence to the Institute of Electrical and Electronics Engineers (IEEE) specifications and a positive user experience. Following the tests, logs are gathered, and bugs are repaired. Then the tests are re-run to ensure that the bugs were correctly repaired and that the access points will get a passing result. From there the product is submitted to a WFA test lab for certification. If the WFA tests are aced, only then will an access point be considered Wi-Fi certified.
Wi-Fi 6 certificate represents qualification of products implemented with latest 802.11ax IEEE specifications, including mandatory WPA3 security standard.
But why go through the certification process? First and foremost, our customers demand it. Also, the certification process improves product quality by exposing software bugs. Plus by adhering to the rules of the certification process customers know that when they purchase a Cisco product, they're going to get the best device on the market. It also enables a sense of community as Cisco engineers communicate with WFA representatives when it comes to designing new access points.
It should be explained that Cisco is no mere bystander in the certification as the company has been a member of the WFA for years and has helped define specifications. Not only that, but it has been a part of certification test beds among other duties.
Note: there is one Catalyst access point missing from the list of Cisco certified access points. The Catalyst 9117 Access Point is an early-stage Wi-Fi 6 product and is the one Wi-Fi 6 AP that is not certified due to a known chipset hardware limitation.
Learn more about the WFA