The numbers coming out month after month show that we seem to be tracking a slow but steady recovery. As I've said before, I'm cautiously optimistic about the manufacturing sector – especially in the USA.
https://www.youtube.com/watch?v=ZPLsjvunQ5U
On Thursday (3rd January, 2013), ADP1 said construction added 39,000 positions in December, second only to trade and transportation utilities, which grew 53,000. Medium- and larger-sized businesses led the way with 102,000 and 87,000 new jobs respectively
Overall, Employers added 1.84 million jobs in 20112, the most in five years. In the first 11 months of 2012, employers added 1.67 million. Job gains would have to top 170,000 in December to push 2012 ahead of the previous year. Some economists do expect gains at that level or higher.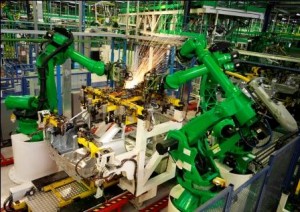 Even in Asia things are looking up. In the New Year we learned about China's services growth3, as China's official purchasing Managers Index (PMI) for the non-manufacturing sector rose to 56.1 in December from 55.6 in November, according to the National Bureau of Statistics (NBS). Other PMIs on the manufacturing sector suggest China's growth is starting to pick up based on late 2012 data. Not the heady double-digit growth of earlier years, but increases none-the-less. Construction was also up, though all of this growth is partly owing to government investment. The Friday (4th January 2013) HSBC PMI report shows slower growth as it mainly focuses on the private sector. The HSBC report4 showed a softening from 52.1 to 51.7. As you know above 50 is still good. India's looking good too re PMI for last month!
Germany had some bright news as well: despite a rising unemployment figure, it's still better than the highs after reunification, so Germany is still holding up against its European neighbors, though we'll have to wait til early 2013 to see how long that lasts. A 6.9% unemployment rate is lower than the US. Unfortunately the news this month isn't so rosy for the UK, with their services PMI slipping to below 50.
Industries that were hiring last month in the US included: health care, manufacturing, and food and beverage establishments. The Bureau of Labor Statistics reported that 12.2 million people were unemployed in December. The BLS included two revisions in its report: 1,000 fewer jobs were added in October and the total number of jobs created in November was revised up to 161,000 from 146,0005.
However, we have to remain cautious. The Commerce Department said today that orders were essentially flat for November, with aircraft demand lower than expected. This was after gaining 0.8% in October.
However, talking about aircraft, only this week a firm that builds Aircraft components is expanding its operations – GE Aviation and SeaCast Inc launched a joint venture to produce aircraft components in Butte (AP). The Butte operation has 70 employees and officials say it is expected to grow over the next four years.
 "Orders for non-defense capital goods (excluding aircraft) – increased 2.6 percent in November, a slight downward revision from an initial estimate released last month but still a healthy gain- seen as a measure of business confidence and spending plans6 ".
So I'm still 'cautiously optimistic'. Cisco's own growth has been impressive. Cisco is a manufacturer too, of course. Let's continue to build tomorrow together. Tomorrow Starts Here…
All the best for 2013 from me, Peter Granger, and rest of the Cisco Industry Marketing Team!
Peter Granger
1 Courtesy Reuters/CNBC
2 Courtesy Christian Science Monitor
3 Courtesy  Reuters/CNBC
4 Courtesy HSBC
5 Courtesy The Daily Ticker
6 Courtesy Reuters/CNBC