At Cisco, we've been delivering networking infrastructure to utilities and Smart Cities around the world.  Our customers have told us that they want secure interoperability across their devices and sensors connected over secure multi-purpose networks.
As a Sponsor member of the Wi-SUN Alliance – a global ecosystem of companies seeking to accelerate the implementation of open standards-based Field Area Networks (FAN) and Internet of Things (IoT) end device interoperability – Cisco has been actively working with member companies to define, test, and deliver a common open-standards based profile for this interoperability.
In the same way that diverse smartphones, tablets, computers and other devices can connect via Wi-Fi, the Wi-SUN FAN standards help ensure that diverse utility, smart city and industrial devices can securely connect to industry-grade smart utility and smart city networks.
Today we are pleased to announce Cisco's support for the new Wi-SUN Field Area Network (FAN) Certification Program. Cisco has already begun the process to certify the CGR1240, IR509, IR510, IR529, and the IR530 industrial routers under these new Wi-SUN standards – and we expect to offer our first Wi-SUN certified IoT products by the end of this year.
Wi-SUN = Wireless Smart Ubiquitous Networks.
Check out this video for a quick overview.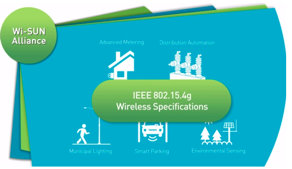 Based on open industry standards published by the IEEE and IETF, the Wi-SUN FAN Certification defines a secure, resilient, multi-service IEEE 802.15.4 mesh network that can support IPv6 Industrial IoT field applications at a million-node scale. The Wi-SUN FAN Certification will provide customers confidence that certified products in the program are interoperable with one another and sourced from multiple vendors.
This new certification program is the culmination of many years of significant work by Cisco – in collaboration with other like-minded vendors – to implement and validate a secure, multi-vendor, multi-service FAN infrastructure, giving customers a viable alternative to closed and proprietary service offerings.
Further details about the Wi-SUN Alliance can be found here.