I returned at the end of January from another energizing Cisco Live conference, this one in Barcelona, Spain. As we do every year, Cisco hosts our customers throughout the EMEAR region, with attendance at Cisco Live Barcelona 2020 reaching a record 18,000.
This marked my ninth Cisco Live Europe conference. I remarked to a colleague that each time I return, it keeps getting better. More customers, more partners, more booths, more diverse sessions, more impactful roadmap presentations. An especially exciting development this year was the launch of Cisco's first-ever Global Advocacy Awards that celebrated our European customers who are a big part of Cisco's customer advocacy success.
Cisco introduces the Global Advocacy Awards
Cisco's Global Customer Advocacy program, just four years old, has experienced a groundswell of growth and enthusiasm. We host thriving Gateway communities in the Americas, EMEAR, and APJC that are fueled by peer-to-peer networking and advocacy. Our customers are able to advocate not just for their own companies, but to build their personal brands and grow through rewarding peer mentorship. We strive to highlight storytelling that goes beyond traditional case studies. We don't just want to know how our customers are using Cisco technology, we want to uncover what drives them personally—and share this in stories told in their own voices.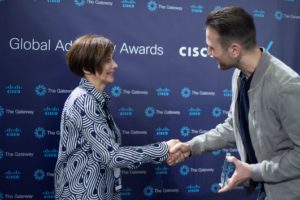 That's why I was so excited to see our Global Customer Advocacy Awards come to life in Barcelona. We celebrated our customers' hard-earned experience and the years of dedication they've given that is having a direct impact on their organisations.
Award recipients were evaluated on three key factors: acts of advocacy (participation in case studies, speaking engagements, and so forth), business outcomes achieved, and demonstrated innovation. My colleague Emma Roffey, Vice President of Marketing in EMEAR, had the pleasure of congratulating each of our deserving winners. The standing-room crowd buzzed with activity, and we live-streamed the ceremony on the Cisco Gateway Twitter feed, enabling customers and Cisco colleagues back home to tune in. While speaking with our award recipients afterwards in our exclusive Gateway lounge, we consistently heard how they feel Cisco values them, treats them as an equal, and how they've grown through their participation in our advocacy communities.
Congratulations are well-deserved to all our winners. Our first awards program was such a success that plans are underway to introduce a similar program and ceremony across all regions.
Learn more about customer advocacy
If you're a Cisco customer who wants to learn how you can get involved, we'd love to welcome you into one of our regional Gateway communities. And if you're an organisation putting together an advocacy program, or you already have one, my team welcomes the chance to exchange best practices with you. Reach out to us at globalcustomeradvocacyteam@cisco.com.