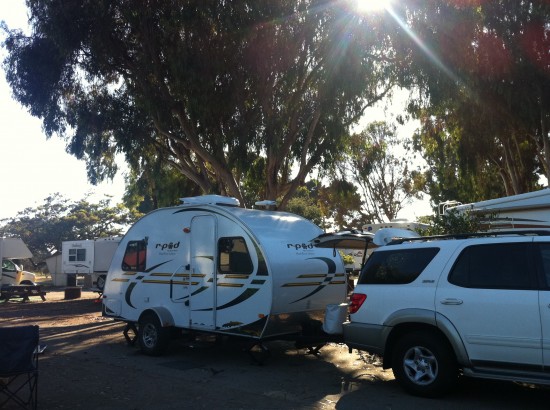 I really love my mobile devices, my iPhone, iPod, and rPod.
What's an rPoD you ask? It's my mobile getaway vehicle.
I can get access to mobile apps, listen to music, and enjoy a getaway to the coast. These devices are not just for fun though, these are powerful tools that allow me to telework from home or in reality anywhere and anytime. My mobile apps include my email, calendar, webex, jabber and other apps required for me to do my job.  I'm more productive, it's more cost-effective, and very flexible.  And, it's secure.
This week, I'm attending the RSA security conference in San Francisco.  Mobile device security and cyber security are some of the hot topics in the keynotes, special government sessions, and throughout the event. I'm able to attend this event to learn about the new technologies available to secure mobile devices and cloud and also the expanding cybersecurity threats. At the same time, I'm productive, mobile and secure.
Next week, like most every week, I will be teleworking. Please join me and more than 100,000 others to support Telework Week.
Cisco, in partnership with the Mobile Work Exchange, is a proud supporter of Telework Week from March 4-8. Telework Week 2013 is a global effort to encourage government agencies, business organizations, and individuals to pledge to telework anytime during this week. Please take a minute to visit this site to learn more about the benefits of Telework, pledge to support this initiative, and use the calculator to estimate savings. I have been teleworking for nearly 20 years and plan to continue to enjoy the benefits for mobility and telework for years to come.
Mobile devices are innovative tools for government employees and to provide cost-effective citizen services. A great case study is the Boston Mobile City Hall to Go. Inspired by food trucks, the bright and friendly mobile City Hall truck is about serving city residents where they live, work and play. City Hall To Go will visit Boston's neighborhoods throughout the year and offer a select menu of city services directly to constituents.
The Cisco NERV vehicles are another great example delivering mobile emergency response services.
Teleworking programs benefits government organizations and the cost savings can be signification.
According to the Deloitte report Gov on the Go: Boosting Public Sector Productivity by Going Mobile, if mobile adoption rates in the public sector doubled to 70 percent, additional value generated in terms of productivity could exceed $50 billion annually.
Please join me today and pledge to Telework.