Last week I had the opportunity to attend the AFCEA Homeland Security conference in Washington, D.C.
Eleven days after the September 11, 2001, terrorist attacks, the first Director of the Office of Homeland Security was appointed leading to the combination of 22 different federal departments and agencies into a unified, integrated cabinet agency when it was established in 2002.
The Department has a vital mission to secure the U.S. from many threats with capabilities that range from aviation and border security to emergency response, from cybersecurity to chemical facility inspections.
The three day conference focused on a number of important topics including:
The conference keynote was delivered by Adm. Thad Allen, USCG, (Ret.), executive vice president of Booz Allen Hamilton and former commandant of the U.S. Coast Guard with a perspective of increasing complexity as the major challenge. This increasing complexity requires cooperation, collaboration, and working in new ways to product results across public and private sector with unity of effort.
T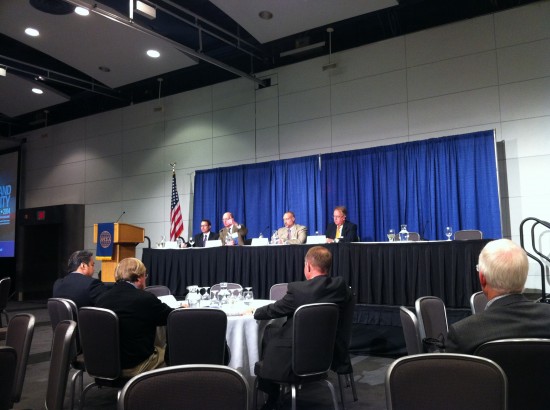 he Mobility and Interoperability panel was focused on the critical need for information sharing across different agencies and departments and the need for interoperable systems and mobile capabilities to transform data and information into actionable knowledge.
The Information Sharing and Fusion Center panel shared best practices in the vital role in sharing information local, state and federal agencies during recent tragedies, including the Boston Marathon bombing and the Navy Yard shooting.
The Big Data panel focused on the explosion of unstructured data from non-traditional sources including social media channels and sensor devices that are emerging as part of the Internet of Things (IoT).
The Laboratories and Scientific Research panels and the two Cybersecurity panels brought the previous sessions together with emphasis on the roles scientific research in the labs and the need for cybersecurity training, education, and skills development and the need to focus on real-time continuous diagnostics and monitoring.
James Blasingame, Deputy National Intelligence Manager (NIM) for the Western Hemisphere, Office of the Director of National Intelligence in his keynote framed the challenges securing cyberspace.
The conference concluded with a focus on the need for strong partnerships. Luke McCormack, DHS chief information officer, and Nick Nayak, DHS chief procurement officer, emphasized the need for effective communications and partnership between the private and public sector at address the challenges and achieve the mission.
It was an informative conference and an important mission for 21st Century government.  As I reflect on the conference I want to invite the community in public and private sector to contribute to the evolution of technology and the Internet of Everything with innovation solutions to ensure safety and security in our physical and virtual worlds.
Join the Cisco Security Grand Challenge a global initiative to secure the Internet of Things here.