Co-Authored with Heather Keleher and Dani Schrakamp
When you dream of the city of tomorrow, what do you picture?
Healthcare that transcends the hospital? Education that weaves technology into every classroom? A revolution in mass transit? Cities that are not only safer, but also infinitely more livable?
On November 19th in Barcelona, cities, countries, educational institutions and organizations from across the globe will unite for Smart City Expo World Congress. The topic this year?
Cities Made of Dreams
At Cisco, we are building the future of public sector every day and transforming dreams into reality through our innovative technologies and solutions.
Visit Cisco at Smart City Expo World Congress at Stand D461 to take a journey with us on our immersive world tour of digital transformation, featuring stops in the United States, Germany, India, Australia, and more. Join us to see how technology is being leveraged across public sector to keep our countries, communities, schools, and healthcare organizations safe, while improving and changing lives.
Explore the Booth
Take a stroll through the jazzy streets of New Orleans, and see how they are helping to keep their citizens and many visitors safer than ever. Walk through the Medibus, and experience how you can receive healthcare services in rural regions without onsite doctors, just like they do in Germany. Immerse yourself in a virtual tour through a college campus, and understand how technology is opening new doors to possible in terms of teaching and learning. Transform yourself into the role of a utilities operator through our virtual reality, and experience how Cisco's technology enables us to keep the lights on and the water running safely and efficiently.
Secure New Orleans

Transform Healthcare with the Medibus

Connect the Campus

Explore as a Virtual Utilities Operator
We pull the pieces together to bring our solutions to life and showcase how our technology is changing the world one school, one hospital, one community, and one country at a time.
It's sure to be an experience you won't forget!
Hear Our Featured Speakers
We are also excited to announce three keynote speakers at Smart City Expo World Congress.
Join Cassie Roach, our Vice President of Global Public Sector, as she discusses how to make governments more agile, transparent, and participative. Listen in as Director of IoT Product Management, Qiang Huang, weighs in on IoT, City Platforms, and Standards in a Solution Talk. Sit in on the panel as TJ Costello, Director of Cities, Communities, and Transportation discusses connectivity in data-driven cities.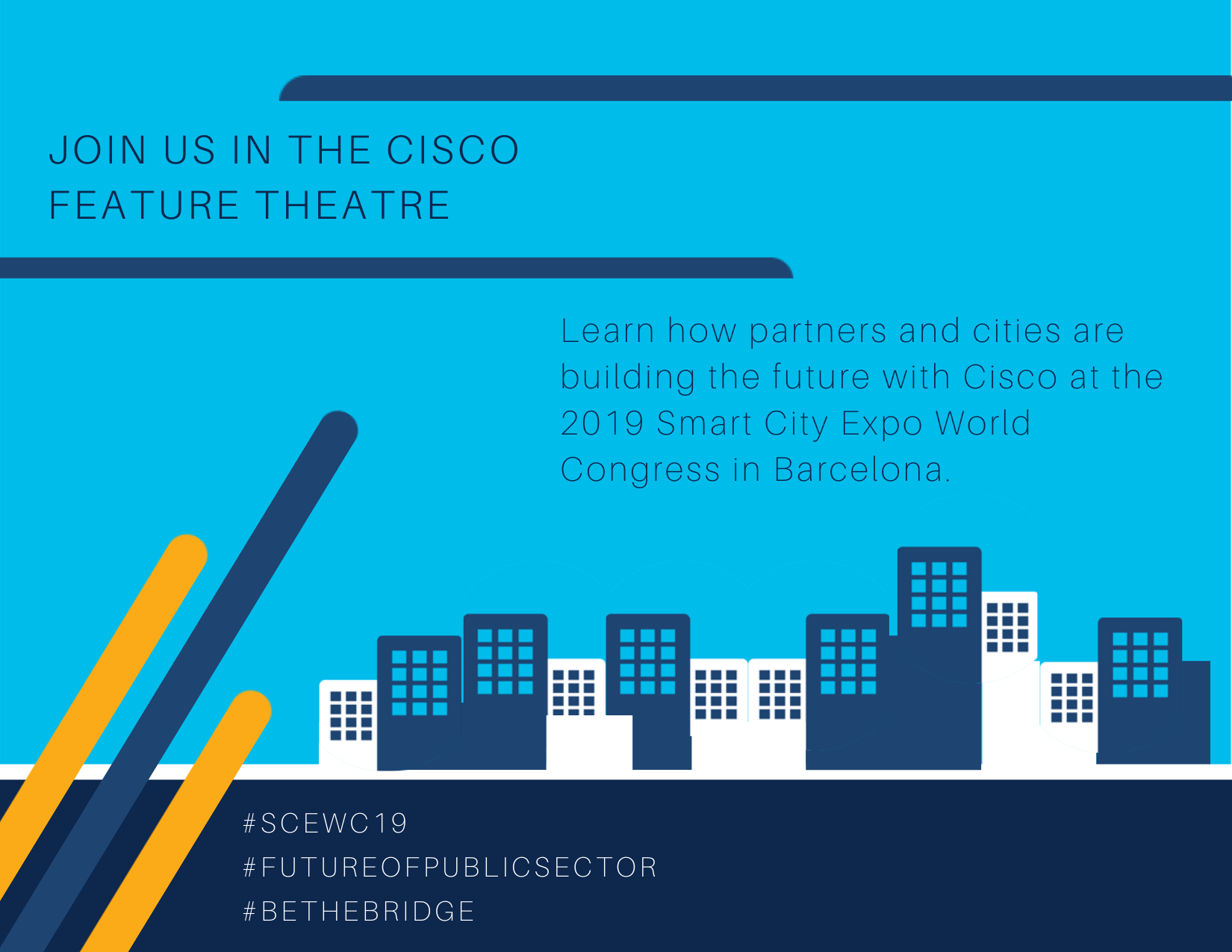 Learn at the Cisco Feature Theatre
Take a seat at the Cisco Feature Theatre every day to learn from exciting speakers as they discuss today's most pressing challenges, solutions, and big ideas.
We look forward to seeing you in Barcelona!