As somebody who avoids going into shops at every opportunity it was only natural that I reached for the laptop when we decided it was time to move to a new home. A mere 48 hours later an agent had visited our property, produced an advert which made us wonder why we were moving, leaving me to click a button (which I did on my phone whilst holidaying in the south of England) which put our house up for sale. Frictionless in every sense.
This new business model just ticked every one of my buyer motivations, or in this case perhaps I should say, seller motivations. I get to benefit from a quality 24/7 online sales system (where 70 percent of their sales activity occurs outside of traditional office hours when agents are closed), a fixed price sales fee which was one-third of a typical agent fee, and a speed to market which was, quite frankly, scary.
With our house up for sale we turned attention to our budget. We headed straight to our current lenders website to see how much we could borrow but where I expected to find a lending calculator, I instead found a number for the contact centre.
So I called (but I had to wait until the next day when they were open again) where I was asked when I'd like to book an appointment for? Immediately. This of course was not an option, by which time my wife was already looking at houses I was certain we couldn't afford. Begrudgingly we joined the 4 day long queue to speak to a mortgage advisor and hoped those in front of us were more impatient.
With time to kill I picked up the laptop again and decided to visit an aggregator site to see what other mortgages were available. I knew we had a great deal from our current lender so I wasn't particularly optimistic; after all, most people's largest monthly expense is their mortgage and price is important to me. But I was wrong, very wrong.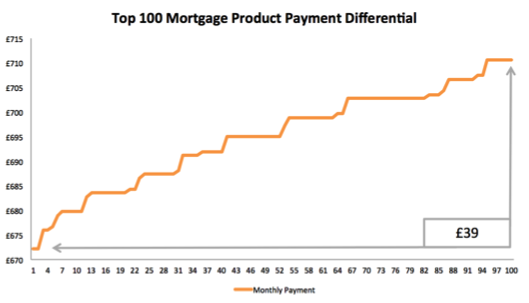 To illustrate this, 45 seconds later I had completed a search* which returned 385 mortgage products from 32 different lenders. Impressive, but most of all was a price differential of only £39 per month between the first 100 products. To give that some context, of the 28 utilities companies who provide energy in our area, we could pay anything up to £46 a month more for exactly the same service depending on who we chose.
With price no longer a competing factor between so many products all regulated to perform in exactly the same way, it was time to choose a new lender who could see us at a time that suited us, not when it suited them.
This experience got me thinking about how each lender operates. On one hand you have a lender who has too much demand and is losing customers, on the other you have a lender who appears to have too much capacity which must be unnecessarily costing them. Neither feels like a good business model to me.
So where should they compromise? Well actually they shouldn't. Today, lenders across the globe, like Nationwide Building Society is digitising the home buying process with huge reward.
No longer are their customers waiting four days (or more), neither are they employing a small army of under utilised mortgage advisors who lurk in branches waiting for the next customer to walk in. Instead, these innovative industry leaders are equipping their branches with a capability-rich high definition video solution that enables them to sell a mortgage in a single customer meeting. Achieved with a supporting shared service centre of highly productive mortgage advisors, who, with a touch of button are instantly connected to a customer irrespective of location and time.
This new digital operating model results in lenders dramatically improving customer satisfaction, increasing sales and reducing operating costs. Too good to be true? Definitely not.
Attend my session "Reinvisioning Mortgage Origination through Digitization" at NAMB National to learn how Cisco has helped financial institutions evolve their business model, leveraging Cisco's analytics and technology capabilities, to optimize their mortgage origination process; increasing revenue and decreasing operating costs in record time.
Learn what you can do to get ready and start your digital transformation journey today.
* Sources: Search based on for £150,000 of borrowing on a property of £200,000 on a 5 year fixed rate product with a 25 year total term
https://www.purplebricks.comhttp://www.moneysupermarket.com