More devices, more services
5G is thirteen times faster than 4G, and Wi-Fi 6 is three times as powerful as its predecessor, 802.11ac. Together they create a reliable, high-performance infrastructure to enable future network traffic. Because more and more devices such as smartphones, tablets, displays or IoT systems are going online, and data traffic is growing rapidly. Cisco's Annual Internet Report assumes that there will be more than 823 million networked devices in Germany in 2023, almost doubling the 478 million devices from 2018. At the same time, customer expectations are rising. Because customers are used to simple, uncomplicated operation, extensive features and high performance from numerous consumer apps.
More powerful digital offerings
5G in particular, i.e. the fifth generation of mobile communications, has a direct impact on business with end customers. On the one hand, 5G means that network gaps can be closed that allow online and mobile banking for everyone, especially in rural areas. Banking software, trading and financial services also have to keep up here so that other providers do not pull customers away due to better usability. In addition, with a view to the increase in digital payment processes and the constantly increasing number of devices and applications, seamless, high-performance connectivity and infrastructure must be provided in order to meet customer expectations today and in the future. The use of 5G and Wi-Fi 6 not only improves performance and makes networks future-proof.
"This is particularly important for close customer contact because many banks are downsizing their branch network and closing small branches."
On the other hand, the higher speed also enables the services to be improved and enriched: the data exchange becomes faster, the data volumes larger. Mobile banking or mobile trading are becoming more powerful thanks to 5G and Wi-Fi 6 and can also process third-party data via interfaces in real time without problems.
Greater security for customers
They also become more secure: authentication processes that capture biometric features can be used without delay. Fraud detection and document checking can also be used effectively without noticeably slowing down processes. Thanks to powerful networks.
This starts, for example, with checking geolocation data when a customer is in the vicinity of a bank, and extends through the AI-supported analysis of data to other application processes. In connection with AI solutions, photos of the necessary evidence may be sufficient so that their data can be read out directly – and the document is checked for authenticity. How this is already possible today is shown, for example, by the Video-Consult solution that Ratiodata created in cooperation with Cisco. This solution is already being used successfully at Bankverein Bad Hersfeld Rotenburg eG.
Digital customer experience – just like in the branch
This enables banks and financial service providers to bring the quality of their processes and their business experience to online applications that keep pace with what young FinTechs are already doing in terms of speed and performance. And make all that performance tangible that is otherwise only possible in the branch. Both for mobile users and for mobile or pop-up branches in rural areas, multimedia content and advice can also be implemented – this means that personal advice can also take place with a high-resolution video stream.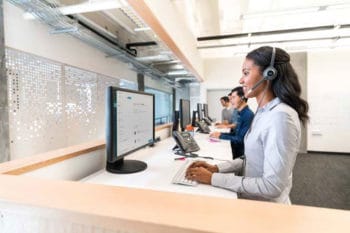 5G and Wi-Fi 6 are also bringing new customers to banks and financial service providers: their lower latency times and higher bandwidths will also accelerate the development of the Internet of Things. The more the financial industry opens up this field, the sooner the time will come when transactions can be carried out automatically. Parts of a value chain encompassing several companies and suppliers can then communicate with each other and initiate orders, such as financial transactions.
This is how banks stay future-proof
The global coronavirus pandemic has impressively shown in many areas of the economy how important it is to have a secure, modern IT infrastructure in order to remain able to act in a crisis. Your own resilience is centrally linked to how well applications and data are available regardless of location and at the same time protected.
"5G and Wi-Fi 6 also play a decisive role in maintaining one's own productivity. "
Modern network hardware not only ensures that these speed advantages can be used. It also brings the security functions that are essential in sensitive industries. At the end of the day, every financial institution has to decide for itself how to make the most of the new technologies. Those who embrace the change will be able to offer their customers richer, more personalized experiences – and thereby seize the opportunity to differentiate themselves in a rapidly changing world.
To learn more, check out our Cisco for financial services home page and 5G and Wi-Fi 6 Whitepaper.