This two-part blog series discusses the future of wearables and mobility in an #InternetOfEverything world.
Since the dawn of time, humans have been motivated by an innate desire to be connected to each other and to information. Today, we are seeing this need satisfied as the Internet of Everything (IoE) evolves to connect more people, process, data and things than ever before. An essential part of the growth of the Internet of Everything will depend on how mobile devices, connected things and wearable technology adapts and develops to become more aware and intelligent.
Today, the wearable device market is a nascent, but growing market. There are about 160 unique wearable devices on the market, and IDTechEx predicts wearables will grow to a $70 billion market in the next ten years. However, despite its growing market share, many still have limited views of what a wearable is and the innovation these devices will encourage in our mobile-led IoE world.
In this post, I'll share some thoughts I presented at the recent Wearable Technology Conference that explores how we will soon see wearables move from being just wearable to becoming aware-able through increased contact, connections and context.
Let's Start at the Beginning…What is a Wearable?
There is a lot of confusion in the industry about what a wearable is and the role it plays in our lives.  For example, advances in exoskeletons for military applications and sports define a wearable as more than just a device for your wrist.
And it's not just for humans.
Osaka University and the Tokyo University of Agriculture and Technology (TUAT) co-developed a fuel cell that is expected to be used for forming a wireless mesh networks with cyborg insects in emergency situations. In this case, insects can be used for wirelessly transmitting various sensor signals in areas that humans simply can't go – such as disaster areas or for search and rescue efforts. It may seem a bit crazy now, but connecting these flying sensor insects to the network can create a very interesting, new capability that will challenge our definition of what a wearable is over time.
Why Now – and what's all the Hype About?
Simply put, the size of technology is shrinking. Technology shrinks every decade about a 100-fold, so while in the mid-80's we were carrying around a separate music player, telephone and calculator, today we carry all those capabilities into one device: our smartphone. Couple this trend with ongoing advances in microscopic sensors and computers the size of a grain of sand and it's clear we are just beginning to understand what's possible for new IoT connections and mobile innovations.
Wearable 2.0: From Wearable to Aware-able
While most wearables on the market today are built to capture WHAT we are doing, they don't tell us HOW we are doing. We are seeing an evolution of wearables that will focus more on HOW we are doing, and capture insights that can change our lives. For example, while today's wearable bracelet or watch can tell me my body is moving, it cannot tell me anything about my biological processes – such as my glucose levels or blood pressure.
For this evolution to occur, wearable devices – or aware-able devices – require three things: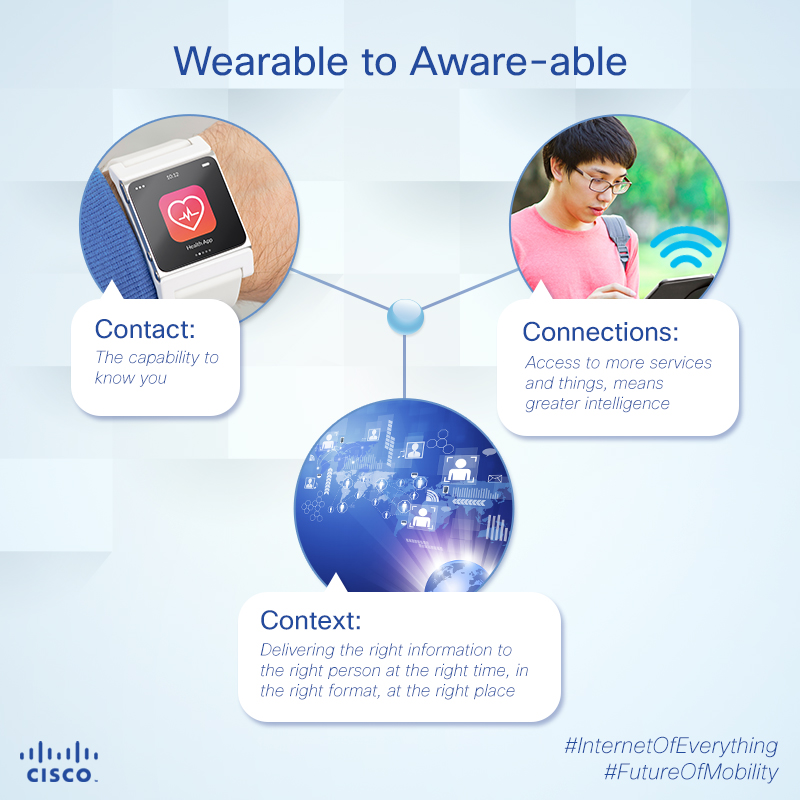 Contact with your body
Connections with the world
Context by providing relevant information
Let's take a deeper look at each of these "Three Cs."
Contact
Unless a wearable touches your body, it does not have the capability to know enough about you.
For example, Google recently tested a new method for diabetics to monitor their blood sugar levels through a connected contact lens. Because the lens was physically touching the body and measuring sugar levels in the tears and tear ducts, it can pull out glucose readings every second.
Connections
We live in a world dominated by connections; after all, approximately 90% of the global population has wireless connectivity. In addition, Cisco VNI predicts that number of mobile-connected devices will exceed the world's population by the end of this year. This increase in number and types of networked connections is not only providing new capabilities to users, but also enabling wearables to be more intelligent.
For example, in the next decade the developments of 5G will provide your handheld device with enough bandwidth to support the equivalent of 250 TelePresence sessions to a handset device – or to a wearable. Armed with a connection, a wearable can become a supercomputer.
Context
The history of the Internet has evolved from providing basic connectivity to a digital economy and immersive social networking experiences. Today, we live in an Internet of Everything world that is paving the way for tomorrow's context-aware Internet. The future will move beyond just connecting people, processes, data and things to connecting the right people, the right processes, the right data and the right things.
This evolution won't replace today's capabilities, but enhance them through context. As the explosion of connections, mobile data, apps and more infiltrate our lives, services and information will need to come to us to dramatically change our end-user experience. Aware-able devices are a significant part of the context-aware strategy that will deliver the right content to the right person (or thing) at the right time to the right place in the right format.
Through increased contact, connections and context, wearables will become an integral part into how individuals, organizations and governments will shape decisions and drive innovation. In the second and final post of this "Wearables and the Future of Mobility" blog series, I'll cover the evolutionary track of wearables, from its infancy through the next stages of growth and adoption.
For more predictions about where the future will take us, check out a new Future of Mobility Podcast I recently participated in with Glen Hiemstra, CEO of Futurist.com. A summary of the podcast can found on SlideShare.
Be sure to join the conversation and let us know your thoughts, #FutureOfMobility, #InternetOfEverything.