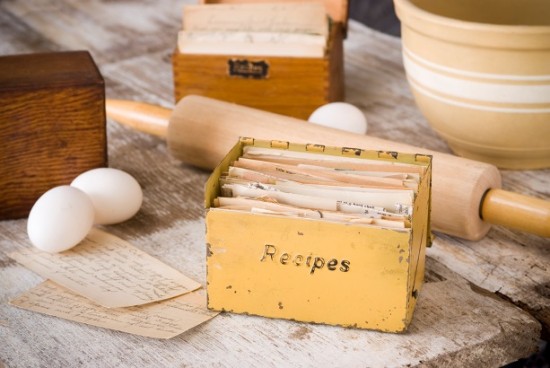 Sharing recipes among family and friends is a long-standing holiday tradition. I have my own favorite recipe, but it's not part of an extravagant holiday dinner. It's my recipe for success in the Internet of Things (IoT).
Over the past six months or so, I've discussed in this series of blogs the various elements to consider in an IoT deployment. We have seen that IoT is an essential next step for companies in the 21st century, but it's also a complex, multidimensional transformation, demanding new skill sets, technologies, and business models. So you may be asking, how do I get started? Here is my recipe for a successful IoT transition.1. Connect all your devices: IoT depends on intelligent connections. Cisco predicts that the number of connected devices in the world will explode to 50 billion by the early 2020s. In a manufacturing setting, connecting the devices within a pod enables better management at the pod level. But when you connect all the devices, sensors, robots, and pods in the entire assembly line the benefits are multiplied, with flexible manufacturing, optimized inventory management, faster troubleshooting, and higher uptime.
2. Implement open and interoperable standards: The diversity of connected devices is driving a proliferation of technologies, protocols, and applications—and until recently, most of these were semi-proprietary or very specialized. Today, however, the industry recognizes that a fragmented, proprietary model limits the value of IoT deployments. IoT standardization efforts are underway through several standards bodies and industry consortia. Benefits of implementing open standards include:
a. Interoperability – you are no longer locked into one vendor solution
b. Lower cost – using common, high volume components, expanding solutions and architectures, and leveraging best practices from other industries saves time and money. Cisco customers have reported cost reductions of at least 20 percent by using IP and Ethernet instead of proprietary protocols
c. Increased reliability and uptime – one large car manufacturer reported 75 percent reduction of network downtime on the assembly line after migrating to Ethernet and IP
3. Build a single unified security architecture: For many years, "security by isolation" has been the accepted approach in most industrial networks, but isolation is no longer a viable strategy. IoT requires data to flow from the plant to the enterprise to the cloud. The chief information security officer should own not just the IT security architecture but the security architecture for entire enterprise including operational technology. I'll talk more about security challenges, use cases, and best practices in my next blog.
4. Extend cloud functionality to the edge: "Fog computing" is an essential ingredient for capturing value in IoT because of its ability to deliver immediate, real-time insights. Fog extends the compute, network, and storage capabilities of the cloud to the edge of the network, where huge volumes of data are collected from sensors and controllers. For example, by analyzing real-time data from an equipment temperature sensor locally, fog computing can trigger a timely part replacement, preventing a catastrophic equipment failure.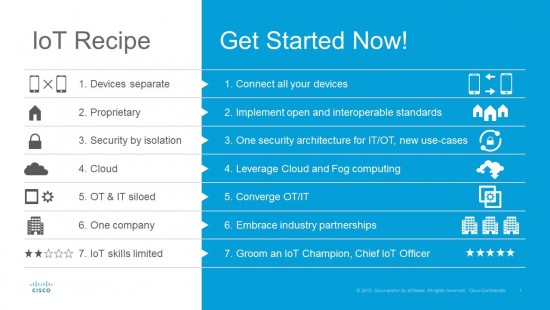 5. Bring together IT and OT: Information technology (IT) and operational technology (OT) are parallel organizations that have grown up independently over the years. IT has focused on the flow of data across an organization, and OT is concerned with monitoring and controlling physical operational systems such as assembly lines, electricity distribution networks, and oil production facilities. To successfully implement IoT, IT/OT convergence is a must. When IT and OT come together, both sides win. For example, when General Motors implemented a converged standards-based network architecture across 150 global manufacturing plants, it lowered costs by more than $150 million.
6. Embrace industry partnerships: Customers no longer accept the traditional model of one company providing end-to-end proprietary solutions. The industry is rapidly evolving into a world of partnership ecosystems and customer co-creation, where many companies work together with the customer to develop an optimal solution using horizontal re-usable modules that are both open and interoperable. This is a complex and strategic transition for vendors. One such company, a tier-one automotive supplier, has recently made the decision to jettison its proprietary in-car IoT technology in favor of standards-based systems that will interoperate with competitors' IoT applications and also enable them to build an extensive ecosystem of applications and partnerships. This manufacturer has recognized the larger opportunities of a wider playing field.
7. Groom an IoT champion: Finally, I believe the transition to IoT today is not just a technology issue, it is also very much a cultural, organizational and skill set challenge. Implementing IoT will disrupt and redefine business models, organizational structures, cultural norms, and people's jobs. To successfully undertake such a broad shift, organizations need an IoT change management champion – a person with credibility and deep understanding of the business, technology, and operational implications of IoT, to guide the transition.
 Cisco estimates that the intelligent digital connections among people, process, data, and things will generate $19 trillion in Value at Stake between 2013 and 2022. More than 40 percent of this value – $8 trillion – will come from the Internet of Things. Organizations that effectively put together these ingredients for IoT success will be able to claim their share of this large and growing value pool.