IOT::Empowering the Enterprise turned out to be quite the dance party this year. Or at least the kind of Internet of Things (IOT) party you'd expect when you bring together over 300 IOT thought leaders, including startup founders, venture capitalists and corporate investors, and Fortune 500 executives.
And adding real-time biometric analytics doesn't hurt either, tracking everything from temperature, movement, sound, and even crowd sentiment and energy levels.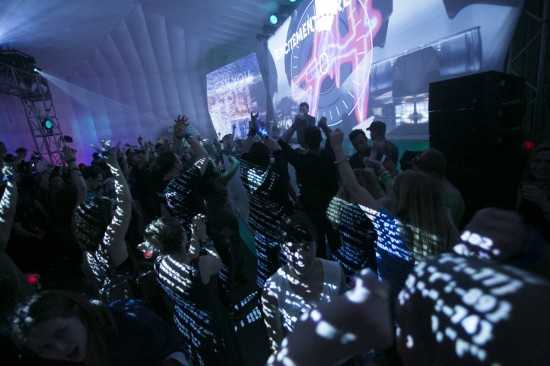 With much of the IOT buzz focused on consumer tech, this event was specifically focused on IOT in the enterprise.   It showcased the ecosystem of innovators that are fundamentally changing cities, manufacturing, energy, transportation, retail, and the many other industries embracing the Internet of Everything (IOE). Cisco Investments, co-hosted the event on our campus with other leaders in the space – SAP, Siemens, Sapphire Ventures, and Silicon Valley Bank, all helping to make IOT transformative.
Padma Warrior, Chief Strategy and Technology Officer, and Wim Elfrink, Executive VP and Chief Globalization Officer, opened the day with a vision for the Internet of Everything. My main takeaways are:
The pace of change is accelerating. Design cycles and innovation curves are becoming compressed.
IOE is big….this disruption will be 5 to 10 times as large as the Internet.
Everything is becoming digital. This will impact every city, business, and industry.
The IOT startup ecosystem is exploding, with dramatic increases in the number of startups, venture capital funding, acquisitions, and IOT developers.
Wim also invited RelayR's CEO Jackson Bond join in via telepresence. Jackson shared a fascinating quote, "Hardware companies are becoming software companies. And software companies are now becoming hardware companies." Absolutely true. The interesting thing is that both types of companies are now innovating at the speed of software.
The startup demo challenge was another popular session in the day. Ten of the most innovative startups in our industry spent 5 minutes demoing their products live. We had 50 audience members wearing biometric bands collecting real-time data, in addition to a network of distributed sensors under chairs and on stage. Lightwave, a really cool IOT company, was our technology and data analytics provider. They showcased their technology with a real-time voting system to select the demo challenge winners based on crowd sentiment and excitement.
Lightwave biometric voting in progress 4 the startup demo challenge. Cool innovations! #wearabletech #IoTenterprise pic.twitter.com/i7jsLVGdg5

— Cisco Investments (@Cisco_Invests) March 24, 2015

And as I was saying in the title, the winner of the People's Choice Award went to:
Skyspecs – develops commercial drones with advanced auto-collision and avoidance software.   It's always fun to see drones in person, though even cooler when the drone moves away when your head gets too close to the spinning rotors.
EDYN – smart soil sensors and irrigation controllers for commercial agriculture, helping farmers save water and leverage data to make better decisions. A really well delivered pitch by their CEO Jason Aramburu made this a crowd favorite as well
Skyspecs drone demo about to begin and I hope it goes well because I am in the front row. @sap_it #IoTenterprise pic.twitter.com/8kd4lEJ8oh

— Aaron Williams (@aarondonw) March 24, 2015

Congratulations to our winners!
More about the event on Twitter #IOTenterprise
Learn how Cisco Investments is investing in IOT startups here